CNN TV has been taken off air in Thailand. The people of Thailand deserve to know what is happening in their own country, and CNN is committed to telling them. Follow our updates on Facebook and Twitter, and share your updates from Thailand via CNN iReport.
Story highlights
On Thursday, Thailand's military announced it had taken control of the government in a coup
Military imposed an overnight curfew between 10 p.m. and 5 a.m. in Bangkok
Thailand's ongoing political situation has hit the country's tourism industry hard
In most capital cities, waking up to images of armed soldiers, military vehicles and blockades on the streets – as the army gears up for what it would later declare a coup – might be cause for alarm.
But Bangkok isn't your average city.
Since 1932 – the year Thailand became a constitutional monarchy – there have been at least 18 actual or attempted military takeovers.
Since November 2013, widespread protests and the threat of violence have been a constant presence in Bangkok, as two divided sides passionately battle over the country's future leadership.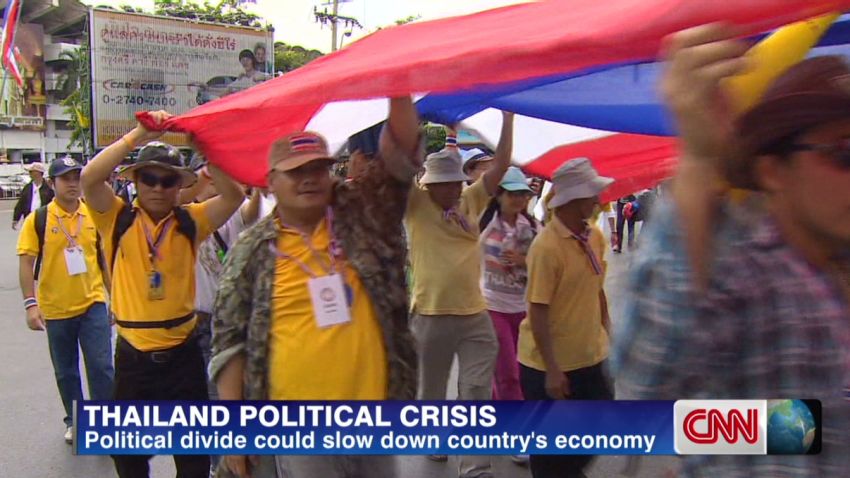 Thailand's economy threatened by turmoil
Life under martial law in Thailand
Thai army declares martial law
As a result, very little surprises residents in this city.
MORE: Thailand wakes to military rule: What it means
Thailand's military chief announced in a national address Thursday that the Thai military has taken control of the government in a coup after rival factions were unable to come up with a suitable agreement to govern.
An overnight curfew between 10 p.m. and 5 a.m. was imposed nationwide, though the military chief told citizens that it should be business as usual for the public.
It also said it will provide security to foreigners, including vacationers.
The latest announcement followed a declaration by the army of martial law in the early hours of Tuesday.
This week saw Bangkok operating almost as usual, despite the developments.
The morning commute to work was normal, residents getting stuck in the usual traffic jams. Elbowing for space with school kids in the crowded buses and BTS Skytrain cars was as challenging as ever.
During a wander along popular streets, locals could be seen snapping photos of the soldiers and their guns, a few of the bold ones asking military personnel to pose for selfies.
On social media, a Thai hashtag on Twitter that roughly translates to "Show me a cute soldier" quickly grew in popularity, with locals sharing pics of those they deemed pin-up worthy.
Thailand tourism takes a dive
But for international tourists looking to visit Thailand for a seasonal winter getaway, it's hard to be blase about the situation.
Street protests, grenade attacks, martial law and military coups just aren't part of their daily vernacular and the recent months of political conflict have taken their toll on Thailand's tourism industry.
International bookings for inbound Thailand vacations are down 17% year-on-year (YOY) for the November 1, 2013 to March 18, 2014 period, and 21% since January 1st (YOY), says Olivier Jager, CEO of travel data intelligence firm ForwardKeys.
Though he says they won't know for a few days whether the new martial law is impacting bookings, the industry was showing strong positive signs in recent weeks, suggesting slow but sure recovery.
"In fact, April was just 6% down when compared to last year," says Jager.
Now, with Thailand's low-season underway and this past high-season (November-February) a write-off, those in the industry are hoping things will resolve quickly so they can avoid a repeat in the coming winter.
"Many in Thailand are just waiting, watching and hoping that political stability returns to the Kingdom sooner than later," says Mason Florence, executive director of the Mekong Tourism Coordinating Office.
"Over the years Thailand has proved itself resilient, a survivor, time and time again bouncing back from coups, natural disasters and self-inflicted political woes.
"Some are beginning to question, however, whether Thailand truly understands, appreciates and values the … die hard group of fans around the world who, despite all of the ongoing troubles, have continued to return here again and again and again," he says.
Florence adds that many travelers are expanding their horizons beyond Thailand to explore places like Cambodia, Laos and Myanmar.
"In the past nearly any trip around the Mekong countries would begin and end in Bangkok, but in recent years improved air connectivity as well as overland travel opportunities are giving travelers more options.
"Thailand will need to work harder than ever to retain its competitive edge in the region."
According to the World Travel and Tourism Council, travel and tourism contributed 2.4 trillion baht ($73.8 billion) to Thailand's GDP in 2013, about 20% of the total GDP.
The industry generated 2,563,000 jobs directly in 2013 (6.6% of total employment) and this is forecast to fall by 7.2% in 2014 to 2,377,500.
MORE: Thai military calls meeting with key parties after declaring martial law
Bangkok hit particularly hard
Though some Bangkok tourists CNN spoke with say it's easy to avoid the protests by keeping abreast of the news, in recent months many opted to follow the advice of the dozens of countries that issued warnings to its citizens about the situation in the Thai capital and avoid it altogether.
Instead, they're heading for the country's other popular destinations like Chiang Mai, Koh Samui or Phuket.
As a result, Bangkok hotels reported significant performance decreases during the first quarter of 2014, affecting Thailand's overall performance, according to data from STR Global.
Occupancy rates in the capital fell to 55.2% in Q1 2014 (compared to 79.7% in Q1 2013).
"2013 was a good year for hotels in Bangkok; however, 2014 is off to a rough start," says Elizabeth Winkle, managing director of STR Global, in a statement.
"In February and March, Bangkok reported the lowest occupancy figures since August 2010. The greatest concern is the uncertainty of how long the conflict will last."
Turmoil in Thailand hasn't necessarily discouraged all travelers.
Maeve Nolan, general manager of Asia travel specialist Backyard Travel, says they've had no cancellations since Thailand's political situation began to heat up last November.
"However we've had concerned clients asking what the situation is like on the ground and when we expect a resolution," she says.
"I think certain hotels dependent on Asian business, or incentives/conferences may be affected, however our clients are more seasoned travelers flying in long haul so we've yet to see any negative impact on our business.
"Another factor is that as we sell multiple-day tailor-made tours all over Thailand, rather than single room nights, clients can be flexible and change their itineraries to avoid Bangkok as needs be."
In the United States, Asia Transpacific Journeys (ATJ), a travel agency that specializes in trips to Asia, says its bookings to Thailand have remained steady throughout this and other recent political ordeals.
"For travel to Thailand, our numbers are exactly the same now as they've been for the last two years," says Eric Kareus, director of sales for the Boulder, Colorado-based company.
On Tuesday the company said it had received no cancellation requests for trips to Thailand as a result of the current political situation, according to Kareus.
"We've heard (anecdotally) that a lot of the European business to Thailand has really suffered but we're unchanged," he says.
Kareus says that of the 3,000 or so itineraries ATJ books to Asia each year, about 40% go through Thailand, "using Thailand either as a gateway to other countries in Asia – they might stay in Bangkok for three or four nights – or going to Thailand as a final destination and spending several weeks."
The company, founded in 1987 with Thailand as its primary market, is advising clients to take a "wait and see" approach.
It's also cautiously optimistic about how recent developments might affect the travel trade.
"People have had concerns about where the political situation is heading in Thailand for some time and this [martial law] should introduce some stability in the country, at least in the short term," says Kareus.
"I'm not commenting on what it's like for people living in Thailand and their situation. But for people traveling to Thailand, we see this as a good thing."
Kareus, who has twice been named a Top Travel Specialist by Condé Nast Traveler, guesses that more Europeans may be canceling or changing details of trips to Thailand because they're more likely to book package trips, which can be more easily canceled or modified.
"In 2008, when (Thai protestors) shut down the airport, that was a nightmare for us, not in terms of traveler safety, but the travel hassles were huge," says Kareus.
"But during the protests last year and into this year, between November 2013 and March 2014, we didn't have a single cancellation. We had a lot of people traveling and we were concerned for them but it turned out all right.
"You don't want to be cavalier and you always have to be careful, but we've been through this before."
On the ground in Thailand
Like the rest of Thailand, Bangkok's hotels, airports and major tourist attractions remain open.
Following the announcement of a 10 p.m.-5 a.m. nationwide curfew on Thursday evening, major malls in Bangkok announced they would be closing early, while the city's BTS Skytrain and MTR subway also halted service earlier than normal.
There were widespread reports of traffic jams in city streets, as residents rushed to get home before the 10 p.m. curfew.
A number of countries have updated their travel warnings since martial law was declared on Tuesday.
"U.S. citizens are advised to stay alert, exercise caution, and monitor media coverage," says a security message issued by the U.S. Embassy in Bangkok.
"You are advised to avoid areas where there are protest events, large gatherings, or security operations and follow the instructions of Thai authorities."
Tourists in Thailand can seek assistance by calling the following hotlines.
Tourism Authority of Thailand: 1672.
Thai Tourist Police: 1155.
Twitter is one of the best ways to get real-time information on the situation in Bangkok.
Richard Barrow, a full-time travel blogger based in Bangkok, is a top source for those seeking news about the protests as well as travel advice. He can be followed at Twitter.com/richardbarrow.
Local English-language media on Twitter include the Bangkok Post: Twitter.com/BPbreakingnews; The Nation: Twitter.com/nationnews; and MCOT: Twitter.com/MCOT_Eng.
CNN's Chuck Thompson and Hilary Whiteman contributed to this report.