Story highlights
NEW: Michael Sam's boyfriend tweets, "Could not be more proud" and shares kiss photo
Sam kissed boyfriend Vito Cammisano on TV after he was drafted by the St. Louis Rams
Don Jones of the Miami Dolphins was fined for his comments about Sam
"I'm sorry but that Michael Sam is no bueno for doing that," former player Derrick Ward tweeted
Not long after Michael Sam became the first openly gay player drafted to the NFL, some made clear his reaction was not welcome.
Shortly after learning of his selection by phone, a visibly emotional Sam turned to his boyfriend and kissed him.
"I'm sorry but that Michael Sam is no bueno for doing that on national tv," former Super Bowl champion Derrick Ward tweeted.
"Man U got little kids lookin at the draft. I can't believe ESPN even allowed that to happen," he added.
Ward, who played for the New York Giants and the Houston Texans, said he has received death threats against him and his children after the comments.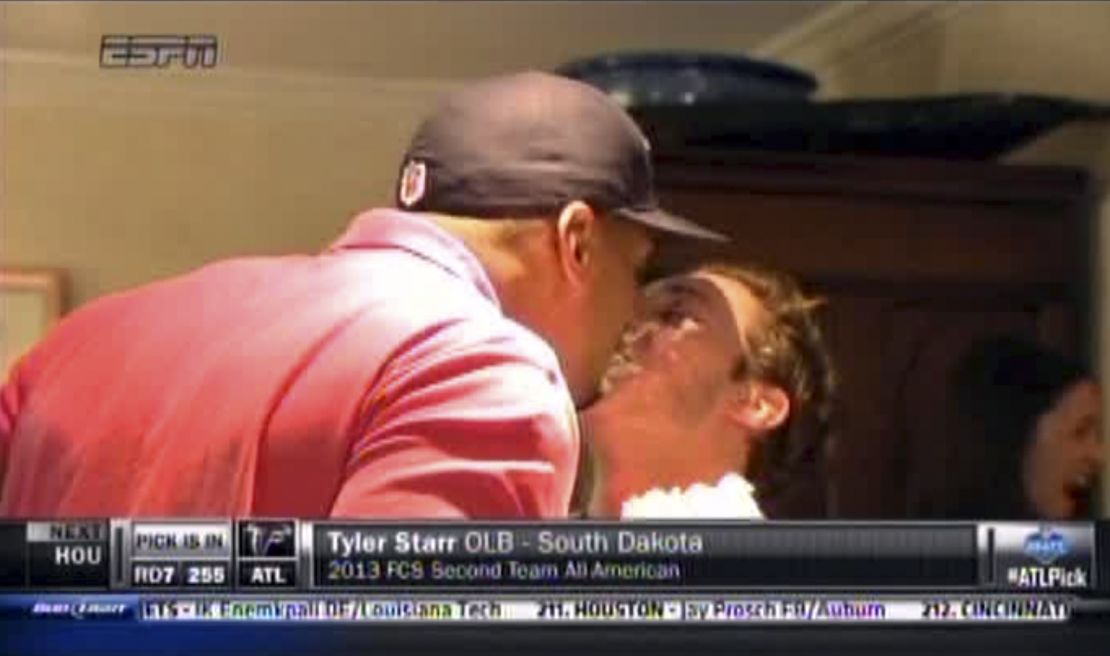 Miami Dolphins safety Don Jones also expressed his disapproval, tweeting "horrible" and "OMG" after the kiss was aired. He has since deleted those comments.
But the Dolphins responded quickly, ordering Jones to pay an undisclosed fine and barring him from team activities until he finishes "training for his recent comments made on social media."
"We met with Don today about respect, discrimination and judgment," the Dolphins said in a statement Sunday. "These comments are not consistent with the values and standards of our program."
Jones issued a mea culpa for his remarks.
"I want to apologize to Michael Sam for the inappropriate comments that I made last night on social media," he said in a statement Sunday.
"I take full responsibility for them and I regret that these tweets took away from his draft moment. I remember last year when I was drafted in the seventh round and all of the emotions and happiness I felt when I received the call that gave me an opportunity to play for an NFL team and I wish him all the best in his NFL career."
Sam's boyfriend, Vito Cammisano, a former University of Missouri swimmer who graduated last year and now interns for a broadcasting company in Columbia, Missouri, wasn't fazed by the vitriol and publicly celebrated his lover's achievement.
The Kansas City native first tweeted, "We are staying home! Could not be more proud of my babe! #stl #rams #missouri," then followed it up a few hours later with "Wow.What a day. On cloud 9. So proud and happy! #stl #rams #draft @MikeSamFootball."
The second tweet linked to a close-up of Cammisano, his face covered in cake, sharing another smooch with Sam.
Other reactions extended well beyond current and former NFL players.
"Any straight person who says "#MichaelSam/bf kiss pic doesnt look disgusting" can't pass a lie detector test saying it. Prove me wrong. #nfl," Patrick Dollard tweeted.
"It's annoying that people can't say anything about the Michael Sam kiss without people pointing at them saying "homophobe," Robby Schultz said.
But many welcomed Sam's seventh-round selection by the St. Louis Rams. His new team is just two hours away from the University of Missouri, where Sam was an All-American and the Southeastern Conference's defensive player of the year.
"Welcome to the squad @MikeSamFootball #D-LineShowtime," fellow Rams defensive end Robert Quinn tweeted.
President Barack Obama also weighed in.
"The President congratulates Michael Sam, the Rams and the NFL for taking an important step forward today in our Nation's journey," the White House said in a statement. "From the playing field to the corporate boardroom, LGBT Americans prove everyday that you should be judged by what you do and not who you are."
Some compared Sam kissing his boyfriend to other athletes kissing their wives or girlfriends.
"NFL guys get drafted. Kiss girlfriends. @MikeSamFootball kissed his boyfriend. Don't like?..that's a "you" problem," ESPN anchor Stuart Scott tweeted. "Congrats Mike!"
Others poked fun at the controversy surrounding Sam.
"How do I explain Michael Sam to my kids?" Andy Kerman tweeted. "A man with TWO first names?"
Obama congratulates Michael Sam
Opinion: Just a kiss, and more than a kiss
CNN's Eliott C. McLaughlin, Joe Sutton and Joseph Miller contributed to this report.