Story highlights
"This clearly wasn't (part of the show)," a witness in Providence says
Sunday performances by Ringling Bros. and Barnum & Bailey Circus were canceled
Circus website touts the safety of the Hair-Hang Act "each and every time"
(CNN) —
The curtain drops to reveal women hanging by their hair. Leotards are in perfect place – toes pointed, smiles on.
The music kicks in on cue, and then suddenly – horrifyingly – what's known as the "human chandelier" plummets to the ground.
"I screamed. I'm like, that's not right," Chelie Barrie, a spectator, told CNN affiliate WPRI. "You know, sometimes you're surprised and it's part of the show, but this clearly wasn't."
Nine performers were injured Sunday in Providence, Rhode Island, said Steve Payne, spokesman for Ringling Bros. and Barnum & Bailey Circus.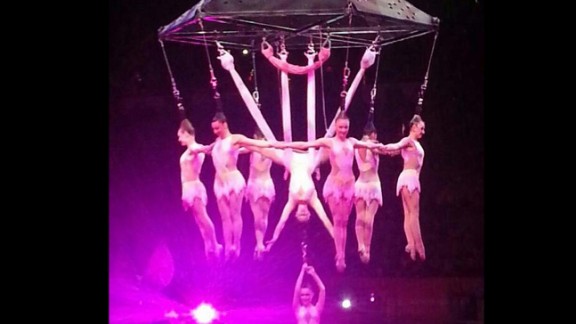 Frank Caprio/AP/FILE
Eight performers fell when the hair-hang apparatus – which holds performers by their hair – failed, Payne said. Another performer was injured on the ground, he added.
Providence Public Safety Commissioner Steven Pare said the performers fell from between 25 to 35 feet.
Many of those injured suffered broken bones, and no spectators were hurt, Pare said.
The performers were among 11 people hospitalized with injuries related to the accident, Rhode Island Hospital spokeswoman Jill Flaxington told CNN. One of those people was listed in critical condition, Flaxington said.
It was not immediately clear who the other victims were.
Multiple emergency units responded to the accident at the Dunkin' Donuts Center.
Witnesses told WPRI that they saw acrobats up on a type of aerial scaffolding doing the "human chandelier" when a cable snapped.
People started screaming and "going crazy," Sean Bergeron, a 23-year-old Marine at the circus with his girlfriend, told CNN.
A disaster distress hotline, 800-985-5990, has been set up, and Providence Public Safety is encouraging those in the crowd of 3,900 who are troubled after witnessing the incident to call for free counseling from trained counselors.
Payne told CNN's Fredricka Whitfield the apparatus had been used for multiple performances each week since Ringling Bros. and Barnum & Bailey launched its "Legends" show in February.
"Each and every time that we come to a new venue, all of the equipment that is used by this performer – this group of performers as well as other performers – is carefully inspected. We take the health and safety of our performers and our guests very seriously, and our company has a safety department that spends countless hours making sure that all of our equipment is indeed safe and effective for continued use," the spokesman said.
The Medeiros Hair-Hang Act is touted on the Ringling Bros. website as a "one-of-a-kind act … the brainchild of husband-and-wife team Andre and Viktoria Medeiros, (who) have devised and improved the mechanisms and methods making possible the myriad of maneuvers this troupe will perform for audiences."
"It is Andre's attention to every detail, even welding the three different rigs that the girls hang from, that keeps his troupe safe and sound each and every time the act is presented," the website says.
Rhode Island Hospital has confirmed that each of the eight women named by Ringling Bros. as part of the act are in the hospital: Viktoriya Medeiros, Widny Neves, Samantha Pitard, Viktorila Liakhova, Dayana Costa, Julissa Segrera, Stefany Neves and Svitlana Balanicheva.
Providence Public Safety released a statement Sunday night saying the city, the Rhode Island State Fire Marshal and the Occupational Safety and Health Administration are working together on the investigation. Payne had earlier said the circus also was involved in the investigation.
The circus had all necessary permits and was "solely responsible for the setup and rigging of the show," according to the Public Safety statement.
"We will do whatever it takes to come to the bottom of this, make sure that when the show goes back – starts to perform again – it's safe," said Lawrence Lepore, general manager of the Dunkin' Donuts Center.
"Legends" began a short Providence residency on Thursday, Lepore said. The final five performances there were slated for 11 a.m., 3 p.m. and 7 p.m. Sunday and 10:30 a.m. and 7 p.m. on Monday.
The early show ended with the accident, and the Dunkin' Donuts Center tweeted around 3 p.m. that the two later Sunday shows had been canceled, with refunds available where patrons bought tickets or automatically via Ticketmaster.
In June, a performer from Cirque du Soleil's "Ka" died in an accident at the MGM Grand Resort in Las Vegas. Sarah Guillot-Guyard, 31, a Paris-born acrobat and aerialist, "was being hoisted up the side of the stage and then just plummeted down," witness Dan Mosqueda told the Las Vegas Sun newspaper.
In October, the Nevada OSHA cited the circus and the casino for violations. Nevada OSHA fined Cirque du Soleil more than $25,000 and the MGM Grand $7,000, but both the circus and the casino appealed the findings.
Cirque du Soleil settled with Nevada OHSA in February, winnowing six citations down to one, according to the Las Vegas Sun.
Cirque du Soleil performer injured in Vegas show
The weekend accident that injured nine members of a circus troupe, along with two other people, during a Ringling Bros. and Barnum & Bailey performance in Providence, Rhode Island, was caused by a 5-inch D-ring that snapped, the lead investigator for the city's fire department said Monday.
CNN's Kristina Sgueglia, Nick Valencia, Adrienne Zulueta and Dominique Dodley contributed to this report.