Story highlights
Hundreds remain missing as rescue effort in Yellow sea continues
Passengers contacted relatives on land with harrowing text messages
Air pockets might provide some chance of rescuing survivors from within vessel, say experts
As almost 300 ferry passengers – many of whom are high school students – remain missing amid a massive rescue operation in the Yellow Sea off Korea's southwest coast, the wait on land remains agonizing.
Many of those rescued had to leap off the side of the capsized ferry into water barely 10 degrees Celsius (50 degrees Fahrenheit), where they were picked up by one of the multitude of military and fishing vessels on the scene.
But others were told to stay put, even as the ship sank and not instructed to abandon ship.
Those trapped on board reached out to parents and relatives via text message.
"No phone connection so there is no Internet connection. So just sending text message," says one purported text message from a passenger obtained by CNN. "There are few people on the ship, can't see a thing, it's totally dark. So there are few men and women, women are screaming."
But with these panicked messages comes a reason to believe more survivors will be found.
Even though only a small section of the ferry's hull remains out of the water, rescuers – including South Korean Special Forces divers – hope that within the ship isolated pockets of air are able to support passengers still trapped within the vessel.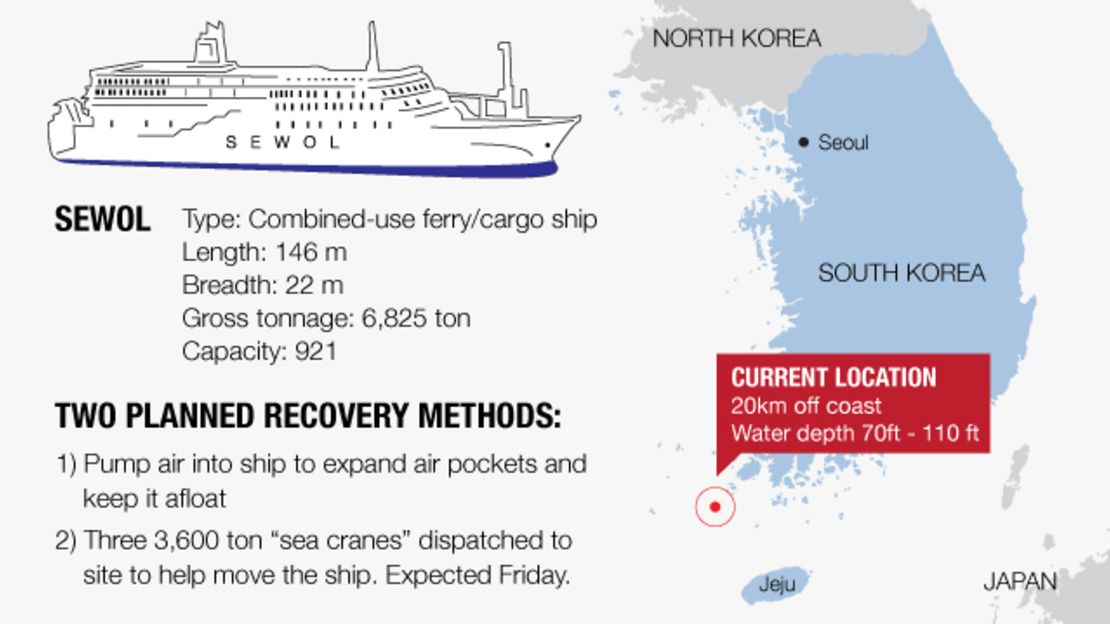 "From the images that I've seen, there's clearly some areas of the hull that are above the water, that are not flooded," Mike Dean, the U.S. Navy deputy director for salvage and diving, told CNN Tonight.
"So absolutely, there could be areas in there where there is breathable air, but the trouble right now is the temperature and getting people to them."
Conditions are not ideal for the rescue effort, with potentially strong winds, fog and tidal currents making things difficult for ships and divers, maritime expert Kim Petersen told CNN. However he also sounded some hope that air pockets, also known as "voids", could provide those on board with a chance of survival.
"It's difficult to say since we don't know the cause of the vessel sinking," he said.
"If it had been because of a problem with one of the vehicle doors of course that could cause massive flooding very quickly and reduce the likelihood of voids, but the fact is that this is a vessel that is almost 500 feet in length and its sitting in waters that we believe to be between 70 and 110 feet deep, so there is the strong possibility that there are voids and the possibility of survivors."
However, Petersen warned that the effort to reach those trapped in potential voids will not be easy.
"The problem now is getting divers down into those areas and bringing those people to the surface. That's going to be a daunting proposition.
"We still have the issue with cold water and currents but right now the situation is fairly positive for trying to find survivors."