Story highlights
Maia Mikhaluk: Crimea's referendum to join Russia was not democratic
"The vote took place under the guns of Russian troops," says the Kiev resident
Mikhaluk says there are already problems with banks and credit cards
She has been documenting unrest in her country since February
Editor's Note: Maia Mikhaluk is a freelance photographer and Christian ministry worker in Ukraine. She is ethnically half-Russian and has spent much of her life in Donetsk, a Russian-speaking area of Ukraine. She now lives in Kiev.

Mikhaluk has been participating in protests in the country ever since former President Viktor Yanukovych reversed a decision to sign a trade deal with the European Union and instead turned toward Russia, a move that sparked mass demonstrations in the country's capital. This essay, which first appeared on CNN iReport, is a follow-up to her previous piece: A divided Ukraine? Think again.
Some people believed that one of the most democratic ways out of the conflict between Russia and Ukraine was to let people of Crimea decide their fates for themselves through a referendum. But there were a few serious flaws with that "democratic" approach.
Sunday, March 16, was a day many Ukrainians waited for with concern and dread. Originally, the referendum was planned for May 25, then moved up to March 30 and then once again moved to March 16.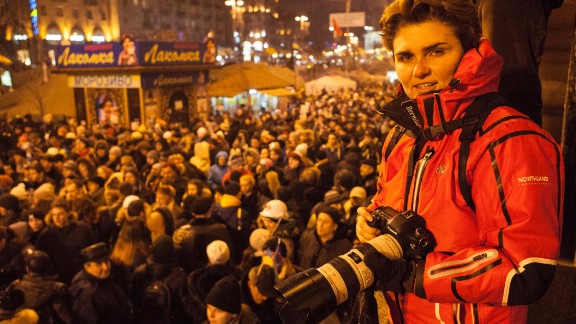 Courtesy Maia Mikhaluk
Prime Minister Sergey Aksyonov and Vladimir Konstantinov, speaker of Crimean Parliament, were eager to accomplish the task Russian President Vladimir Putin had given them. That task was to provide Russia with some kind of excuse for a military intervention that had in fact started on February 28, when there were reports of Russian soldiers occupying the Crimean Peninsula.
Long before the referendum took place, the international community expressed concerns about its legitimacy, and many people in Ukraine considered it illegal. This kind of referendum violates the Ukrainian Constitution, which specifies that it can be done only countrywide. And does this mean that Russia can invade any country where there is a Russian-speaking enclave? Russia even owned Alaska once. Should they get that back, too?
To no surprise, Aksyonov reported that more than 80% of people in Crimea voted in the referendum and 96% voted for Crimea to join Russia.
The results themselves didn't matter, as everybody knew they would be false.
There are certainly some people who have been brainwashed by Russian TV channels (Ukrainian stations have been cut off in Crimea) and do believe in lies that in Russia Crimea will be given all kinds of advantages and privileges. But also consider that the vote took place under the guns of Russian troops and residents were given less than two weeks to prepare. It is unsafe to be pro-Ukrainian in Crimea right now, as the region is controlled by Russian military and hired thugs.
The announcement of results signaled to the people of Ukraine that a quiet waiting period of our conflict with Russia is probably over. Even though the United Nations, European Union, United States and other international observers do not recognize results of referendum, Russia is still claiming that Crimea will join with them.
So the tension has come up to higher levels. The Ukrainian Parliament has announced partial mobilization of army reserves.
Annexation of Crimea opportune or opportunistic?
My friends and colleagues in Crimea tell me that people are standing in long lines to withdraw money from banks. Many ATMs do not have cash, and stores do not accept credit cards. Retired people are concerned about their pensions being paid on time.
Ukrainians are still not sure what their preparations should be.
Will our troops try to liberate Crimea from Russian invaders? Will Russian troops try to invade eastern regions of Ukraine where Russian provocateurs have been trying to cause trouble, too? Did Putin set his goals not just for Crimea but the whole of Ukraine? Putin keeps talking about Ukraine as a failed state and the Ukrainian government as not legitimate, though it's recognized by all other countries in the world.
The bottom line is this: The referendum is a farce that the whole world has pronounced illegitimate, but it is being used by Putin to escalate conflict to next level.
His ambitions for restoring the Soviet Union in the form of a new Russian Empire are no secret. Even Putin's allies, such as Belarus and Kazakhstan, are nervous. It's hard to not be concerned if you live anywhere in Ukraine – or in Poland, Latvia, Lithuania or Estonia.
Are you in Ukraine, Crimea or Russia? Have you witnessed the unrest? What do you think about the region's future? Share your stories with CNN iReport, but please stay safe.
The opinions expressed in this commentary are solely those of Maia Mikhaluk.