Editor's Note: Editor's Note: On Wednesday, debris was discovered on a beach in Reunion, a French territory in the western Indian Ocean. On Thursday, a source close to the investigation for missing Malaysia Flight 370 said that Boeing investigators are confident the debris is the plane. Now, family members of the 239 people who were on board wait to get any kind of solid information that the debris is indeed from that doomed flight. On March 15, 2014, a week after the flight's disappearance, CNN explored how those relatives grappled with unimaginable anguish.
Story highlights
Malaysia Airlines Flight 370 carried engineers, pilgrims and an artist
And mothers, fathers, children, friends, co-workers
Among them: Stunt man Ju Kun worked with Jet Li, Jackie Chan
Gu Naijun kept her oft-traveling husband updated on their "princesses"
The youngest passenger is 2, the oldest 76. Five passengers haven't seen their fifth birthdays.
They are engineers, an artist and a stunt man, along with Buddhist pilgrims, vacationers and commuters. To those who wait for them, they are fathers, mothers, children, soulmates and the dearest of friends.
As could be said of any large, random group, they are many things, individuals with 239 unique backgrounds, idiosyncrasies and lives.
What's next in the investigation?
Here are a few of their stories:
Moheng Wang, Rui "Rory" Wang and Weiwei "Vivia" Jiao
Two-year-old Moheng was the youngest passenger on the flight. He was traveling with his parents, Rory Wang and Vivia Jiao, both in their early 30s, back to Beijing. The family had been in Malaysia on a vacation.
Just a week before Rory boarded the plane that would go missing, he sent an e-mail to former classmates telling them about the vacation he was taking before returning to Beijing to work on a project. He regularly sends e-mails about his travel experiences and shares photos that he took with the latest cameras, his MBA classmate Saleel Limaye said.
"The pictures he would send in the e-mails were just fantastic pictures," he said.
A friend of Vivia's, Weina Shi, said the two instantly connected when they met.
"She's just so warm, very sweet, so caring, that we just immediately connected and became pretty good friends," she said.
The pair would hang out and shop together as well, Shi said. Vivia was a caring wife, the kind who leaves a note for her husband when she goes out to run errands, she said.
Dai Shuling and Jiao Wenxue
Dai and Jiao are Vivia's parents and the grandparents of Wang Moheng.
They had joined their daughter and son-in-law in Malaysia for vacation.
Both are 58 years old.
Wen Yongsheng
Wen is a 34-year-old businessman.
His father has been one of the family members who has spoken with the media about what the relatives are going through.
"Come back quickly. You have made everyone in the family very nervous," Wen's father says he would like to tell his son. "Everyone in the family is waiting for you to return. He has to come back, everyone on board. He can't come back by himself."
Puspanahtan Subramaniam
The 34-year-old information technology specialist and father was leaving his home to board Flight 370 when his two young children clung to his legs and didn't want him to go. He had to promise them to bring chocolates and presents when he returned from his trip to Beijing, said his father, Gurusami Subramaniam.
"He was responsible for everything, these clothes I'm wearing, even. Whatever country he was in, he would call. Once a week, he would come see us with the whole family. He really took care of us."
Gurusami Subramaniam says he worked 20 years as a security guard to put his only son through college.
Ju Kun
Ju's social media account has been flooded with well-wishers praying for his safe return. Many know the 35-year-old martial arts expert from his stand-ins as a stunt man in films like "The Grandmaster" and "The Forbidden Kingdom." The latter starred genre luminaries Jackie Chan and Jet Li. Ju was slated to begin filming on the Netflix series "Marco Polo" in coming weeks.
Chinese actress Zhang Ziyi wrote on Weibo that Ju "is a sincere, kind and hardworking man," while Netflix said he is "an integral part of our production team and a tremendous talent."
Chandrika Sharma
K.S. Narendran considered going to Kuala Lampur for more information on his wife, but ultimately, he didn't see the point. No information in Chennai, India, is the same as no information in Kuala Lampur, so he'd prefer to be "surrounded by family and friends."
Sharma, the executive secretary of the International Collective in Support of Fishworkers, was en route to Mongolia for a U.N.'s Food and Agriculture Organization conference. Narendran says he's received little information from authorities and, like most of the world, has relied on news reports, which "thus far amounted to nothing," he said.
Paul Weeks
Weeks left his wedding ring and watch at home when he took a mining job in Mongolia. The New Zealander instructed his wife, Danica, to pass them on to his two sons "should anything happen."
Danica clutched her husband's wedding ring and fought back tears as she explained to CNN that her husband was aboard Malaysia Airlines Flight 370, en route to Mongolia. She describes him as "the most amazing husband and the most amazing father," who always spends time with his boys. She says the hardest part is the cruel mystery: not knowing what happened to the plane.
"He had strength, character. He's just so much. He's my best friend and my soulmate, and I just can't wait for him to come back. I hope. I hope."
Weeks' brother Paul also called him a best friend.
"He's definitely a leader. He's a leader in the family. He has so many friends, more than you could count. People love Paul. And in general, he's just a wonderful man," he said.
Zaharie Ahmad Shah
Zaharie is the airline captain who was piloting the plane. He is a central figure in the investigation. He is under scrutiny, as investigators searched his home, but nonetheless he is among the missing.
Malaysia's main opposition leader, Anwar Ibrahim, knows the captain and said "he is against any form of extremism."
The captain attended political meetings and is quite passionate about justice and democracy, Zaharie said.
Some media outlets have reported that the plane's pilot had attended the court hearing for Ibrahim and speculated that the flight's disappearance may have been a political act in response to the verdict.
"But he's known to be a great professional pilot, a great family man, and I don't see him to be in any way controversial or taking any radical stance," Ibrahim said. "And I have great difficulty in understanding why they are casting aspersions against him purely because I'm known to him."
Mohammed Khairul Amri Selamat
The 29-year-old Malaysian civil aviation engineer works for a private jet charter company. Police are investigating all passengers and crew, but he is likely to be of particular interest because of his aviation knowledge. "I am confident that he is not involved," his father said. "They're welcome to investigate me and my family."
Pouria Nourmohammadi and Delavar Seyed Mohammad Reza
The two Iranians initially came under suspicion because both were traveling on stolen passports, one Austrian and the other Italian. But Interpol says it believes this to be a human trafficking issue.
Nourmohammadi, 18, posted on Facebook on March 4 that he was "feeling excited," along with a picture of him standing in front of the Petronas Towers in Kuala Lumpur. A few days earlier, he'd checked in at the city's airport with a post saying, "For everyone that said a prayer for me, thank you so much. I am safe and well."
Malaysian police believe Nourmohammadi was trying to emigrate to Germany using the stolen Austrian passport. He and Reza, 29, entered Malaysia on February 28 using valid Iranian passports, Interpol said.
Mohammed Mallaeibasir, an 18-year-old Iranian student who sent CNN iReport a picture of himself with the two men, said he knows Nourmohammadi from high school, having met him a few years ago in Tehran. Nourmohammadi told him his mother lived in Frankfurt, Germany.
He'd met Reza only on the day the pair were flying from Malaysia, Mallaeibasir said. They all went for dinner and then he dropped them off at the airport for the flight, he said.
Gu Naijun and Li Yuan
Gu, 31, uses her Weibo account to keep her oft-traveling husband, Li, 32, apprised of the goings-on of their two "princesses," whether the daughters are swimming, playing on the slide, dressing in frilly costumes or just enjoying a lunch outing, The Sydney Morning Herald reported.
The Chinese couple fell in love in Sydney and moved to its suburbs. They had recently sold their Sylvania home and were spending most of their time in China, the paper reported. Li, who went by Carlos, is a partner with Beijing Landysoft Technology, where one longtime employee said he and his coworkers were shocked. "He's a good boss, kind, and extremely hard-working," the employee said.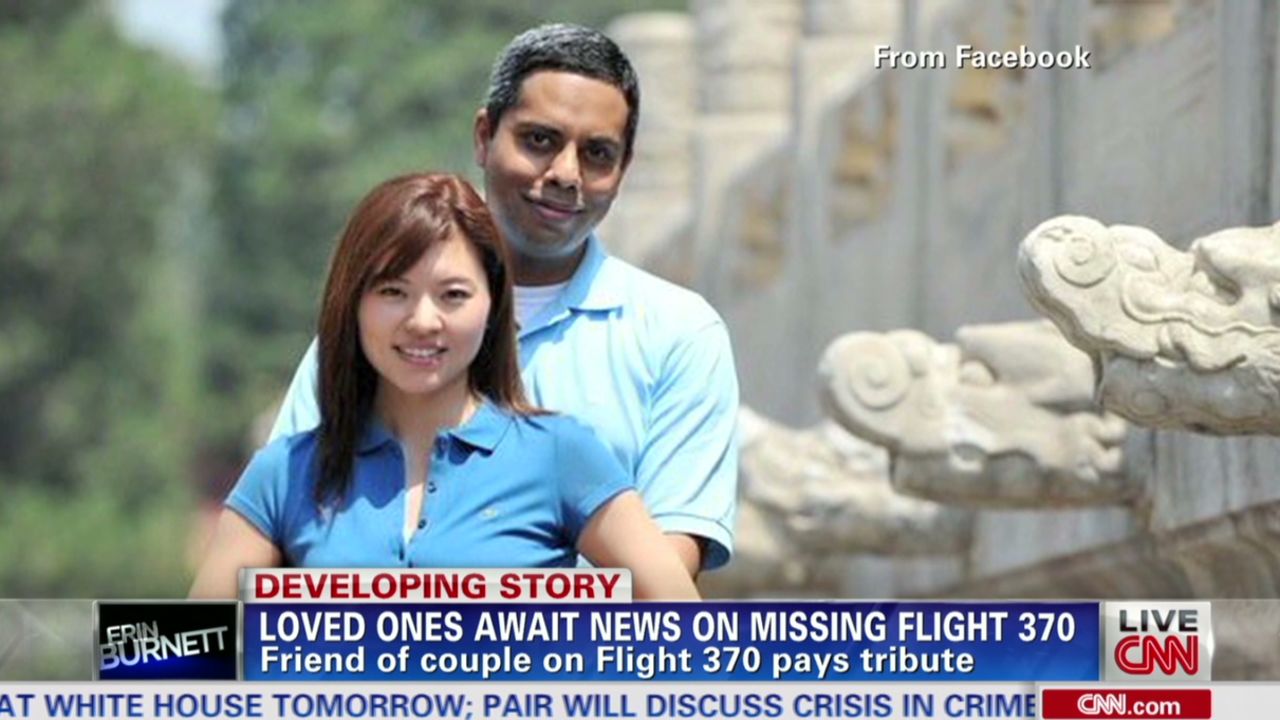 Muktesh Mukherjee and Xiaomo Bai
Mukherjee, 42, is vice president of China operations for Xcoal Energy & Resources. He and his wife, Xiaomo Bai, 37, whom broadcaster CTV identified as Canadians who once lived in Montreal, left their two young boys with Bai's mom in Beijing while they went on vacation in Vietnam, according to Bai's Facebook page.
Matthew McConkey, a friend of the couple, said Mukherjee "was very much in love with" Bai, and "as parents, nothing was more important to them than those kids."
Mao Tugui
Hu Xianquan last spoke to her husband, Mao, a painter, March 2 as he was boarding a plane to attend an exhibition for his work. Like Danica Weeks, she finds the dearth of information frustrating, and her grief has morphed to agonizing frustration.
Mohd Sofuan Ibrahim and Ch'ng Mei Ling
Hasif Nazri, 33, was doubly sad upon learning of the plane's disappearance. Not only did he live in the same dorm as 33-year-old Ibrahim during their school days in Malaysia, but Mei Ling, also 33, is another former classmate.
While Nazri acknowledges losing hope as the days drag on, he has fond memories of his old friends. Ibrahim, who posted a Facebook photo before boarding Malaysia Airlines Flight 370, was traveling to Beijing to begin work for Malaysia's Ministry of International Trade and Industry. A good student and speaker, Ibrahim is also "a good, kind-hearted friend, very helpful, cheerful and definitely no wallflower," Nazri said.
Nazri remembers Mei Ling, meanwhile, as a funny woman with an infectious laugh. She's a "very cheerful girl." Mei Ling works for Flexsys America LP, an Ohio-based manufacturer of chemicals for the rubber industry, and has lived in Pennsylvania since 2010. She "was very adaptable," Nazri recalled from his days doing coursework with her.
Li Yuchen
Li, 27, is a Ph.D. engineering student at Britain's prestigious Cambridge University, according to the Cambridge News. He recently married Mingfei Ma, the report said, but she was not traveling with him.
"Heartbreaking news this morning – Yuchen Li (alum) was on the missing Malaysian flight. Our thoughts are with Mingfei Ma, his friends and family," his college is quoted as saying.
Swawand Kolekar
In Mumbai, India, Archit Joshi, 23, desperately sought information on his classmate, Kolekar, whose family in Beijing was also desperate for any information on his whereabouts.
Joshi described Kolekar as "very reserved but very, very intelligent … a bit of a techno-freak and he made a lot of circuits and projects at engineering college."
"He didn't have many friends – he was a bit of a loner – but he had all the attributes a good friend should have."
Li Yan
Li's aunt, Zhang Guizhi, traveled from central China to Beijing and was hoping to obtain a passport to travel to wherever the plane is found. She wasn't sure how to go about the process and began weeping when she explained that Li, 31, had traveled with her husband and four friends to Malaysia for vacation.
Philip Wood
The 51-year-old father of two graduated from Oklahoma Christian University in 1985 with a Bachelor of Science in math and computer science, said school spokeswoman Risa Forrester. On the school's Facebook page, a man wrote that Wood, an IBM executive, is "gentle, kind, had great taste in music and was a wonderful artist."
"His word was gold," his family said in a statement. "Incredibly generous, creative and intelligent, Phil cared about people, his family, and above all, Christ."
Mary and Rodney Burrows
Neighbors Mandy Watt and Don Stoke say the Burrowses are the hard-working parents of three "successful, all happy" adult children: two daughters and a son. Rodney Burrows had planned his trip to China after being laid off last year, the Australian Associated Press reported.
Watt further said of the Middle Park, Australia, couple, "I hate to use the cliche, but they were soulmates."
Catherine and Robert Lawton
The Lawtons, a Springfield Lakes, Australia, couple, in their mid-50s, are passionate travelers, parents to three daughters and doting grandparents, according to the Australian Associated Press.
Robert's brother, David, described him as a "very good father, such a good person." Robert's sister-in-law said the Lawtons had planned their trip with their good friends, the Burrowses. Cathy's last Facebook post before leaving was, "Off to China."
CNN's Jessica King, Catherine E. Shoichet, Atika Shubert, Ray Sanchez, Steven Jiang, Bharati Naik, Mariano Castillo, Laura Smith-Spark, Peter Shadbolt, Dayu Zhang, Serena Dong, Sophie Brown, Anjali Tsui, Euan McKirdy, Piers Morgan and Anderson Cooper contributed to this report.