Story highlights
The Band Perry will pay for burial costs for nine people killed in a house fire, publicist says
The mother, LaRae Watson, and eight of her children, ages 4 to 15, died Thursday
The father, Chad Watson, and an 11-year-old girl are being treated for injuries
Authorities say the cause of the Kentucky fire appears to be accidental
The Band Perry has stepped in to help with expenses to bury a mother and eight children who were killed in a house fire in Greenville, Kentucky.
The offer follows news that only two family members – the father, Chad J. Watson, and an 11-year-old girl – survived the fire Thursday morning.
The country trio's representatives contacted the Watson family and offered to take care of all the expenses, Watson family friend Pam Burden said. The group also offered to pay hotel expenses for family members staying near the medical center where the two are being treated, she said.
"I don't know why The Band Perry reached out to the family other than they are just very gracious," Burden said. "The family doesn't have any personal connection to the band before now."
The Band Perry's publicist, Brian Bumbery, confirmed the group's offer.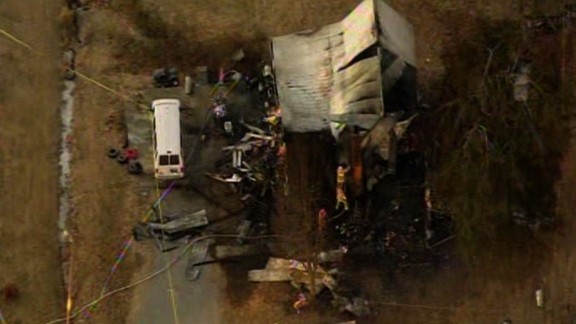 WTVF
Watson is listed in critical condition, and his daughter is in stable condition at Vanderbilt University Medical Center, Burden said.
The mother was identified as 35-year-old LaRae Watson. The eight children who died in the fire ranged in age from 4 to 15.
Investigators have ruled the fire accidental, according to Kentucky State Police.
"It appears that an electric baseboard heater located in a bedroom ignited some nearby combustibles," it said in a statement.
Greenville is a small city, with a population of just 4,300 and a median income of $39,000.
As news of the group's offer spread, hundreds of people posted messages of gratitude on the band's Facebook page.
"I'm a volunteer firefighter here in Muhlenberg County and I want to thank you for your generosity and support you have given to the Watson family," wrote Willam Michael Vick. "You guys are truly amazing."
The Band Perry, made up of siblings Kimberly, Neil and Reid Perry, burst onto the country music scene in 2010 with their self-titled debut album, which spawned the hit single "If I Die Young." The group released its sophomore album "Pioneer" in 2013.
The band is set to perform Sunday as part of the Super Bowl XLVIII pregame show in East Rutherford, New Jersey.
CNN's Kevin Conlon contributed to this report.