Story highlights
Swedish designer Mehrdad Mahdjoubi has developed a shower that recycles water
OrbSys Shower saves more than 90% water and 80% energy while you wash
It could save users over $1000 a year and help people living in areas with a shortage of water
In space, astronauts go for years without a fresh supply of water. Floating in a capsule in outer space they wash and drink from the same continuously recycled source. So why, asked Swedish industrial designer Mehrdad Mahdjoubi, do we not do the same on Earth?
This was the concept behind the OrbSys Shower – a high-tech purification system that recycles water while you wash. In the eyes of Mahdjoubi, we should start doing it now, before it becomes a necessity.
So how does it work? Similar to space showers, it works on a "closed loop system:" hot water falls from the tap to the drain and is instantly purified to drinking water standard and then pumped back out of the showerhead. As the process is quick, the water remains hot and only needs to be reheated very slightly.
Courtesy Orbital Systems
Courtesy Orbital Systems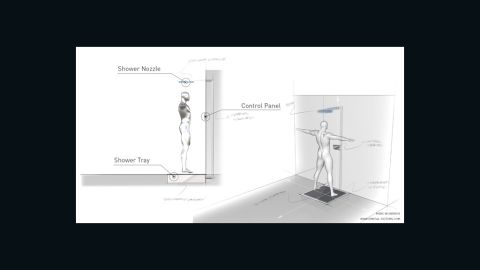 Courtesy Orbital Systems
Read: Green machine – Intelligent robot system recycles waste
As a result, it saves more than 90% in water usage and 80% in energy every time you shower, while also producing water that is cleaner than your average tap.
"With my shower, which is constantly recycling water, you'd only use about five liters of water for a 10 minute shower … In a regular shower you would use 150 liters of water – 30 times as much. It's a lot of savings," explains Mahdjoubi.
According to research carried out by his company, Orbital Systems, these savings translate to at least €1000 ($1351) off your energy bills each year.
Mahdjoubi proposed the OrbSys shower while studying Industrial Design at the University of Lund in Sweden. His concept formed part of a collaborative project with NASA's Johnson Space Center, which looks to drive design concepts that could potentially assist space expeditions.
"In an extreme environment such as a space mission to Mars, design concepts are brought forward to use all of the possible resources to make it there and back. I don't see any reason why we can't be as efficient on Earth as we can be in space," he says.