Editor's Note: John D. Sutter is a columnist for CNN Opinion and head of CNN's Change the List project. Follow him on Twitter, Facebook or Google+. E-mail him at ctl@cnn.com.
Story highlights
East Carroll Parish, Louisiana, has the nation's highest level of income inequality
John Sutter says the parish is woefully divided but not hopeless
To fully understand the place, you need to meet 10 heroes from northern Louisiana
They include a restaurant owner, an Irish Catholic nun and a Baptist missionary
Lake Providence, Louisiana
CNN
—
It's impossible to miss My Dream Eatery as you drive into America's capital of income inequality from the south. It's the one with magenta walls and Big Bird-yellow trim, the one Andrea Davis-Lloyd had painted twice to be sure the colors were just right.
In an area of northeast Louisiana that's been labeled the "poorest place in America," one of the most corrupt and, now, the most economically divided place in the country, Davis-Lloyd's new restaurant is a much-needed splash of color and life.
And this summer, it was the only one on that road with a sign that said, "Help Wanted."
Davis-Lloyd, 41, is one of the many heroes of East Carroll Parish, Louisiana, the parish with the highest level of income inequality in the United States, according to data from the American Community Survey. The parish is the focus of my latest Change the List project, since readers of this column voted for me to tackle America's widening rich-poor gap in the place where it's most extreme.
A few families, many of them white, hold most of the land and the wealth. The top 5% makes more than $600,000 per year. Meanwhile, about 40% live in poverty. It's a place, like much of the country, where the economy is mostly serving the rich. The middle class is vanishing – and many people are stuck in dire poverty. They're losing hope they'll ever be able to climb out of it.
But this place isn't hopeless. Far from it.
Davis-Lloyd and other Lake Providence heroes are proof of that.
They're creating jobs and trying to bring people from opposite ends of the economic spectrum together. I have to believe that if rich people and poor people here, and across America, really took time to understand each other, we could narrow the income gap. Part of the problem is that we're usually invisible to each other.
Meet these 11 heroes and you'll understand why I believe things eventually will change for the better in Lake Providence and in the United States as a whole.
They're the ones who will bump the parish off the bottom of the list.
1. Frededreia Willis, the young optimist
Frededreia Willis, an 18-year-old college freshman with a toothpaste-commercial smile and a transcendent air of optimism, wants to come back to Lake Providence after college, to build a bridge across the mile-wide oxbow lake.
That might give people an excuse to talk to each other, she said.
"You have to sit back and think, why is God keeping this town alive?" she said. "If we're the poorest and we have the highest unemployment and crime rate, why doesn't God just say 'I'm going to wipe this town off the map?' Because he knows that, in a couple years, something big is going to happen for Lake Providence.
"He's waiting for us to start to believe in ourselves."
I hate to sound 30, but … just, wow. She's 18, people. Listen up.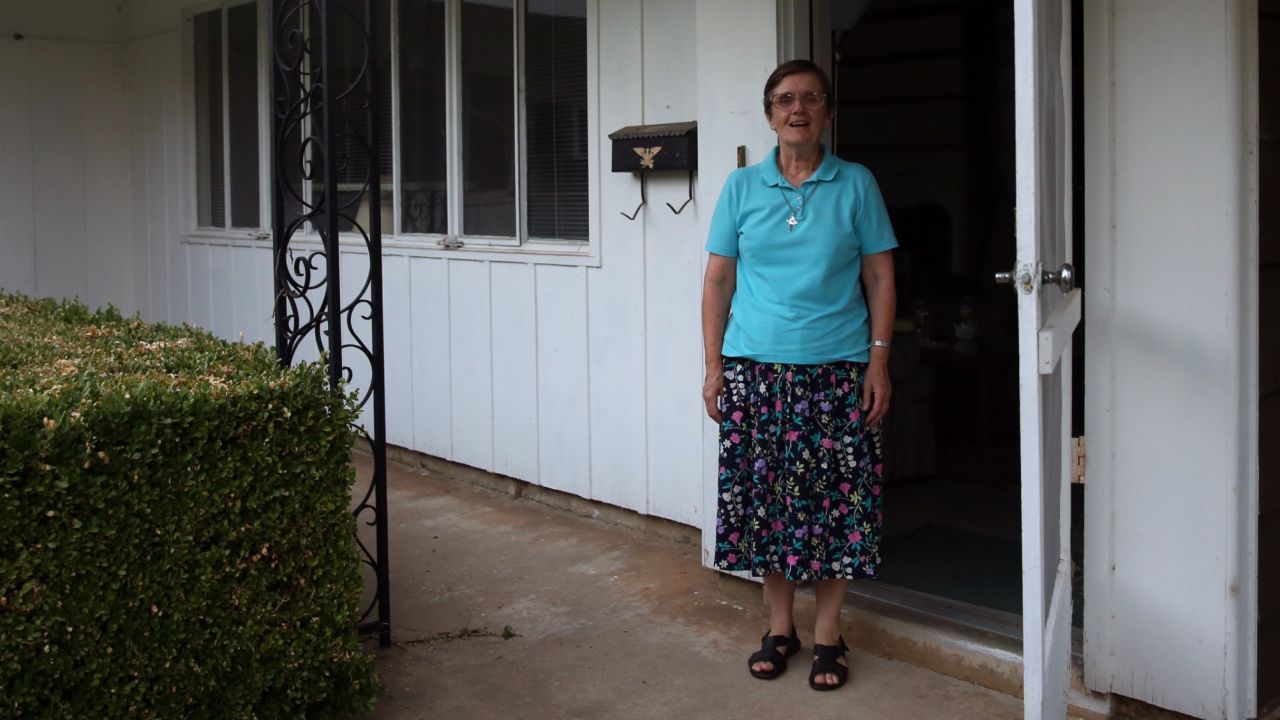 2. "Sister Bernie," the Irish Catholic nun
Haiti or Lake Providence.
That was the choice facing the Catholic organization that supports Sister Bernadette Barrett's work in Lake Providence. A regional branch of the Leadership Conference of Women Religious, Barrett said, was planning to send nuns as missionaries to Haiti when leaders read a 1994 Time magazine article calling Lake Providence the "poorest place in America."
They decided the nuns would do more good here.
"Sister Bernie," as everyone calls her, is trying to rally the poorer community in Lake Providence based on the principles of labor rights organizer Saul Alinsky. She encourages people to attend local government meetings and make their voices heard.
Hers is never silent, either.
The unassuming woman, who has "Sound of Music" hair and librarian glasses, constantly pushes Lake Providence to expect more of itself. People here want to come together, but they don't often do anything about it, she said.
"If you look at Jesus, Jesus treated everybody with respect," she said. "We're all children of God, whether we have a BMW or whether we're walking."
3. Catherine Middlebrook, the jobs trainer
Perhaps more than anything, Lake Providence needs jobs.
Good jobs. Jobs that pay a living wage.
Most of the work used to be on cotton and corn farms. Enormous machines have taken over that industry, leaving many people unemployed. There aren't many other options. A couple of restaurants and banks. Pay-day loan centers. Dollar stores.
Catherine Middlebrook moved back to her hometown about a year ago from Seattle. She came for love and to help take care of her sick mother. But she has used the opportunity to try to give back to a community. She works for a group called the NOVA Workforce Institute of Northeast Louisiana, which provides job training and helps link potential employees with employers who need qualified workers.
This is a place she loves, but it's a tough love.
The jobs situation "is tied to segregation, slavery era," she said. "Very much so. It's still tied to that. Folks are trying to break through that.
"Despite what looks very gloomy," she added, "there are still people in town who are very hopeful and very optimistic and want to do something to change."
4. Bobbie Facen, the festival organizer
For more than a decade, a group of people from both sides of the lake has been organizing an annual Soul Food Festival to try to bring the community together.
One brain behind the operation is Bobbie Facen, a 72-year-old who was a teacher in 1970 when the schools here were forcibly integrated.
The 2013 festival featured a talent show – my favorite was a mother-daughter pair who danced to Zydeco music – as well as a car show and hearty portions of pulled pork and mustard greens. It did draw people from both sides of the lake.
Facen said race and class relations aren't hostile these days, but "we don't do as much as we could do as a 'together community.'"
Good food and a little dancing are changing that.
5. Robert Amacker, the mayor
It will take people from both sides of the lake to mend the gap between rich and poor, and Lake Providence Mayor Robert "Bobby" Amacker is one of several people who lives north of the lake and wants the two communities to become one and is working toward that goal.
His family owns one of the larger farms in the parish. It's 10,000 acres, he said, and he's in the top fifth of earners, meaning he makes six figures a year.
But I believe the mayor when he says he lives with a genuine sense of service to less fortunate people in Lake Providence as well.
The mayor has worked to woo new companies to town, including a biofuel plant that brought 50 jobs with it. He supports job-training programs and was part of a mostly successful effort to rid the town of stray dogs.
His personal life also bears out his mission to help.
The mayor told me a stunning story about the day he found a box on the couch in his home. He thought maybe his wife had been shopping. He didn't think much of it. Then he heard what he thought was a crying sound coming from the box.
He looked in to see what he assumed was a toy doll.
"I reached down and picked the doll up, and it was a little baby."
He still doesn't know who her parents are, but the family raised the girl as their own. She graduated from law school in Boston, he said, and has a child of her own.
6. Wydette Williams, the sheriff
The first black sheriff of East Carroll Parish, Wydette Williams has made it a priority to clean up drug use that he says affects both the black and white communities.
The sheriff's department is also the largest employer in town, he said.
More important than all that, however, is what people in Lake Providence say about the sheriff: They say he's a man who unites the community, who everyone can get behind. In a place where the schools are still largely segregated, not by law but by cost, the fact that the sheriff represents one parish instead of two is a huge step forward for the community.
"We should have a different situation going on," he told me. "We're working hard trying to bring some changes here. We're lowering the crime rate.
"We're trying to take the bull by the horns."
In 2001, a particularly crime-ridden year, the parish, which is now home to only 7,500 people, had nine homicides, he said. That's a rate of more than one homicide per 1,000 people, more than six times the 2012 murder rate in Chicago, which is dubbed America's murder capital.
There hasn't been a murder in the parish since 2010, Williams said.
7. Jenny Hodge, the backpack missionary
Jenny Hodge, a Baptist missionary employed by a group called Together for Hope, is working to give poorer residents of Lake Providence a voice in their community and to meet some basic needs. She organized a backpack drive this year, for example, to make sure all of the public school kids had the supplies they would need.
She says people are quick to blame poorer individuals for their circumstances, to think that they can just try harder and all of a sudden problems will vanish.
"You have to look at a more systematic view of it," she said. "It's not because folks in Lake Providence are lazy or they don't want to work.
"I think people underestimate how hard it is to live on or below or just above the poverty line," she said. One recent study published in the journal Science showed that the stress of being poor reduces a person's available IQ by the equivalent of 13 points. A brain taxed with the stress of poverty – wondering how to pay the bills each month or trying to find a job that might not exist – can't function at its highest level. That reduction in IQ is "comparable to the cognitive difference that's been observed between chronic alcoholics and normal adults," writes Emily Badger in The Atlantic.
"Power is not just the ability to do it, it's the ability to think you could do it," Hodge said. "To believe that it actually can happen."
She's one of the people helping Lake Providence believe again.
8. Rosie Brown, the service provider
If you're out of money and need help, everyone in Lake Providence knows you can turn to Rosie Brown, who heads up the East Carroll Community Action Agency. The group coordinates government service programs. Brown helps distribute food to older residents, collects food from a food bank in a neighboring town, assists people with their taxes and food stamp applications and manages a clothing bank.
Lately, however, she's been the one in need.
The agency's budget was cut dramatically, and Brown told me she had to choose between firing one of her employees or reducing the hours for everyone. She chose the latter, in effect cutting herself down to a part-time employee, although she feels a responsibility to provide the same level of services that she did before.
The change has eaten through nearly all of her savings.
But it's made her appreciate anew the giving nature of her community.
"Living in Lake Providence, you can't go hungry," she said. "People help you out."
The woman who is used to baking pineapple upside-down cakes, German chocolate cakes and orange glaze cakes for her friends and neighbors is now getting food – okra, peaches, pears – brought to her at the office and at home.
"That's just the nature of people," she said. "If somebody has a garden, they'll give you almost everything out of it."
9. Delores Gilmore, the prison guard
Delores Gilmore, 44, has raised eight kids while working low-wage jobs. Like many here, she believes in hard work, no complaints. Currently, she works as an overnight prison guard, starting her shift at 6 p.m. and ending at 6 a.m. She doesn't get much sleep after that, spending many of her non-working hours shuttling family members to and from appointments.
She makes $8.50 an hour and is two months behind on some bills. There were times when she was so poor she couldn't buy her children underwear. She relies on the community to help her through. And she pays back their generosity.
"You have to help one another if you want to survive around here," she said. "You ain't got nothin'. I ain't got nothin', but I'll give you whatever I've got."
Her quiet determination embodies the resiliency of Lake Providence.
10. Andrea Davis-Lloyd, the restaurant owner
Finally, there's Andrea Davis-Lloyd and her My Dream Eatery.
It's the perfect name for a business that has always been her dream. She jokes that everyone in town already has eaten her famous catfish, burgers and gumbo, only now she's making a business out of it.
I asked her what her specialty is.
"You know what? I can cook water and make it taste good," she said. "How about that? That's my specialty. I can actually cook anything. Everybody loves the gumbo."
Davis-Lloyd said she got her confidence when she left Lake Providence in her early 20s to try to find better work in Texas. She ended up working at a prison, making more than minimum wage, and she started to see herself as the kind of person who could do something with her life – who could do more than just scrape by.
Her husband helped finance the restaurant, which she opened this summer.
Her goal is to make enough money to pay her workers a living wage, too.
Davis-Lloyd sees My Dream Eatery as more than just the food. It's also a neutral place where people from all walks of life can come together to eat and talk.
Davis-Lloyd has wrestled with depression. Shortly after she dropped out of high school and was struggling to raise two kids she tried to commit suicide.
She bounced back from that stronger than ever. She wouldn't trade the struggle. It's helped her see a brighter future, both for herself and for Lake Providence.
People have to remind themselves that "it's dim now," she said, "but I promise you, the sun's gonna shine in the morning."
The opinions expressed in this column are solely those of John D. Sutter.