Story highlights
Two women and two men were on the plane
Building company CEO, his son, believed to be onboard, business says
The plane departed from Hailey, Idaho
(CNN) —
Four people were on board a business jet that crashed into a hangar at the Santa Monica Airport, the Los Angeles County Coroner's office said Tuesday.
No one survived Sunday's crash and subsequent fire. The victims were two women and two men, but their identities were not released. Two cats and a dog were also aboard the plane.
Charles Muttillo, vice president of Morley Builders of Santa Monica, issued a statement Tuesday confirming the deaths of Mark Benjamin, the company's president and CEO since 1981, and his son Lucas, a senior project engineer.
"We are heartbroken at the loss of Mark Benjamin and his son Lucas in a tragic accident. … We are proud to be associated with the company that Mark's family founded. He had a profound influence on each of our employees, the Southern California landscape, our local community, and the construction industry. We are committed to building on his legacy," the statement said.
The twin-engine Cessna Citation ran off the right side of the runway after landing at 6:20 p.m. PT, said Federal Aviation Administration spokesman Ian Gregor.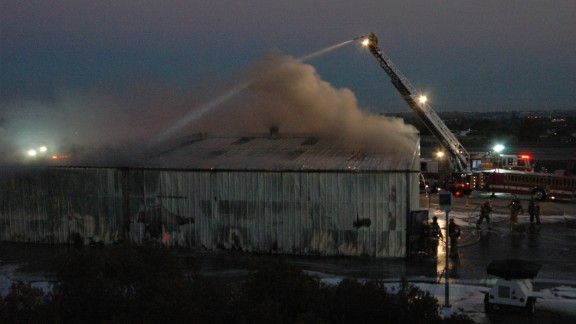 The hangar collapsed and was too unstable for firefighters to enter, said Captain John Nevandro of the Santa Monica Fire Department.
"It was an unsurvivable crash," Nevandro said.
There was no communication with the pilot to indicate mechanical failure, Van McKenny, an investigator with the National Transportation Safety Board, said Monday at a news conference. He added that the agency has not confirmed the number of people on the plane and that the county coroner will release that information.
CNN's Dave Alsup and Janet DiGiacomo contributed to this report.