Story highlights
Woman at protest camp in Cairo exchanges texts with mother
Reporter is there on personal time, assisting injured
She dies during a raid on pro-Morsy camp
(CNN) —
Cold and shivering, Habiba Ahmed Abd Elaziz exchanged worried texts with her mother Wednesday morning as Egyptian security forces moved toward and blocked roads leading to a protest camp in Cairo.
"The crowds are massive and on high alert. Pray for us, mother."
"I entrust you to God the Almighty," her mother responded.
"I'm heading to the platform in a little while. There are tanks there," Elaziz replied.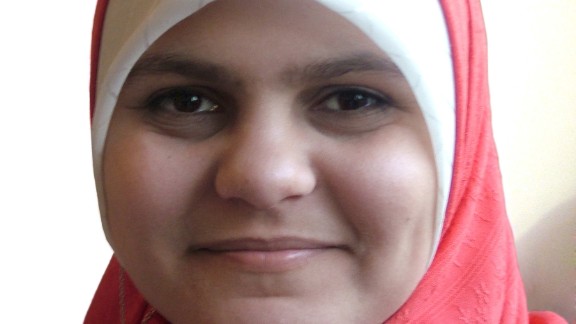 It was her last text.
Elaziz, 26, was one of the scores of people killed as security forces stormed Rabaa al-Adawiya camp filled with supporters of ousted Egyptian President Mohamed Morsy. It was not clear who fired the bullet during clashes between the two sides.
The dramatic text exchange, published by The National, was confirmed to CNN by Elaziz's younger sister, Arwa Ramadan.
A staff reporter with the United Arab Emirates-based Xpress weekly newspaper, Elaziz was in her native Egypt in a personal capacity, having celebrated the Eid holiday.
She was assisting the injured at the camp, according to Ramadan.
Bloodiest day since revolution marks new 'beginning' for Egypt
Elaziz joined Xpress as an intern in September 2011 and later took a full-time position, according to Dubai-based Gulf News, a sister publication.
"It's hard to believe she's gone," said Xpress deputy editor Mazha Farooqui. "She was passionate about her work and had a promising career ahead."
Clashes turn square into bloody 'war zone'
Without knowing what had happened, Elaziz's mother, who lives in Sharjah, an emirate in the United Arab Emirates, texted a prayer to her daughter and wrote a message of support for protesters in Egypt.
"God I entrust to you with my husband Ahmed and my daughter Habiba. May we not be bereaved over any of them. God empower them and support them and keep them steadfast at the moment of encounter today."
And then this text:
"Habiba, please reassure me. I've called thousands of times. Please, my darling, I'm worried sick. Tell me how you are."
The mother called Elaziz's phone around noon. Someone picked up the phone and told her the young journalist was dead. Elaziz's father was OK.
The mother and three siblings were scheduled to arrive in Egypt late Wednesday.
Cameraman killed in Cairo violence
CNN's Leone Lakhani reported from Abu Dhabi and Phil Gast wrote in Atlanta. CNN's Richard Greene also contributed.