Story highlights
Wedding photography is an extension of a couple's collective personality
Some couples are crowdsourcing guests' images with hashtags or apps
Others couples want guests to "unplug" and put away cameras and phones
The best weddings are often the ones that celebrate the couples' personalities. It shows in the details – from Broadway show tune processionals and choreographed dances to "Star Wars"-inspired cake toppers and "The Lord of the Rings" costumes.
More and more, how a couple chooses to document their wedding is yet another extension of their collective identity. Just as technology and smartphones are changing the way we interact with each other, they're also shaping decisions around wedding-day pictures.
Don't miss out on the conversation we're having at CNN Living. Follow us on Twitter and Facebook for the latest stories and tell us what's influencing your life.
Some couples are crowdsourcing images from guests to complement or even replace professional photography. At the same time, some couples are asking guests to "unplug" and put away their cameras and phones altogether.
The varying approaches are just the latest example of how people are responding differently to technology's increasing grip on our everyday lives.
"Everyone's a photographer now. It used to be that six megapixels was a pro camera. Now you have that on your phone," said Rocky Bowles, education producer of SmugMug, a file-sharing website that allows wedding photographers to host virtual storefronts. "For clients and couples, it's great because they have so many options. For photographers, it makes the competition serious."
Most Americans are bombarded with images and media all day, sharing everything on social media platforms, said Chicago-based photographer Angela Garbot. The need to share is heightened at a momentous event like a wedding.
"Regardless of what kind of photographer you are, we all know that the best camera to take a picture with is the one you have in your hand," she said.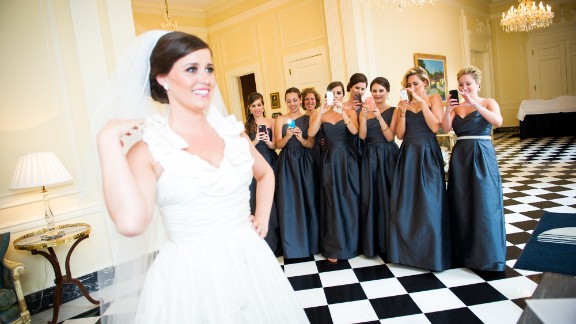 Angela Garbot Photography
Garbot doesn't see crowdsourced wedding photography as a threat to the professional craft. In fact, she teaches classes in iPhone photography.
"I see it as another tool in your tool kit. It's not going anywhere, so we might as well embrace it," she said. "But just because you're taking pictures with a phone doesn't give you license to take bad pictures."
For couples who love the limelight, the more pictures the better, regardless of quality, said Ohio-based wedding photographer Corey Ann Balazowich, who recently extolled the virtues of the "unplugged" wedding ceremony in a Huffington Post column.
Lovely wedding, but did it trend on Twitter?
Others prefer to keep their weddings more low-key. "I understand both sides completely, but