Story highlights
Secondhand clothing and vintage finds are showing up in couture, everyday work wear
Goodwill Industries reported an 83% increase in year-to-date revenue from 2007 to 2012
Saving money and discovering unique finds has become trendy again
Avid thrift shopper Keren Charles organized Atlanta's first Thrift Fashion Week this spring
Keren Charles remembers how embarrassed she was the first time she set foot in a thrift store more than 20 years ago to buy black pants for her first job.
"I didn't want anyone to see me," said Charles, a 37-year old administrative assistant from Atlanta. "In high school, there was really a stigma attached to it. People thought you were either poor or homeless."
Now, the fashion enthusiast says, about 97% of her closet consists of secondhand clothes, vintage dresses and all kinds of sequined accessories. Her favorite find is a navy blue Bill Blass chiffon evening gown potentially worth hundreds of dollars that she scored for $5 at Goodwill. Her last visit to a mall – a rare occurrence – was months ago, to use a gift card.
She proudly flaunts her thrift store finds on her blog, Two Stylish Kays, and social media. When strangers started asking her for fashion advice, she decided to market her love of "thrifting" by becoming a part-time personal shopper. She helps clients maintain their wardrobes and advises them on new trends. She even organized Atlanta's first Thrift Fashion Week in the spring.
"I want to encourage people to try it," she said. "When you see other people doing things and you see all the great pieces they find, it kind of motivates you to at least try it."
Tips for thrifting
Tips for thriftingWEAR A THRIFTING UNIFORM: Some stores don't have dressing rooms or if they do, lines are long. Wear leggings, a close-fitting top and shoes that are easy to slip on and off so you can try on clothes without getting undressed. BRING A LIST: To avoid getting overwhelmed or buying too much, make a list of wants and needs. Bring your inspiration style diary or tear sheets to serve as a visual guide of must-have pieces. Buy only what you need, pieces that you will love and wear immediately.SHOP FOR ACCESSORIES: Silk scarves, leather purses, vintage jewelry, and belts are inexpensives way to update your wardrobe. Look for basic essentials that your accessory wardrobe may be missing, like a pearl necklace or black leather bag. TRY OUT TRENDS (AND CLASSICS, TOO): Thrifting is an inexpensive way to determine if you like a certain style so go ahead and experiment. Stock up on classics like black pants, blazers, button down shirts, denim shirts and denim jackets.SHOP THE LABEL: Labels will identify if a piece is a vintage or designer item, if it's worth the price, and care instructions.
In fact, more people have been sharing Charles' enthusiasm for secondhand clothing in recent years. Goodwill Industries, one of the most recognizable names in secondhand shopping, says it has experienced an 84% increase in revenue from the sale of donated goods from 2007 to 2012, from $1.9 billion to $3.5 billion.
Secondhand clothing and vintage items are showing up in couture, street wear, even everyday office wear. Besides the incentive of saving money, thrifting has also become trendy. Hip-hop duo Macklemore and Ryan Lewis won a 2013 Billboard Music Award for their hit song "Thrift Shop," which brags about "looking for a come up" in a thrift shop.
More people are discovering thrift store shopping because of the recession, said Maureen McGill, co-founder of Manhattan Vintage, New York's biggest vintage fashion market for more than 30 years. But, she believes that the love of vintage style and the thrill of the hunt will keep people coming even during good economic times.
"Vintage is the root of fashion. This is where fashion comes from. Designers use it as inspiration," she said.
What is a thrift shop, exactly?
There are three types of shops that sell used clothing, according to the Association of Resale Professionals. A resale shop buys merchandise from individual owners; a thrift shop is run by a not-for-profit organization to fund charitable causes; a consignment shop pays the owners of the merchandise a percentage when and if the items are sold.
Even thrift stores that have been funding charitable causes for decades are enjoying the popularity. Some days, a line starts forming outside Atlanta's Nearly New Thrift Shop at least 30 minutes before it opens, said Camille Kessler, president of the Atlanta chapter of the nonprofit Junior League, which benefits from the store's proceeds.
More customers began coming to the store at the start of the recession almost six years ago, and sales have been steadily increasing, Kessler said.
"We really hope this trend is here to stay."
Growing interest in the trend inspired Charles to organize a fashion show with the help of other local fashion bloggers. All clothes modeled were purchased from thrift shops, and nothing cost more than $20.
This year's winner was Neshanta Davis and her two-piece polka-dot short set, which included a matching bow tie. Davis, who is also an avid thrift shopper and stylist, says that not knowing what you will find is the best part about thrifting.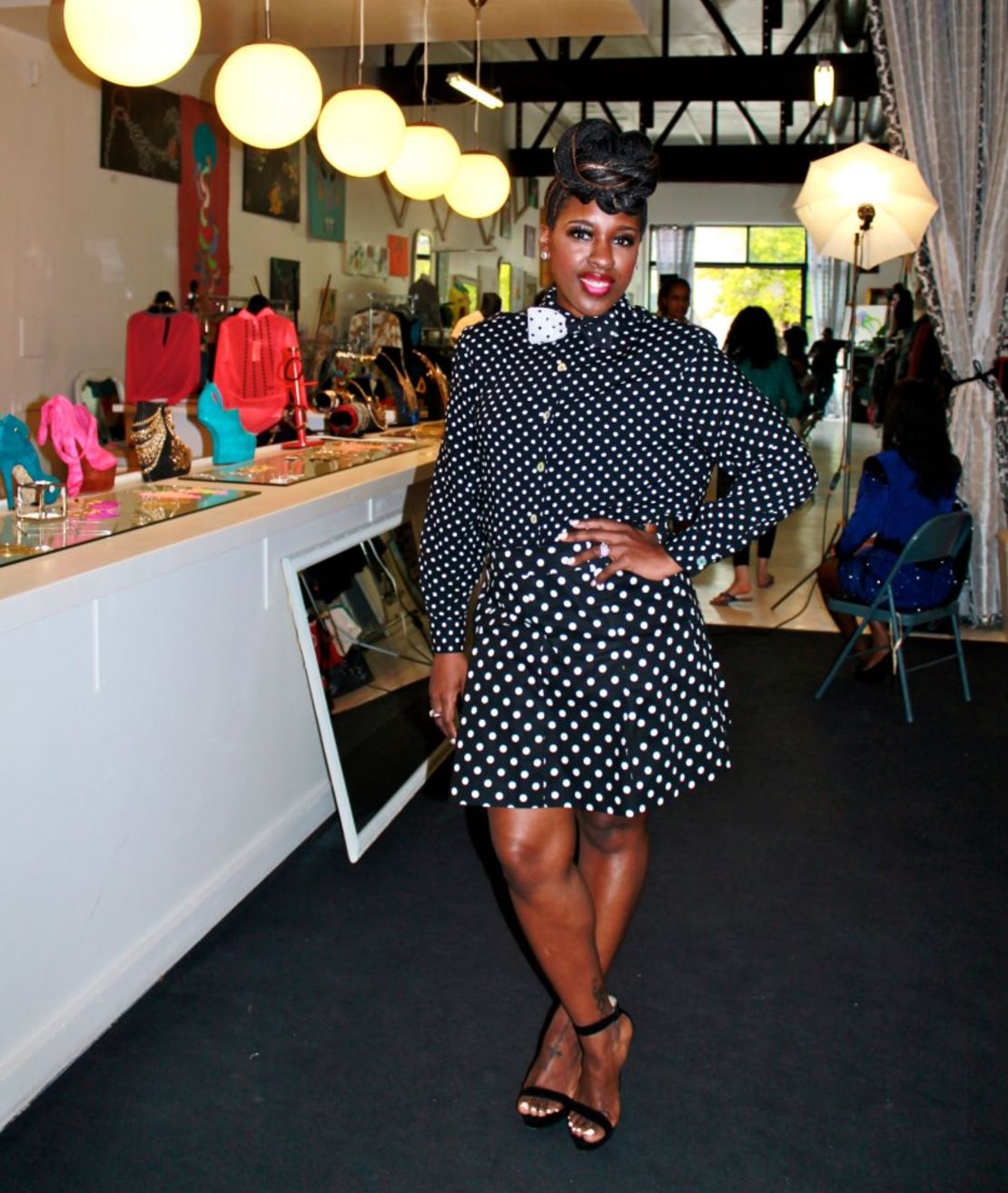 "What I love about thrifting is the thrill of it, the challenge in finding something unique that everybody else isn't going to wear," she said.
The recently popularity may be great for new shoppers and for business, but it's not so great for longtime regulars like Charles.
"The competition is kind of fierce now," she said. "You're in the thrift stores, and you're seeing so many other people, but it's still better than shopping at a department store."