Editor's Note: This post was created for your reading pleasure as a collaborative effort between the editorial staffs of BuzzFeed and CNN.
Story highlights
All eyes have been on Kanye West and Kim Kardashian since they went public
The couple is expecting their first child this summer
Kardashian revealed the gender of their baby on her family's reality show
The world has been exposed to the romantic escapades of eccentric rapper Kanye West and tabloid darling/reality star Kim Kardashian, willingly or not, since they made their relationship public in April 2012.
Yo, we're gonna let you finish, but let's take a look back at the long road that led these two crazy kids to one of the most talked-about hook-ups of all time.
2007: Kim and Kanye are photographed together at the grand opening of the L.A. fashion boutique Intermix. At the time, Kim was dating then-New Orleans Saints running back Reggie Bush. "We met almost a decade ago. I've known him for a very long time. We've been friends for six or seven years," Kim revealed of her relationship with Kanye in an exclusive interview with Oprah in June 2012.
2008: Kim and older sister Kourtney publicly cross paths with Kanye again at Flaunt Magazine's 10th anniversary party in L.A.
This time, Kanye was dating model Amber Rose. Amber and Kanye would call it quits in 2010 after a two-year on-again, off-again relationship.
2009: Kanye West appears on Keri Hilson's song "Knock You Down" with a guest verse that many cite as a direct reference to his infatuation with Kim.
The key line, according to Hollywood gossip site TMZ, comes towards the end of the song:
"You was always the cheerleader of my dreams / To seem to only date the head of football teams / And I was the class clown that always kept you laughing / We were never meant to be, baby we just happened."
After a brief split and reconciliation in 2009, Kim and Bush (presumably the "head of football teams" West mentions) ended their three-year relationship once and for all in 2010.
March 2012: After not being spotted together publicly for a few years, Kimye, as they are frequently called, show up together at Paris Fashion Week.
April 2012: The couple is seen together in New York at the opening of RYU, the Japanese restaurant owned by Kourtney Kardashian's boyfriend, Scott Disick.
(This was the same night Kanye was famously photographed pulling his pants up.)
April 2012: That same month, Kanye drops the song "Cold," featuring DJ Khaled, which references Kim by name:
"I got respect for … Wiz / And I'll admit, I had fell in love with Kim / Around the same time she had fell in love with him / Well that's cool, baby girl, do ya thang / Lucky I ain't had Jay drop him from the team / La Familia, Roc Nation."
The lyric appears to be a direct reference to both Amber Rose's relationship with fellow rapper Wiz Khalifa and Kim's short-lived relationship with Kris Humphries, who played for the New Jersey Nets at the time. Kanye's friend Jay-Z owns a minority stake in the team, now called the Brooklyn Nets.
May 2012: Kim and Kanye are photographed canoodling at a series of Lakers games.
July 2012: They attend the BET Awards together, sitting next to Jay-Z and Beyoncé.
August 2012: Kim and Kanye show up in comedian Kevin Hart's promo for the MTV Video Music Awards.
The clip shows the couple lounging in a hotel room. Hart suggests that he could be close friends with the couple and that they could even start wearing matching outfits and be the "the new 'it couple" known as KevYeKim.
December 30, 2012: Kim announces on her blog that she's pregnant:
"It's true!! Kanye and I are expecting a baby. We feel so blessed and lucky and wish that in addition to both of our families, his mom and my dad could be here to celebrate this special time with us. Looking forward to great new beginnings in 2013 and to starting a family. Happy New Year!!! Xo"
December 2012: That night, Kanye confirms it during a concert in Atlantic City, calling Kim his "baby mama."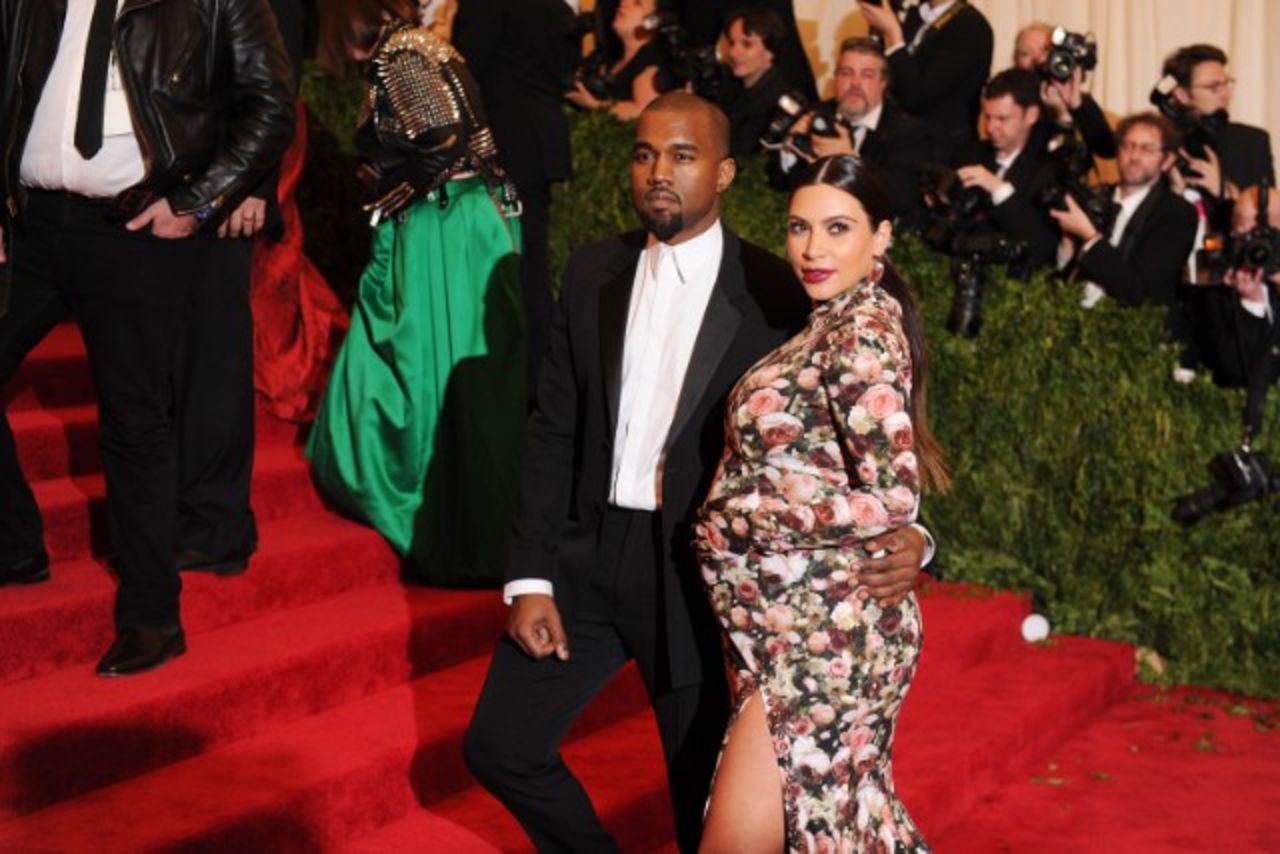 May 2013: Kim and Kanye show up on the red carpet for the Costume Institute Gala's "PUNK: Chaos to Couture" exhibition at the Metropolitan Museum of Art.
Which inspired a few unfortunate jokes online:
June 2013: In the eighth-season premiere of "Keeping Up with the Kardashians," Kim and mom Kris Jenner learn that Kim and Kanye are having …
A girl! The announcement came a day before Kim and her husband of 72 days, Humphries, jumped the last legal hurdle in their much lengthier divorce process, which began in 2011.