Story highlights
Vigil held to help town begin healing process
Teams continue to search for the missing, officials say
"We were thrown into the bed of my truck," a college student says
Police estimate five to 15 people killed, more than 160 injured
Some 35 people – including 10 first responders – died in a massive explosion Wednesday night at a fertilizer plant in West, Texas, Mayor Tommy Muska said, according to USA Today.
The number included five volunteer fire fighters, four emergency responders and an off-duty fire fighter from Dallas who lived in West, the mayor told the newspaper.
Dallas Mayor Mike Rawlings identified the off-duty fire fighter as Kenny Harris, a captain in his city's fire department. Harris "rushed to the scene as a helper," Rawlings said on Twitter.
Officials at news conferences in West were unwilling to give any numbers on victims. They have only confirmed there have been casualties.
Earlier, Waco Police Sgt. William Patrick Swanton estimated there were five to 15 people who died.
George Smith, West's director of emergency services, has said the death toll could spike to 60 or 70.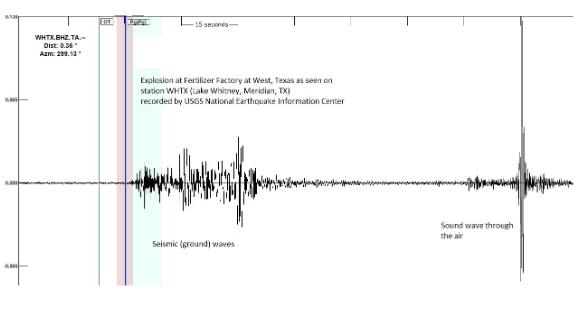 USGS
More than 160 people were injured.
Residents packed the Church of the Assumption in West on Thursday night to remember those who died and to pray for the survivors.
Glenn Robinson, the head of Hillcrest Baptist Medical Center in Waco where many victims were taken, said 29 patients were still hospitalized, including five that were in the intensive care unit.
The area around the site of the massive explosion at a fertilizer plant that flattened much of the small Texas town remains "very volatile" due to the presence of ammonium nitrate, McLennan County Chief Deputy Sheriff Matt Cawthon said Thursday.
Authorities searched through mounds of rubble in hopes of finding survivors of the blast that left shattered homes and wreckage in a wide swath of the town, which has only 2,800 people.
"It's overwhelming to us," said Smith. As he spoke to CNN affiliate KCEN, blood was spattered on his face from injuries he suffered.
"It was like a nuclear bomb went off," said Mayor Tommy Muska.
Muska told CNN on Thursday afternoon that emergency officials were still combing through a nearby nursing home, apartment complex and the plant looking for survivors.