Story highlights
Families talk about the lives, personalities and aspirations of their loved ones who were killed by guns
Promising and productive lives cut short: 30 Americans are murdered by guns on average each day
Editor's Note: This week, CNN TV and CNN.com will take an in-depth look at "Guns Under Fire: A CNN Special Report On Background Checks."
As Congress grapples with major gun control legislation proposals, brothers and sisters, mothers, fathers and children write about the people they loved and lost to gun violence and how it changed their lives.
My daughter Jessi, killed in Aurora, believed each day is a gift
My 24-year-old daughter, Jessica Redfield Ghawi, is no longer a part of the world she brightened. She was one of 12 people killed on July 20, 2012, when a man waged war on theater patrons at a midnight screening of "The Dark Knight Rises" in Aurora, Colorado.
She had discovered her passion and was ready to start a new career in sports journalism that summer. She was always about people who were hurting or were in trouble or having issues. She fought the bullies. She was a very loving, compassionate young woman her whole life.
Shootings are so prevalent in today's world that Jessi had been in the food court of a mall during a mass shooting in Toronto five weeks before she was killed. Five people were shot. One young man died. He was Jessi's age – 24. She blogged about the experience and its effect on her:
"I was shown how fragile life was on Saturday. I saw the terror on bystanders' faces. I saw the victims of a senseless crime. I saw lives change. I was reminded that we don't know when or where our time on Earth will end. When or where we will breathe our last breath. For one man, it was in the middle of a busy food court on a Saturday evening," she wrote.
"I say all the time that every moment we have to live our life is a blessing. So often I have found myself taking it for granted. Every hug from a family member. Every laugh we share with friends. Even the times of solitude are all blessings. Every second of every day is a gift. After Saturday evening, I know I truly understand how blessed I am for each second I am given."
I want my daughter's spirit to live on through good works, and I want our society to search its collective soul on the subject of guns. I believe a balance exists between Second Amendment freedoms and the rights of the public to be protected. We must close loopholes and put limits on the types of guns and amount of ammunition that can be sold. By Sandy Phillips
Li'l John could light up a room
Jonathan Jackson Jr. – or "Li'l John" as we called him – was 5 years old when we lost him in an unspeakable tragedy. To this day, his father, my husband, cannot speak about the incident that took his namesake away three years ago.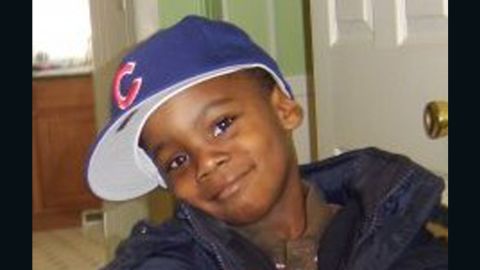 Li'l John was an absolute joy. He knew how to light up a room. He loved to ride his bike and play basketball, and he loved looking at custom cars. He and his identical twin brother were inseparable, and we often found them asleep on top of one another.
He was going to start kindergarten on August 10, 2010. He never made it. The day before, he and his brother were at their mother's home and found a loaded gun near their toys. A teenage relative who was visiting had brought the gun inside. The gun went off, and Lil John was killed.
Getting that news over a cell phone at 10 p.m. seemed unimaginable. My husband and I were in shock. We were full of anger – not toward our young sons – but at the utter irresponsibility of allowing a gun in the home where these precious little children played.
The aftermath of this horror has left an emptiness inside his twin brother. Our family has changed. Innocence was lost. There are issues that we prefer not to discuss out loud. The organization Moms Demand Action, which advocates gun control, is one of the reasons I broke my silence.
My stepson is one of so many children this country has lost. We have to do something. We need to turn around a system that allows too many of the wrong people to get guns. Common sense is not as common as we need it to be. By Genetta Jackson
Each morning I think: My sister Mary does not have this day
The nightmare began 116 days ago when I received the horrific phone call that my older sister, Mary Sherlach, was killed at Sandy Hook Elementary School. My heart is forever broken, my life and my entire family's life forever changed. One day, one gun, 26 lives lost in four minutes.
My husband called, telling me there had been a shooting. Where? What school? The next few hours are a blur of chaos and trauma. Desperate phone calls back and forth between my family members. The final phone call telling me that we lost her – I don't know how long I screamed.
Everything that comes after that is even harder. Explaining a mass shooting to your 10-year-old son. Walking into your sister's house and seeing your devastated brother-in-law and nieces. Then standing in a line at a wake for four hours, listening and comforting more than 800 mourners. Touching the small wood box that holds your sister's remains.
Mary was the oldest of the Greene girls. She was smart, she was pretty, she was popular and outgoing. Mary was a born leader. Growing up she gave me lots of advice. Mary had the answers and the solutions. She was born a trouble shooter. As we got older I could always turn to her for help and council.
Mary's gift at counseling placed her at Sandy Hook Elementary as the school psychologist. She referred to helping her children surmount their problems as God's work. She was devoted to her profession. On the morning of 12/14/12, Mary was running a meeting for one of her children. When she heard the shots, she told the others in the room to get back. I believe Mary made a decision to try to talk the shooter down. In death as in life, Mary was selfless and determined.
Every morning I wake up and remember my sister Mary does not have this day. Her husband Bill does not have his wife. Her daughters do not have their mother. I will never see my sister again or be able to turn to her for her wisdom and advice. The loss of a family member is indescribable.
There are so many questions. What if the assault weapon had been banned? What if 30-round magazines were illegal? What if the bullets weren't so destructive? Maybe this could have been prevented, maybe there could have been more time to react, maybe there could have been more survivors.
It's time to address gun violence. It's time to pass laws that will save lives. We as a people must have the will to come together, to demand change and prevent another Newtown. By Jane Dougherty
We need the world to be as good as Christina thought it was
My daughter, Christina-Taylor, had a sparkle to her; she was smart and thoughtful and so eager to make the world a better place. She loved politics and had wanted to meet Rep. Gabby Giffords. We often wondered whether she would grow up to become the first woman to occupy the Oval Office. Instead, her life was tragically cut short in a hail of gunfire outside a Safeway supermarket.
We lost our 9-year-old daughter two years ago, during the shooting rampage in Tucson that left six dead and 13 others seriously wounded – including Giffords. It forever changed the course of our lives, and my husband and I still wonder today why God would take our beautiful baby girl from this Earth so young.
Laying my daughter to rest was something we never should have had to do. Christina-Taylor was robbed of an exceptional and beautiful life. She had so many big dreams and so wanted to be a "star." I know she could have excelled at anything she put her mind to. She never got the chance to even attend high school, graduate from university, get married and have children.
There are too many parents across the country – in Tucson, in Newtown, in big cities and small towns alike – who have experienced the anguish that we have suffered. There are too many little coffins filled with children who were taken from this world too early.
But for the first time in years, Americans everywhere have said enough to the bloodshed and enough to the madness of more than 30 Americans being murdered with guns each and every day. From Tucson to Newtown, people across the country have demanded action from their leaders in Washington.
In January, President Obama and Vice President Biden provided us with a renewed sense of hope when they put forth a comprehensive plan to reduce gun violence in America. Today, it's up to Congress to make sure this reform becomes a reality.
Have our elected officials forgotten how our nation felt after Tucson, after Aurora, after 20 innocent children were gunned down in an elementary school classroom in Connecticut?
Their parents haven't forgotten. I haven't forgotten.
We need our representatives in Congress to act, and we need them to act now. No more grieving mothers. No more carnage. No more children not coming home to their parents.
We can't let the memory of our perished loved ones fade. We need this country to be as good as Christina-Taylor imagined it to be. Americans need to keep demanding action. By Roxanna Green
I never got the chance to be 'Daddy's little girl'
Sad to say, I don't remember a whole lot about my dad: He was stolen from me right before I turned 5 years old.
Most women have wonderful stories about their dad taking them to father-daughter dances, about going to get ice cream with him, or the time he wiped their tears when a boy made fun of them.
I've even laughed at my girlfriends who were afraid to introduce their boyfriends to their dads. But I don't have those intimate stories to share.
I never got the chance to be "daddy's little girl," to be spoiled by the first man I was supposed to love. And he didn't get the chance to walk me down the aisle. For that, I missed a major part of who I could have been today.
Not to say that my mother wasn't sufficient. She was a dedicated, wonderful mother who was more than enough.
Still, I can't help imagine what my life would be like if my dad wasn't killed on Chicago's South Side on his way home to his family. If he were alive, would I be a different woman? Would I have younger siblings? Would I be a better wife and mother?
So I have very few photos and memories, but tons of questions.
All I know is that he loved me very much. I adored him, his nieces and nephews adored him. He worked very hard, he loved his family and he loved God. He died on the way home from church.
Unfortunately, because three immoral people decided my father's fate, I have to rely on the memories of my mother, aunts, uncles and cousins to know my own father. Guns in the wrong hands robbed me and forever changed my life. By Tenisha Taylor Bell
I lost my brother and best friend on his birthday
On July 20, 2012, a gunman walked into a movie theater in Aurora, Colorado, and fatally shot my older brother, Alex Sullivan, on his 27th birthday. With one bullet my brother was pulled from my life – present and future.
Since this senseless act of violence, my family and I have experienced an emotional and physical roller-coaster that is impossible to tell in words. Whether it's taking a stance on the need for gun law reform in the United States or attending court hearings, the ride is never-ending.
Through every twist and turn during the last 8½ months, I replay the "am I equipped for happiness?" mental dialogue. Unlike the many other sad times I have experienced, this time I don't have my older brother to guide me back to the light with words of encouragement, laughter or just some brotherly comfort.
I lost my first best friend, my voice of reason, the best bear-hug-giver, and my light in the darkness. I am now left as an only child taking on responsibilities never meant to be mine.
Since that day, July 20, 2012, I keep saying to myself that if only this didn't happen I could be happy. But I am reminded every day that this did happen – when his favorite song comes on the radio, a new movie comes out that I know he'd love, or when I feel the need to update him on what is happening to me. I begin a journey of grieving the loss of my brother and coping with being a victim of gun violence. Still, I know that happiness is on the horizon. By Megan Sullivan
Steven loved laughter and basketball – and his life mattered
Just around the corner from our home, while he was walking home from playing basketball with neighborhood friends, our youngest child, Steven, 13, was shot and killed. That night, October 4, 2007, will never leave us, but we must survive. If we give up on being present, we do Steven's memory a disservice.
My name is Kim Odom and my husband's name is Ronald Odom, Sr. We are the parents of five beautiful children and in a matter of seconds one was taken away.
The world needs to know Steven's life mattered. Steven was not at the wrong place at the wrong time – he was just where he was supposed to be. At 13, his life was enjoying family and friends. Laughter, basketball and drums were a great part of who he was. He wrote about that in his poem, "I AM."
Something in me won't accept that it's just the person who killed my son who should be held accountable. Where did the gun come from? Why are guns so easy to get? Gun violence is maiming people and taking lives in epidemic proportions across this nation, and the atrocity is kept going by a powerful and greedy system, where profits are made at the expense of vulnerable human beings. The children are caught in the middle, and their blood is being spilled.
My son Steven wrote in his middle school Peace Journal, "It's a shame people get shot and killed every day." He wrote that expressed several months before he became one of those people who get shot and killed every day.
I agree with Steven, it is a shame, and the shame is on us adults. As parents, it is our responsibility, when we become aware of the dangers our children are exposed to, to address it. WE must demand common sense gun safety legislation that doesn't play Russian roulette with our most precious resource, our children. By Kim Odom
Follow us on Twitter @CNNOpinion
Join us on Facebook/CNNOpinion
The opinions expressed in this commentary are those of the writers.