Story highlights
Roxanne Jones: Obama taking huge heat from comment that California AG is good looking
Jones: Comment came after praise for accomplishments and was not sexist
She says a comment in that context is a compliment; women should know the difference
Jones: President is known for including women's issues in his agenda
Editor's Note: Roxanne Jones is a founding editor of ESPN The Magazine and a former vice president at ESPN. She is a national lecturer on sports, entertainment and women's topics and a recipient of the 2010 Woman of the Year award from Women in Sports and Events. She is the co-author of "Say It Loud: An Illustrated History of the Black Athlete," (Random House) and CEO of Push Media Strategies.
"Thank you, Mr. President, you're not such a bad-looking guy yourself."
That would have been my response if I were California Attorney General Kamala Harris, who finds herself in the middle of a media dustup after President Obama introduced her as: "by far the best-looking attorney general in the country," at a fundraiser earlier this week.
Harris is a beautiful woman. She's also super intelligent and accomplished, which the president also noted. In fact, he lauded her professional merits first. So, I say take the compliment and move on. Or, if you're slightly embarrassed by the comment, give it back and move on.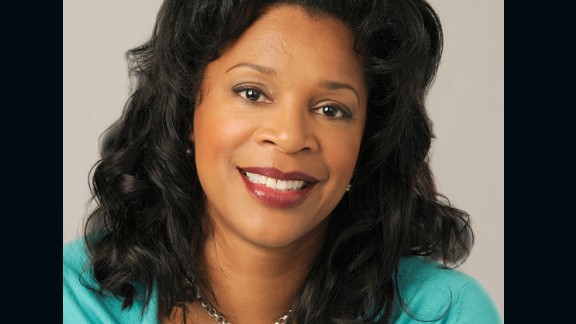 Courtesy of Roxanne Jones
President Obama's observation is not a major offense to women around the globe. Ridiculous flaps such as this one have always made me uncomfortable with calling myself a feminist, especially if that means I have to fly into a fit each time a man makes an awkward comment about a woman.
These were the president's exact words, according to a White House transcript from the fundraiser:
"You have to be careful to, first of all, say she is brilliant and she is dedicated and she is tough, and she is exactly what you'd want in anybody who is administering the law, and making sure that everybody is getting a fair shake. She also happens to be by far the best-looking attorney general in the country — Kamala Harris is here. (Applause.) It's true. Come on. (Laughter.) And she is a great friend and has just been a great supporter for many, many years."
Opinion: Obama's 'best-looking' remark was sexist
Clearly, the president realized in hindsight that his comment didn't go over very well, and he has apologized. But I don't believe an apology was necessary.
Get our free weekly newsletter
It's impossible to believe that anyone could seriously call President Obama a chauvinist over this banter between friends. No matter your politics, you will have a hard time finding a president who has included women more in his agenda. What has he done for us lately? Let me recall just a few things:
- Appointed two female Supreme Court justices, Elena Kagan and Sonia Sotomayor.
- Appointed Hillary Clinton as secretary of state.
- Signed the Lilly Ledbetter Fair Pay Act, which restored worker protections against pay discrimination. The bill had failed in the Senate in 2007.
I have disagreed with the president at times, but if POTUS is sexist, then we need more men just like him; the world would be a much better place for women. In my book, when a person – man or woman – acknowledges someone's intellect and professionalism and then gives a lighthearted nod to her beauty, it's not sexist. It's just a compliment.
Throughout my career, I've had to learn how to deal with men, and a few women, who made it a point to always comment on my looks, or tell jokes about women working in sports. Early in my career, I admit, I was uncomfortable and wondered how to best handle the situation, not easy when you are many times the only woman in the newsroom. But even when I started out, I realized that context is everything, especially in the workplace, when talking about women and harassment.
Here's an example: One night, while I was working late in the office editing on deadline, a male co-worker stumbled into my cubicle in a drunken stupor, he slung himself on my desk and leaned into me, slurring: "Roxanne, you're so beautiful. Seriously, I've been watching you. … Why don't you pay attention to me?"
Now, that was creepy. And clearly it was sexual harassment. My bosses and the human resources department quickly dealt with the guy. In fact, his behavior was reported by a male colleague, who witnessed the entire thing, before I could even make the call.
On another occasion, a senior executive speaking at an employee "town hall" meeting at work, pointed me out for a professional accomplishment, and then added: "Hey, Roxanne looks like that woman on the show, 'The Next Top Model.' " There was some laughter in the room but most of the women froze. I did not. I laughed and said: "Thanks, I'm glad you like my new hairdo."
Sure, I knew immediately that the comment was a little awkward. But I was in no way offended. And I did not want the executive, who had always been a champion for women in the workplace, to get any backlash for his comment. He didn't deserve the criticism.
Honestly, when he made that comment I was more worried that my female colleagues would be angry with me. Women might not want to admit this but we often hate women who look good, are smart and successful. Just think: Sheryl Sandberg, Facebook COO, or Marissa Meyer, Yahoo! CEO. Maybe we've been conditioned to believe the stereotypes. But none of us will achieve true equality in the workplace until we end this animus toward one another and focus on how to truly achieve power.
Luckily, sometimes life isn't serious. Sometimes, we can laugh at ourselves and know that not every man is out to hold us down. And if we women are indeed confident in our abilities and our appearance – no matter how we look on the outside – then we should stop cowering every time a man notices us and makes a comment.
Stand up strong and take the compliment, but just make sure you're handling your business, because beauty is nothing without brains to match.
Follow @CNNOpinion on Twitter.
Join us at Facebook/CNNOpinion.
The opinions expressed in this commentary are solely those of Roxanne Jones.