Story highlights
The victims, who may be undocumented immigrants, are from Guatemala and Honduras
The driver is among those injured, a spokesman says
Truck slams into a security barrier at the Kingsville, Texas, naval air station
It was being chased by police at the time, another spokesman says
(CNN) —
Seven suspected undocumented immigrants were killed and eight others injured when a truck being chased by police crashed into a security barrier at a Navy facility in Texas, authorities said Thursday.
Fifteen people were in the truck, with 10 crammed inside the cab and five under a tarp in the truck's bed, said John Gagne, spokesman for Naval Air Station Kingsville.
The crash occurred late Wednesday when the extended-cab pickup sped past an officer at the main gate at the base, south of Corpus Christi, Gagne told CNN.
The GMC Sierra was being chased by Kingsville police about 11:15 p.m. when it ran the checkpoint. Earlier, Gagne said that U.S. Border Patrol personnel were involved in the chase, but that was incorrect.
It was not immediately clear why the truck was being pursued.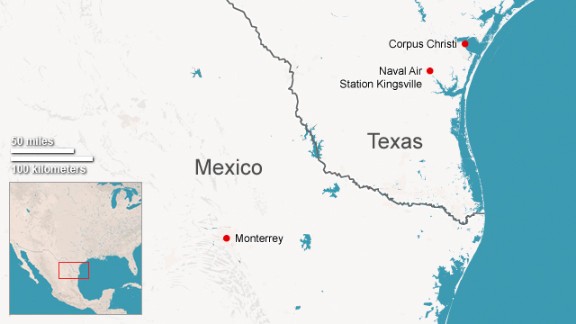 Google Maps
Guards deployed a pop-up barrier outside a second security post, and the truck slammed into that obstacle without slowing down.
"That's exactly what the barrier is designed to prevent," Gagne said, referring to the driver's behavior. "It's quite possible this guy didn't even know where he was."
Video from CNN affiliate KIII-TV showed flashing lights and emergency vehicles outside the air station overnight.
No one from the military or the law enforcement agencies was among those hurt; names of the victims had not been released as of late Thursday afternoon.
The injured were taken via ambulance or flown to hospitals in south Texas. Their conditions were not known, although Gagne said at least some were life-threatening.
Greg Palmore, a spokesman for U.S. Immigration and Customs Enforcement, said the crash victims are from Guatemala and Honduras and that their respective consulates have been notified. The driver was among those injured, he said.
Kingsville Police Chief Ricardo Torres referred all questions to the state Department of Public Safety, which is investigating the incident, along with ICE's Homeland Security Investigations and the Naval Criminal Investigative Service.