Story highlights
Samsung's Galaxy S IV comes with a spate of no-touch features
Air View will let users expand content by hovering a finger over the screen
With Air Gesture, scrolling or moving to new screen happens with a swipe
(CNN) —
When is a touchscreen not a touchscreen? Increasingly, it's when your smartphone reads your eyes, gestures and movements to perform basic functions without tapping the screen at all.
That was Samsung's point Thursday with the rollout of the new Galaxy S IV, the latest from the company's flagship line and the first Android-based phone to seriously challenge Apple's iPhone for dominance in the mobile market. The phone will be available on all major U.S. carriers by the end of April.
From reading to Web surfing to answering calls, the new handset will give users the ability to use the phone sometimes without even needing to hold it.
Consumer Reports, after a hands-on with the device, declared that while it "falls short of being revolutionary, it brims with clever capabilities."
Chief among those capabilities, the iconic product reviewers said, are its touch-free features.
"You can do a lot with the Galaxy S 4 without ever touching it," wrote Mike Gikas, who demoed the device. "The only other phones that can do this are Samsung's jumbo-screen Galaxy Notes, but those require you use an S Pen Stylus, which the S4 does not have."
The non-touch feature that probably will get the most use is Air View, which lets you simply hover a finger (or, we suppose, any alternate body part) over the camera sensor to get a larger pop-up. It works with e-mail, photos and videos, calendars and the Galaxy's backed-in version of Flipboard, the news-aggregator app.
This is similar to what users of the Galaxy Note can already do, but it doesn't require the S-Pen stylus.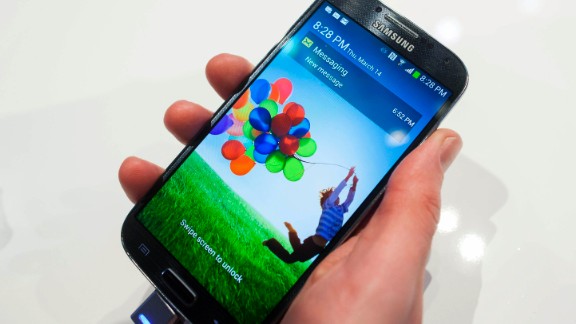 Layered on top of that is Air Gesture. Users don't even have to be holding their phone to use this. Simply swipe a finger through the air sideways and you can toggle from screen to screen, or up and down to scroll through something you're reading.
Air gestures also can be used to answer a phone call. Again, all of these movements are tracked by the phone's front-facing camera.
Smart Pause is an advance on a feature already available on the Galaxy S III. It was rumored that the new phone would read eye movements, but instead it's the user's head that triggers this feature. It's designed to tell when you're actually looking at your screen, keeping its sleep mode from kicking in when you are and shutting down to save battery life when you're not.
Now, Smart Pause also will pause a video if you look away.
"When (you're) watching a video and suddenly someone calls you and you get distracted, the video automatically stops without pressing a thing," Lee Young Hee, executive vice president at Samsung Mobile, said at Thursday's event.
Smart Scroll builds on that feature. While you're looking at the screen, you can tilt the phone backward or forward to scroll up and down.
"While the ability to scroll by tilting a phone is a feature we've seen on some earlier Android models, its automated activation is new," wrote Gikas of Consumer Reports. "I found this capability worked better than I thought it might, engaging quickly whenever I stared at the screen."
And there's good news for owners of the Galaxy S III. Samsung vice president Nick DiCarlo told PC Magazine that they'll be getting some of the IV's software upgrades.
"Anything that we can do that's not dependent on hardware like infrared, we'll definitely bring to all the flagship devices," he said.
The question, of course, is whether users, even those excited about the phone and its new hardware and software, will actually use the gesture controls.
Nilay Patel, managing editor of tech blog The Verge, told CNN that he suspects the S IV's camera upgrades will be more significant.
"It feels very gimmicky," he said of the hands-free features. "The tricks about tracking your eyes and waving at the screen, I don't think anybody's really asking for that stuff."
What do you think about the new Galaxy phone's features? Let us know in the comments.