Story highlights
Inspiration Mars Foundation wants to send a man and woman to Mars
Handling stress well and getting along with other person is important, experts say
Middle-aged couples were stable in research conducted in Antarctica
One man. One woman. Five hundred and one days in an RV-size space capsule. Will they still be speaking when they return?
The Inspiration Mars Foundation is seeking to send two people – potentially a middle-aged married couple – to space in a capsule that would pass within 100 miles of Mars.
Although no formal application process has begun, the Mars mission masterminds are already receiving résumés and technology ideas from interested people, said Jane Poynter, president of Paragon Space Development Corp., which is developing technologies for the mission that's hoping to launch in 2018.
Whether the money to finance the Mars mission materializes remains to be seen, but if it does happen: Who would these space adventurers be, and how would they cope? It's never been tried before, so really, no one knows.
Who should go?
A rigorous process will be put in place for selecting the crew, Poynter said. A man and a woman are sought for the roles to "represent humanity," she said; a married couple is "preferred" but not required.
"You want to make sure that you start out with a relationship between the two people that go on this mission that is on really solid footing, that they know how to pick themselves up after a falling-out," Poynter said.
Poynter said she and husband Taber MacCallum, CEO of Paragon, are "intrigued" by the idea of being the pioneers to go on the mission. They have experience in close quarters, having spent two years with six other people sealed inside Biosphere 2, a research facility situated on a little over 3 acres in Arizona, in the early 1990s.
"It's always helpful to have somebody help buoy you in difficult times and problem-solve with and to share the marvelous moments with as well," she said of living there with her husband. "I think it really helped us be productive crew members."
Friends who have known each other for decades, or siblings who get along well and are comfortable spending long periods of time with one another, would also be suitable for this sort of situation, said Jason Kring, assistant professor at Embry-Riddle Aeronautical University, who is not involved with the mission.
But there is some evidence from extreme environments on Earth to support the married couple idea, says Lawrence Palinkas of the University of Southern California, who has studied more than 1,000 Americans who have spent winters in Antarctica over a four-decade period.
Based on Palinkas' studies at the South Pole, the most stable individuals and those with the most stable relationships are middle-aged married couples.
That works out well for space travel, given that older people have less time left in their lives for space radiation to potentially cause cancer, Kring said. Radiation is also associated with infertility, so the couple should not be seeking to have children after the mission.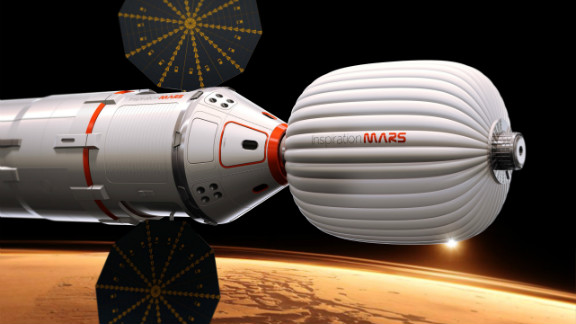 Inspiration Mars Foundation
Prolonged separation from family and friends back home is a huge source of stress for people in isolated, confined environments, Palinkas said. Having a close confidant in space would allow them to share their day-to-day experiences with someone they love and trust.
NASA astronaut Cady Coleman, who has logged more than 4,330 hours in space, agreed: "Often, work that is as demanding as ours in terms of time away from family. think it might be great to be able to spend that kind of time with your sweetheart."
Will two people get along?
Of course, the behavioral quirks and annoyances that you might easily brush aside on Earth would be magnified in a confined space over 501 days. Even in a healthy marital relationship, there can be such a thing as too much contact, Palinkas said.
Nobody really knows the ideal size of a crew to travel this long, but Peter Suedfeld, professor emeritus at the University of British Columbia, is skeptical about having just two people. If one of them is emotionally unavailable, the other is out of luck. (As for whether sex has ever been tried in space, "there are rumors but no official acknowledgment," Suedfeld said.)
"When both of you are under stress – and these two people would be under the same level of stress, the same kind of stress – each of them would want emotional support and be too focused on their own problems to give it to the other," Suedfeld said.
In his view, it's better to have a team with some amount of diversity, where no one background or nationality predominates. The International Space Station usually has a crew of six these days, and that's worked out well, he said.