Story highlights
Pain has stopped Fit Nation teammate Stacy Mantooth from running the past
Mantooth developed asthma, shin splints, plantar fasciitis
Excuses are no longer going to stop Mantooth from running, he says
Editor's Note: Stacy Mantooth is one of six CNN viewers selected to be a part of the Fit Nation Triathlon Challenge program. Follow the "6-pack" on Twitter and Facebook as they train to race the Nautica Malibu Triathlon with Dr. Sanjay Gupta on September 8.
Running has always been an enigma to me. It seems so simple: Lace up your sneakers, crank up the music and head out the door.
It comes so easy to some people, but it never has to me.
Growing up, I tried to be a runner. At an early age, I was diagnosed with exercise-induced asthma. This is an inflammation and constriction of the bronchi in the lungs that occurs after a few minutes of strenuous or aerobic activity. I was prescribed various inhalers to control the condition, and they seemed to decrease the asthma, but it never completely stopped.
It was annoying, it was embarrassing, and it caused me to avoid most exercises, especially running.
It was an excuse. I am not a runner …
Make your workout go by faster
I decided to start playing tennis in middle school. While I always had great bursts of speed on the court, the off-season running workouts killed me. Still, I could control my asthma, and my tennis skills slowly improved.
Then my next nemesis arrived. I discovered a nasty pain called shin splints, from pounding those hard courts day after day. This condition is also called medial tibial stress syndrome and is caused by a combination of factors that put stress on the lower leg, causing some very uncomfortable pain in my shins and cramping in my calves when running.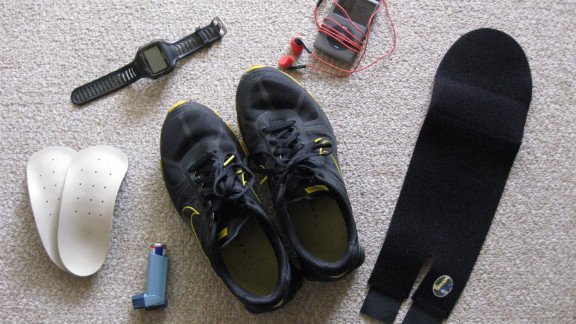 PHOTO: Courtesy Stacy Mantooth
The pain, or rather the threat of the pain, kept me from running long distances, so I stopped.
It was an excuse. I am not a runner …
Fast-forward to later in life. I wanted to try to run again. After some research and a visit to my local running shop, I discovered a compression strap for my calf that could help my shin splints, and it worked!
T-shirt tales: The athlete I used to be
So off to run I went. All was going great: I was gaining endurance while managing to control the asthma and the shin splints. Then I started to get a sharp pain just in front of my heel on the bottom of my foot.
This pain occurred right after my running workouts, and it was even worse the next morning. My doctor diagnosed me with plantar fasciitis in my left foot. This is an incredibly painful inflammation of the connective tissue (the plantar fascia) that stretches from your heel to your toes. With this pain, I had found my newest nemesis.
I tried to run through the pain, but even walking during the day became painful, so I stopped running altogether. There are many treatments for helping manage this pain, from special socks that stretch the tissue to cortisone injections that help the inflammation. I found an orthotic shoe insert that helped to stretch the plantar fascia, and slowly, the pain went away.
'Too fat to do a lot of things'
But once again, the threat of pain kept me from running.
It was an excuse. I am not a runner …
Fast-forward to today. I've developed a love of endurance sports and an admiration for the amazing athletes who compete in them, from runners to cyclists to triathletes. I've always wanted to participate, but the fear of pain or asthma has always kept me on the sidelines.
I know that my pain is manageable and my fear is irrational. I want to run.
Getting fit for the family I love
As I've started training for the Nautica Malibu Triathlon, I constantly think of my CNN Fit Nation teammates, many of whom have conquered their own obstacles, much more serious than the pain that has stopped me.
We all have hurdles in life, some great and some small, that try to prevent us from doing the things we want to do. My mantra had become "I am not a runner," but it was just an excuse. This excuse no longer stops me.
My minor injuries and pains are nothing compared with the hardships many people face every day. My pain and anxiety are manageable, and I am no longer afraid.
Perspective is a wonderful thing, and when I think of all of the amazing people in my life who have overcome much larger hurdles than those that have stopped me in the past, I am motivated. I keep moving, knowing that if they can overcome their obstacles, I can overcome mine.
My running workouts aren't breaking any endurance records, and I don't move that fast, but I keep moving. I lace up my sneakers and crank up my music, and I keep running because my pain is temporary.
I am not a runner … YET!
Follow Stacy on Twitter @TriHardStacy