Story highlights
Nike carried ad calling Oscar Pistorius a bullet
Nike has sponsored other stars who have fallen from grace
Reputation expert says as soon as an athlete harms a brand the link is cut
Some brands are looking at evading future fallout by using different language, he says
Tiger Woods' personal life went off the rails. Lance Armstrong's sporting image crashed in drugs. Both were sponsored by Nike in multi-million dollar deals.
Now Nike is being reminded again that pinning your company reputation on star names is a risky business.
This time it's Oscar Pistorius whose life has moved from sports headlines to the news pages to cause headaches at Nike headquarters.
Pistorius, known as the 'blade runner,' is the man Nike called a bullet and who is now charged with shooting his girlfriend, Reeva Steenkamp.
With Pistorius, Nike had a star able to attract supporters to disabled athletics and who was so fast he could compete against able-bodied runners.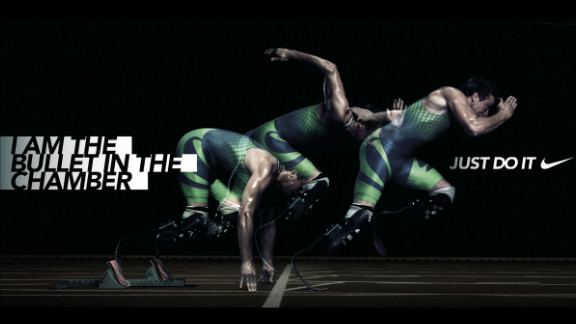 from nike
And Nike knew how to market that appeal – with an ad in 2011 that showed the sprinter starting from blocks and the caption "I am the bullet in the chamber" together with Nike's "Just do it" slogan and logo.