Story highlights
John Sutter: Society discriminates against the unemployed
Obama's speech gives one woman little reason for hope
Part of the problem is a lack of empathy for unemployed people, Sutter says
4.7 million Americans have been unemployed for more than six months
Editor's Note: John D. Sutter is a columnist for CNN Opinion. He heads the section's Change the List project, which focuses on human rights and social justice. E-mail him at CTL@CNN.com.
After Barack Obama's speech and Marco Rubio's rebuttal, we should have heard from Kim Peters.
The 47-year-old single mother, who has been more or less unemployed since the start of the Great Recession, wore fuzzy Shrek slippers as she watched the president's State of the Union address Tuesday night from the middle of an empty living room south of Atlanta.
If the country and the president could have peered back at her through her small TV, they would have seen the piles of black trash bags, full of clothes, in the corners of the room. They haven't been unpacked since she was evicted from her last apartment. They would have seen the worry in her eyes – felt the panic that wakes her up at 3 a.m. and makes her wonder how long it will be before she and her 7-year-old daughter end up homeless.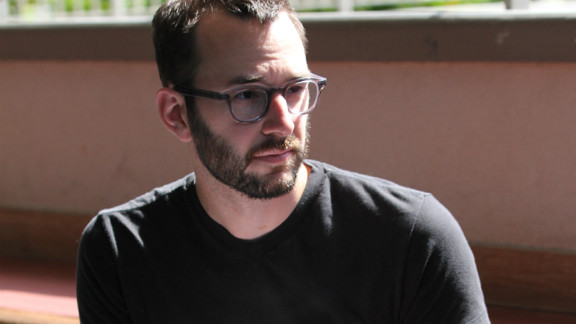 "It's just horrible," Peters said of being unemployed for years. "I fill out so many applications and they just go nowhere. … I'm ready to tear up right now. It's just horrible."
I met Peters on Tuesday morning, before the State of the Union, at a Georgia employment center, where she was updating her resume at the back of a crowded room. She kindly agreed to let me come to her home that night to watch the president's speech from her point of view – that of a person who is stuck in a cycle of unemployment.
Chart: Top 10 states for long-term unemployment
The long-term unemployed are among the most put-down and discriminated against people in America today. They have no resources. And they have no voice.
Before a layoff in October 2008, Peters told me, she was working as an administrative assistant at an auto repair shop. Her resume describes a "Highly Reliable Self-Starter with Many Years of Successful Office Support Experience." But she's only had one solid stint of employment – for about a year and a half – in the last five years. Her last full-time job, she said, ended in October 2011.
She's come to feel her resume is a curse, since it brands her as chronically unemployed – which, by some crazy-messed-up logic, means it's harder for her to get a job than someone who already has one.
Many people will remember Obama's speech on Tuesday for his emotional call to action on gun control; but for the 4.7 million Americans who have been unemployed for more than six months, the president's address also dredged up doubt, fear and anxiety. Peters went into the speech saying she thought it would give her more hope; she came out doubting much will change.
For the long-term unemployed, the economy isn't in "recession hangover" mode, as some have suggested. It's still in crisis. In some states, including Illinois and Georgia, nearly 40% of unemployed people have been out of work for a year or more. Nationally, the average duration is nearly 8 months.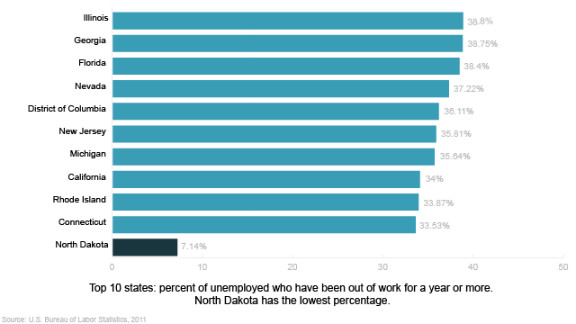 Sophia Dengo/CNN
"Very long periods of unemployment were only rarely reported in the United States before the Great Recession. Laid-off workers, along with those just entering the labor force, typically found jobs relatively quickly," the Brookings Institution wrote in a report titled "Long-Term Unemployment: Anatomy of the Scourge." "From 1990 to 2007, for example, more than a quarter of all American workers who were classified as unemployed in a given month found jobs the following month."
If Obama's assertion that "our rights are wrapped up in the rights of others" is correct, then we all should do a better job at helping these folks. And part of that may be just seeking to understand them.
Is the State of our Union strong?
After Peters greeted me at the door, she settled into her patchwork chair, one of the only pieces of furniture she kept after the eviction notice came a couple weeks ago.
She knew the day would come. She was months behind on rent. But she had hoped to buy more time. She gathered up her things and called friends and family members to scrape together the money to pay the deposit on this new place, a duplex in a neighborhood so close to the airport that a plane swooping overhead gave me the "Duck!" reflex. She also called homeless shelters, thinking that might be her only option if the money didn't come through.
She thanks God daily that she has a roof over her head.
At the beginning of Obama's speech, Peters was optimistic. And she was encouraged, initially, that the president was focusing on jobs. The president rattled off positive stats about the economy – 6 million new jobs, a stock market that's "rebounding," a housing sector on the mend – before declaring that "the state of our union is strong."
Something about that didn't sit quite right with Peters. She wanted to hear more about jobs.
PDF: How does your state rank on unemployment?
Obama went on, saying that far too many Americans are out of work ("Thank you! Now you're talking!"), and Peters decided to tell me a story of her own. Her daughter was at school recently when a teacher asked her what she would ask Martin Luther King Jr. if she had one question. "I would ask Martin Luther King to give my momma a job," she said. "When she told me that, I bursted out crying," Peters told me.
Asking for help
Peters describes herself as a strong "independent woman" type – not someone who gets emotional or asks for help. That's all changed lately, though.
Friends have recommended she seek treatment for depression. There are some days, she told me, when she feels like all of the vigor is gone. It's hard to get out of the chair.
She grew up in the Bronx dreaming of becoming a detective. Now she's undercover in a different way, hiding as much as she can the fact that she's struggling to make it.
She's embarrassed about the fact that her daughter's school class donated Christmas presents for her family last year. But it meant the world to her because she wouldn't have had a holiday otherwise. "That keeps me strong," she said.
It's common knowledge these days that the longer you've been out of work, the harder it is to find a job. Depression is one outcome of long-term unemployment, and it can cause a job search to be dead on arrival. Then there's also the fact that, as several reports have shown, employers prefer to hire the already-employed.
Job listings sometimes tell the unemployed not to apply at all (some states have toyed with legislation to prevent this).
For others, it's simply understood that the resumes of unemployed people will be tossed in the trash first. In a competitive job market, it's a quick way to weed out applicants.
Not only is this discriminatory, said Maurice Emsellem, policy co-director at the National Employment Law Project, an advocacy group. "It's not in the interest of employers to artificially limit the applicant pool."
'I want to go back to school'
"That gentleman in the back – with the pink tie," Peters said, looking at House Speaker John Boehner, who was seated behind the president on the television. "He's always so angry! Gosh! He can't stand that president. Look at his attitude!"
Peters blamed Boehner's apparent lack of interest for holding back Obama's more aggressive attempts to push through job-creating reforms.
Boehner leaned to one side, almost out of the frame. He did look pretty bored as Obama argued that America needs to bring in new-era manufacturing jobs and invest in technologies to fight climate change and promote clean energy.
Peters said she felt unprepared for most of those jobs, anyway. She finished high school in New York and went to college for one semester before dropping out, she said, for financial reasons. After she was laid off in 2008, she told me, she became certified to work as an administrative assistant in a medical office. She never was able to use that certification because she never could find a company to hire her to use those skills.
She has some gaps in her resume, but told me she was employed fairly steadily until the recession hit. While she used to be able to choose among jobs, now she can't find any.
Her financial troubles may hurt her kids' opportunities, too.
As Obama turned to the topic of new investment in schools, so that all kids will have an equal shot at a great education, Peters said this to me:
"Every parent's dream is to send their kid to college, and now it's like, 'Is it worth it?' Why send 'em to college? They won't be able to get a job after it."
She questioned whether she could afford school for her 7-year-old.
And Peters' other daughter, who is 19, dropped out of high school and hasn't earned a GED diploma, she said, in part because they can't afford to pay the test fees.
'Work together'
This sort of long-term hopelessness has the potential to truly change our nation. In the same way Great Depression thinking lingered long after the 1930s, the sense that things aren't going to get better could stick with people like Peters and her kids.
"The American worker is very pessimistic about the future," said Carl Van Horn, a professor at Rutgers who worked on a recent survey on the topic. "Only 19% (of people surveyed) said they thought the next generation would do better than theirs. That's a very, very depressing number, if you think about it. That's not a typical American viewpoint. Talk about American exceptionalism … – that's the opposite of it. "
Plenty of things have been suggested to help get the long-term unemployed back into the workforce again. The trick is figuring out what would be effective.
It seems each policy solution comes with additional problems.
Laws aimed at preventing discrimination against unemployed people could backfire. Job training programs might not provide the right skills. Investing in a new stimulus package, including federal contracts to build roads and such, might end with employed people being rehired, said James Sherk, a senior policy analyst at the Heritage Foundation. Giving tax breaks to employers who hire the long-term unemployed seems smart to me, but Gary Burtless, a senior fellow at the Brookings Institution, writes that some employers may be turned off by the extra paperwork.
Extending unemployment insurance is a political nonstarter. A raised minimum wage, which Obama proposed on Tuesday, helps only if you're working.
What the problem really comes down to, Peters told me, is ignorance.
Most people don't know what it's like to be unemployed for months or years. If they understood, they'd be slower to toss the resume of an unemployed person.
And Congress could use a little education.
"How are the American people going to get back to work," she asked, "if we all don't work together?"
She told me she used to look down on unemployed people, too. Not anymore. If and when she does get back on her feet, she wants to devote much of her time to helping people get out of the circumstances that currently have her trapped.
Follow @CNNOpinion on Twitter.
Join us at Facebook/CNNOpinion.
The opinions expressed in this column are solely those of John D. Sutter.