Story highlights
NEW: Governor urges patience: "a virtue ... in dealing with this situation"
Authorities confirm the identity of the suspect -- 65-year-old Jimmy Lee Dykes
The suspected gunman and the bus driver knew each other, a neighbor says
The alleged gunman is holed up in an underground bunker with a 5-year-old
Kelly Miller heard the gunshots, then the screams from the school bus.
She could hear her children screaming: "He's got a gun. He took a kid."
Outside, a gunman had just boarded a school bus, killed the driver and grabbed two children, according to authorities. One of the children escaped. The other, a 5-year-old boy, was not so lucky.
The suspect then disappeared with the boy into a nearby well-stocked, underground bunker.
Shaken community
By now, everybody in the small southeastern Alabama town of Midland City knows what happened.
The story has been recounted at the grocery store and at the gas stations, where people trade the latest details about the hostage standoff that entered its fourth day Friday.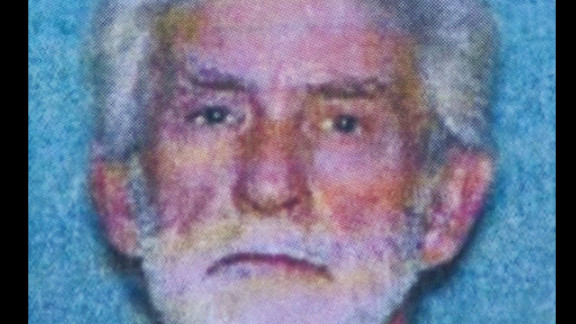 Courtesy Dale County Sheriff
It has thrust this town of about 2,300 into the national spotlight, with nightly reports recounting the hostage drama that has shaken this community known for its close vicinity to the "Peanut Capital of the World."
On Tuesday afternoon, bus driver Charles Poland Jr. was shuttling children from school to their homes when he dropped Miller's two boys off and a man boarded the bus.
He demanded that Poland, 66, hand over a child. Poland refused, blocking access to the bus's narrow aisle as at least 21 children escaped out of the back emergency door, according to police.
It's unclear whether the suspected gunman was after a specific child on the bus. Police have said there is no connection between the suspect and the abducted boy, whose identity is being withheld.
Alabama Gov. Robert Bentley told CNN affiliate WMPI that he spoke with the child's mother shortly after the abduction and "she was very distraught."
Police are tight-lipped about a possible motive, and have refused to divulge what, if any, demands the suspect has made to hostage negotiators.
The suspect is holed up in a bunker 4 feet underground and built at least partially out of PVC pipe, authorities have said.
An FBI hostage negotiator was communicating with the alleged gunman through a plastic ventilation pipe in an effort to end the standoff.
"They're taking time and trying to wear him out," said Police Chief James Arrington of Pinckard, who is familiar with details of the case.
Bentley, the governor, said Friday that "the right people (were) in place to work through this problem."
"Patience should be a virtue … we don't want to make any mistakes," Bentley told WPMI.
On Friday, authorities confirmed what neighbors have been talking about and news outlets around Midland City have reported – the suspected gunman's identity.
He is Jimmy Lee Dykes, 65, a Vietnam veteran and retired truck driver who moved to the area about five years ago. Local authorities releasted a photo of Dykes – a gray-bearded unsmiling image – along with his home address and a brief physical description – white male, 6 feet tall, weighing 170 pounds with brown eyes and gray hair – but provided no new details about any developments in the case.
'Take this'
By all accounts, Poland knew the alleged gunman, at least in passing.
On Monday, the day before the shooting and abduction, Dykes flagged down Poland while he was driving the bus to talk to him, according to Miller, who lives near the suspected gunman.
While Miller did not know the nature of the conversation between the two men, she told CNN affiliate WSFA-TV that Tuesday morning, Poland offered the suspect a gift of eggs and marmalade as a thank you for clearing his driveway so the bus could turn around easier.
Hours later, Dykes handed over the eggs and marmalade to Miller's father. "He said, 'Take this, I don't want it,'" she said.
So when Dykes got on the bus Tuesday afternoon, it didn't seem unusual to her sons, Jesse and Jackson, she said.
Neighbors have described Dykes as "anti-government" and abusive, with several describing run-ins, including one where they claimed he pulled a gun.
Tim Byrd, chief investigator with the Dale County Sheriff's Office, told the Southern Poverty Law Center's Hatewatch that Dykes was a "survivalist type" with "anti-America" views.
"His friends and his neighbors stated that he did not trust the government, that he was a Vietnam vet, and that he had PTSD," Byrd told the civil rights group. "He was standoffish, didn't socialize or have any contact with anybody."
Still, Miller said she can't reconcile the man she knows as her neighbor with the one accused of killing a bus driver and abducting a boy.
"I really in my heart don't believe that he intends to hurt that little boy," she said. "I think that he may have something to say and he wants people to hear him. I'm not sure what that is. But I don't think he intends to hurt that little boy."
Dale County School Board
'That's a hero'
Even as authorities search for answers behind the killing and kidnapping, there is no question to Midland City residents that the bus driver was a hero.
Poland was a gentle Bible-reading man who could not stand to discipline the children on his bus because it hurt his heart, the Dothan Eagle newspaper reported.
He had worked as a full-time bus driver for four years, shuttling children between their homes and schools.
"There was a laughter and a love that he had for the kids," his brother-in-law Melven Skipper told CNN affiliate WDHM, reflecting on the regular conversations he'd have about "my youngins'."
"They were his youngins', when he had them on the bus."
The state's governor echoed that sentiment: "He did his job – he protected those children," Bentley said.
"He stood in that place, and when that man came to take two children, he said no. And he lost his life because of that … he did his job, and I'm proud of him as the governor but I'm just proud of him as a human being."
Poland will be memorialized Saturday night at a visitation service, followed by his funeral Sunday afternoon at the Ozark Civic Center.
"You couldn't give nothing greater than your life for a kid or anyone else," Skipper said.
"That's a hero."
CNN's George Howell reported from Midland City and Lateef Mungin wrote from Atlanta. CNN's Tristan Smith, Marlena Baldacci and In Session's Jessica Thill contributed to this report.