Story highlights
Ex-Rep. Gabrielle Giffords and retired astronaut Mark Kelly take on powerful gun lobby
Kelly: "A lot of our positions ... are much in line with the NRA membership"
Sarah Brady, wife of wounded ex-Reagan press secretary Jim Brady, is optimistic
Brady, a longtime gun control activist: "Public faces certainly help" the cause
Two couples rooted in the American mainstream. Two spouses who were nearly killed by mentally ill gunmen.
The comparisons are striking.
Jim and Sarah Brady were loyal Republicans entrenched in Washington politics: she, the daughter of an FBI agent, and he, a Midwestern Eagle Scout. As Ronald Reagan's press secretary, Jim Brady took a bullet from a would-be presidential assassin, leaving him with a debilitating head wound.
Mark Kelly and Gabrielle Giffords could be considered the ultimate Washington power couple of the 21st century. She's a former red-state Democratic congresswoman, a gun owner and a defender of the Second Amendment. Her ex-astronaut husband is a combat war veteran and the son of retired police officers.
It's been two years since a gunman shot Giffords in the head and killed six others outside an Arizona grocery store in what police called an attempted assassination.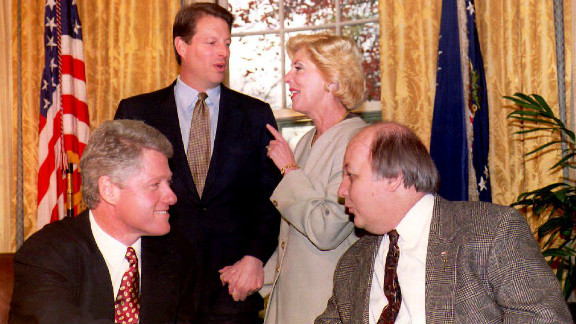 JENNIFER YOUNG/AFP/Getty Images
The Bradys have spent almost three decades battling America's powerful gun lobby, eventually winning passage of laws requiring background checks for some firearms and bans on some military-style weapons.
Now, Giffords and Kelly have joined that fight, spurred by the December 14 school massacre in Newtown, Connecticut.
Senate talks fall short of universal background checks
Virtually unknown on a national level until the Tucson shooting in January 2011, Giffords became a household name after her remarkable recovery from a gunshot wound to the head. That fame provides a bright spotlight for her new crusade.
Accusing political leaders of being afraid and of doing nothing, they've formed a political action committee against what they call an "ideological fringe" that uses "big money" to "cow Congress into submission."
Just as the Bradys blazed a trail for the nation's gun control movement, Giffords and her husband are poised to be the next wave.
Outrage and sorrow from Newtown have made this the most opportune time in more than a decade for the passage of new gun control laws, activists say. "We certainly can't allow ourselves to continue down this road when this happens almost now as a regular occurrence," Kelly told CNN's Piers Morgan in January.
"On issues like assault weapons and high-capacity magazines and universal background checks, we differ with the (National Rifle Association) leadership," Kelly said. "But in fact, I think a lot of our positions on this subject are much in line with the NRA membership."
Mark Kelly: Gun loophole makes no sense
When Giffords and Kelly testified on Capitol Hill in January, they stirred up a hornet's nest of gun owners who believe that background checks and bans on military-style weapons violate their constitutional rights.
"Too many children are dying. Too many children. We must do something," Giffords told a packed hearing held by the Senate Judiciary Committee. "It will be hard, but the time is now."
Sarah Brady says Giffords and Kelly are the right people for the task.
"You kind of need a public face – and public faces certainly help," said Brady, longtime leader of the Brady Center to Prevent Gun Violence. "But the most important thing is a really committed, wonderful team, and that's what we had during those battles."
'No-nonsense people'
Pam Simon remembers the day Giffords first became a victim of gun violence. She remembers it well because she herself was among the victims, suffering wounds to her chest and hand. Simon was also there the day her longtime friend decided to take a stand on the issue.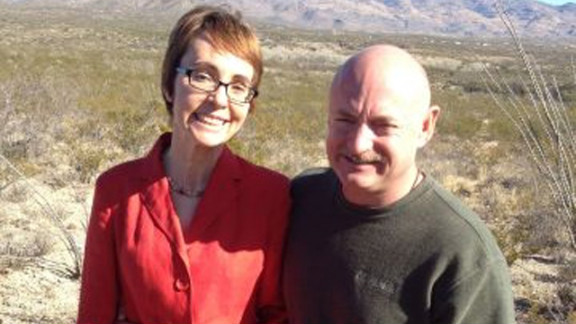 CAPTAIN MARK KELLY
Simon stopped by Giffords' Tucson home the day of the Newtown massacre, greeting her and then asking delicately, "Have you heard the news?"
" 'Awful,' " she recalled Giffords responding, overcome by the weight of the tragedy.
Just a few months earlier, Simon had said to Giffords, "Your job is to inspire people, on a whole variety of issues." Now, she thought, the task at hand couldn't be clearer.
Giffords' toughness and tenacity, said Simon, would be effective tools to keep firearms out of the wrong hands.
"Mark and Gabby are both no-nonsense people," Simon said. "If there's a problem, they get it done. Gabby has always had a true moral compass. And Mark, I mean, he's an astronaut. Astronauts see a problem, and they get it fixed."
No doubt about it, Kelly has a unique resume spanning an eye-popping assortment of jobs from ambulance driver to Merchant Marine cadet to combat naval aviator and, finally, to shuttle and space station astronaut.
He's one of twin brothers (his brother, Scott, is also an astronaut) born to police officers in Orange, New Jersey.
"I think going to the public school kind of made me what I am today," Kelly said during a NASA interview. He filled the time between classes with baseball, swimming, track and football.
Winning a spot at the Merchant Marine Academy, Kelly, now 49, worked on a grain carrier ship as it inched its way across the Pacific. "I thought, 'Boy, this is way too slow,' " he said. "That's when I started thinking about flying airplanes in the Navy."
Years later, after flying the final mission of the space shuttle Endeavour, Kelly said, he realized that his Navy and NASA training had prepared him to help his wife after she was shot.
"I did see, you know, some parallels between what I had to deal with in flying airplanes and flying the space shuttle and what I had to deal with in handling this situation," Kelly told Piers Morgan in 2011. "I would think about these things in the context of, you know, what information do I have … what kind of decision do I need to make, and do I need to make the decision right now, or can this wait?"