Health
Worst fast-food meals for sodium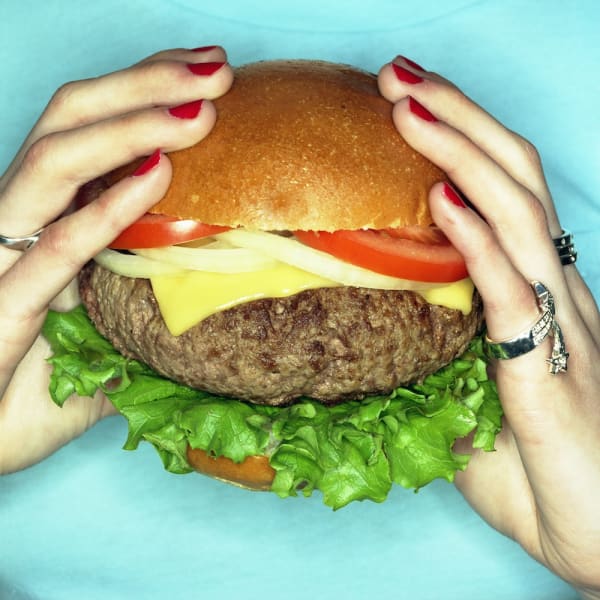 Fast food is convenient, but it can be salty. Americans eat about 3,400 milligrams of sodium a day, more than the suggested 2,300 milligrams and double the 1,500 milligrams for people who are over 50, African-American or who have hypertension, diabetes or kidney disease.

While "fast food isn't going to wreck anyone's diet if consumed on occasion," you should limit sodium, says Rima Kleiner, a Virginia-based nutritionist.


Here are some of the worst fast-food meals for sodium, and better options. (via Health.com)
Getty Images
Quiznos' Large French Dip: While it sounds good -- sliced prime rib with mozzarella, roasted peppers and onions, and mild peppercorn sauce on artisan bread with a side of au jus -- this sandwich is a sodium-delivering bomb. Even without the cheese, sauce, and juice for dipping, you'll be consuming 2,240 milligrams. With the works, it packs a whopping 3,610 mg of sodium and 1,200 calories. (The au jus adds 850 mg of sodium). Choose this instead: Create your own flatbread. Try roast beef and Swiss with lettuce, tomato, onion, cucumber, and honey-dijon dressing. Sodium: 995 mg. Calories: 410.
Twisted_Cookie/Flickr
Jack in the Box's Deli Trio: This roasted turkey sandwich on artisan bread is layered with salty Genoa salami, ham, Provolone, and pickles and slathered in a creamy Italian dressing. Surprise! The saltiest ingredients are actually the turkey (455 milligrams of sodium) and the bread (596 mg). The Deli Trio packs 2,442 mg of sodium and 624 calories. Choose this instead: A Chicken Fajita Pita. You'll cut your sodium intake by nearly two-thirds, to 870 mg. Calories: 320.Health.com: The fattiest foods in the United States
kalanasmama/Flickr
Arby's Mozzarella Sticks: Six battered-and-fried sticks contain 2,530 milligrams of sodium, more than a day's worth , and 620 calories. Whole-milk mozzarella isn't the saltiest cheese around. It contains 178 mg of sodium per 1 ounce, according to CalorieLab.com, versus nearly 272 mg for a Kraft nonfat American single. "Typically, a lot of salt is added to the breading mixture, which drives up the sodium content of the fried mozzarella sticks," Kleiner says. Choose this instead: A serving of three Potato Cakes contains 700 mg of sodium and 340 calories.
cw3283/Flickr
Panera Bread's Full Bacon Turkey Bravo: This 800-calorie combination of smoked turkey, Applewood-smoked bacon, and smoked Gouda with lettuce and tomato on a tomato basil loaf tips the sodium scale at 2,800 milligrams. Cured bacon and processed meats are typically high in sodium, Kleiner says. The bread alone weighs in at 320 mg of sodium. Choose this instead: A whole Roasted Turkey Artichoke Panini on Asiago Cheese Focaccia. For roughly the same number of calories (780), you'll slash your salt intake by more than half (1,190 mg).
Axi11a/Flickr
Domino's Mac-N-Cheese: This is a nice change of pace from pizza, but a gooey bowl of melted cheese and penne pasta will cost you 1,760 milligrams of sodium and 670 calories per dish. Served in a bread bowl, this all-American favorite contains 1,390 mg of sodium and 730 calories per half-serving. Reality check: Are you really stopping at half a bowl? Try doubling those numbers. Choose this instead: A dish of pasta primavera. It packs 770 mg of sodium and 540 calories.
Guetler/Flickr
McDonald's Big Breakfast with Hotcakes: Big is right. You get scrambled eggs, sausage, hash browns and a small stack of pancakes. Order it with a large-size biscuit and you'll be starting the day with 2,260 milligrams of sodium and 1,150 calories. Choose this instead: Get the Big Breakfast sans hotcakes and save 580 mg of sodium and 350 calories.Health.com: 25 surprisingly salty processed foods
Iwasaku/Flickr
Dunkin' Donuts' Salt Bagel: Is a bagel better for you than a donut? Not when the word "salt" is in it. Dunkin's version packs 3,350 milligrams of sodium and 310 calories. Choose this instead: A 320-calorie Cinnamon Raisin Bagel. It has 500 mg of sodium.
zincink/Flickr
Taco Bell's Volcano Nachos: These molten cheese-laden nachos with spicy ground beef, pinto beans, and jalapeños break the nutrition bank with 970 calories and 58 grams of fat -- more calories and fat than any other single item on the menu -- plus 1,670 milligrams of sodium. Choose this instead: Nachos Supreme comes with spicy beef, beans, nacho cheese, diced tomatoes and reduced fat sour cream, but has only 430 calories, 23 grams of fat, and 690 mg of salt.
sfoster8740/Flickr
Starbucks' Turkey & Swiss Sandwich: With crispy leaf lettuce peeking through, this 390-calorie sandwich seems harmless enough. But a quick ingredient check reveals salt in the turkey breast, the Swiss, and the wheat bread -- 1,140 milligrams of sodium in all. Choose this instead: A Roasted Tomato & Mozzarella Panini with basil pesto (630 mg of sodium). For the same number of calories, you'll cut your sodium intake by 550 mg.
Health.com
Subway's Spicy Italian: Pepperoni and salami -- two notoriously salty meats -- are paired in this sandwich. A 6-inch sub without sauce or cheese has 1,520 milligrams of sodium and 480 calories. A footlong with mayo clocks in at 3,200 mg of sodium and 1,180 calories. Choose this instead: A 6-inch BLT -- bacon, lettuce and tomato on whole wheat. It has less than half the sodium (680 mg) and fewer calories (320).
moshee85/Flickr
Wendy's Baja Salad: This Southwest-inspired salad delivers salt in the chili, pico de gallo, guacamole, cheese, tortilla strips, and Creamy Red Jalapeño Dressing topping. The damage? Some 1,975 milligrams of sodium and 720 calories. The 100-calorie dressing packet alone accounts for 270 mg of salt. Choose this instead: A Garden Side Salad and a small Chili. You'll get the crunch you're looking for along with the beefy richness of chili for half the sodium (910 mg) and two-thirds fewer calories (235).
HeadGear56/Flickr
KFC's Variety Big Box Meal: KFC provides nutritional information for individual items. We figure this meal -- a drumstick, a Crispy Strip, an individual box of Popcorn Chicken, two Homestyle sides (we chose mashed potatoes with gravy and cole slaw), a biscuit and a 32-oz. drink (Pepsi) -- blasts the daily sodium maximum, with more than 3,000 milligrams of salt and more than 1,400 calories. Choose this instead: The Honey BBQ Snacker with a large corn on the cob, House Side Salad with buttermilk dressing and a 16-ounce Lipton Brisk Lemon Tea. This meal has less than quarter of the sodium (725 mg) and 505 calories. Kleiner's tip: Do dressing on the side. Dip your fork in it to get the taste of it without all the sodium.
Health.com
Papa John's Buffalo Chicken Pizza: Creamy ranch and buffalo sauce, cheese, bacon, and pizza dough are the likely sodium culprits in this chicken-encrusted pie. One slice of a large, original crust -- 1/8th of an order -- has 1,050 milligrams of sodium and 370 calories. But you know you'll go for two slices, if not more. Choose this instead: Papa John's Garden Fresh is loaded with fresh veggies. A large, thin-crust pie has just 360 mg of sodium and 220 calories per slice.
Stallion20/Flickr
Hardee's 2/3-lb Monster Thickburger: This two-patty monstrosity is a beef-lover's dietary downfall. With three slices of American cheese and four bacon strips, it has 1,300 calories, 93 grams of fat and 2,860 milligrams of sodium. That's without a soda or fries. Choose this instead: A Double Cheeseburger. It's beefy, cheesy, and has a fraction of the calories (410), fat (21 grams) and sodium (900 mg).Health.com: The healthiest options at fast-food restaurants
Megadem/Flickr
Long John Silver's 2-Piece Whitefish Fillet Combo: Cod breaded in a salty batter is the centerpiece of Long John Silver's menu. Two pieces have 1,580 milligrams of sodium. The entire meal, with fries and a medium fountain drink, has 2,140 mg of sodium and 1,230 calories. Choose this instead: Skip the combo and order à la carte. Two pieces of tilapia, a hush puppy, a corn cobbette without butter oil and a small Diet Pepsi is a great trade-off. It's a 370-calorie meal with just 760 mg of sodium.
zelciia/Flickr
Chipotle's Burrito: Salt adds up pretty quickly when you're building a burrito from scratch. A Carnitas, or pork, burrito with white rice, pinto beans, Tomatillo-red chili sauce, Romaine lettuce, sour cream, cheese and guacamole has 2,650 milligrams of sodium, not to mention 1,185 calories. Surprise: the saltiest item is the soft flour tortilla that holds it all together (at 670 mg of sodium). Choose this instead: A Burrito Bowl. Skip the tortilla and dish up lower-salt fillings like chicken, brown rice, fajita veggies, and green tomatillo salsa. The total comes to 920 mg of sodium and 385 calories.
Scissors/Flickr
Popeye's Chicken Po' Boy: This Southern favorite nestles two battered, fried chicken tenders in a French baguette with pickles and mayo. This fatty, salty combo has 2,120 milligrams of sodium and 635 calories. You can do better. Choose this instead: Naked Chicken Wrap. "Naked" because the chicken is prepared without breading, slashing the sodium count to 580 mg and skinnying up the calorie count to 200.
Ladywig/Flickr