Story highlights
December marks the 25th anniversary of a massive rally that helped change history
Soviet Jews, joined by activists who lived abroad, took risks and pursued freedom for decades
Starting in the 1960s, the human rights campaign gained popular, political and diverse support
It helped bring down the Soviet Union and, new activists say, should be a model for change
Driven by desperation, Marina and Lev Furman stepped out of their home in Leningrad and took a 20-minute walk into uncertainty. Trailed by KGB agents, they bundled up and set out in the weak winter light for Palace Square, site of the 1917 Bolshevik Revolution.
They brought signs demanding freedom. And they pushed a baby carriage holding their 9-month-old daughter, Aliyah, who had already proved in her short life that she, too, could handle risks.
Friends told the Furmans they were crazy. Such demonstrations were forbidden in the square. The couple arrived in silent protest and spotted a mob of police and KGB agents waiting for them. Knowing they'd be taken away, they chained themselves to Aliyah's carriage.
For years, they'd asked for permission to leave. Each time, their requests were denied. Told once more they'd never be allowed to go, they were taking a final, calculated, bold stand.
On this day, though, they knew they weren't alone. The date was December 6, 1987.
Some 4,500 miles and a world away, 250,000 people were preparing to protest in Washington as Soviet leader Mikhail Gorbachev was preparing for his first White House summit with U.S. President Ronald Reagan. The demonstrators wanted to make sure the Furmans and other Soviet Jews weren't forgotten.
AFP PHOTO/MIKE SARGENT/FILE
Known as Freedom Sunday, the rally would be the culmination of a decades-long populist campaign the likes of which the world rarely sees. Americans of all stripes were coming together to demand human rights in a faraway land.
Driven by students and housewives and fueled by post-Holocaust guilt, civil rights activism and a newfound sense of Jewish pride after Israel's 1967 Six-Day War victory, the movement brought together Jews and non-Jews, religious and secular.
It's a part of a recent past that's nearly forgotten but that once enjoyed the support of top-tier politicians, congressional wives, Catholic nuns, actors, musicians and civil rights icons, including Martin Luther King Jr.
If a new coalition has its way, the Soviet Jewry movement will find its place in history books and serve as a model for change in a time when global human rights abuses continue.
"It created a unity that today seems impossible," said Gal Beckerman, a journalist whose 2010 book about the campaign won widespread praise. "For Jews, this was the movement that allowed them to bridge their American and Jewish identities. … They were flexing their political muscle for the first time."
Their mission was to keep human rights issues on the table for as long as it took, even as diplomats and politicians negotiated nuclear disarmament and trade agreements. In the end, this relentless push would play a part in ending the Cold War, bringing down the Soviet Union and ultimately freeing more than 1.5 million Jews – many of whom watched from afar as the Jewish state of Israel grew, even while their own religion and identity was suppressed under Communist rule.
Learn what led to the oppression of Jews
Among those working behind the scenes was Reagan's secretary of state, George Shultz.
Part of the administration's agenda, when it came to negotiations, was human rights, said Shultz, now 92 and a distinguished fellow at Stanford University's Hoover Institution.
"We developed a way to put it that I wrote out and read very slowly," he said, describing talks with his Soviet counterpart. "The gist was … any society closed and compartmented will fall behind. So you've got to loosen up if you're going to be with it. And part of it is respecting the diversity and views of your population."
Shultz also met with "refuseniks," the term used for anyone who'd been refused exit visas. He attended a Passover seder with them at the U.S. Embassy in Moscow. And he unofficially slipped a list of refusenik names to his Soviet counterpart, asking for their release.
While Shultz said it would have been inappropriate for him to attend the rally in Washington – then-Vice President George H.W. Bush was among the speakers – he loved the idea of Gorbachev turning on his TV to see the crowd on the National Mall. The event helped mark the beginning of the end. The gates were poised to open.
"It had a very positive impact," Shultz said.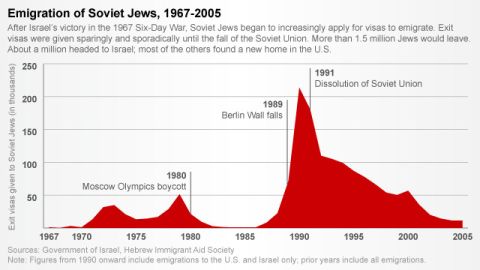 On all counts, the Soviet Jewry movement was a success. But somewhere along the way, Americans and Jews forgot to tell the story. A new push, led by a group called Freedom 25, is out to change this.
Its leaders realized this chapter in history was lost on people younger than 30 – even those who'd been educated in Jewish day schools. So they began documenting stories, enlisted a coalition of organizations and created a social media-driven virtual "march" that has already reached more than 3 million people.
This movement is not only something Americans should be proud of, they say, it's a model for what can be done when people pull together, take risks and put aside their differences to focus on the needs of others. They plan to develop curricula and distribute tools to help "teach this crucial lesson in activism and mobilization, so ordinary people can be empowered to once again do extraordinary things."
"There is just so much cynicism these days," said Michael Granoff, 44, one of Freedom 25's co-chairs. "One person can make a difference. Your activism matters. … You cannot be excused for not acting when a young mother sits in a prison in Tehran, jailed by a regime."
'Crazy enough to marry'
Marina Garmize-Gorfinkel became a refusenik in Kiev, Ukraine, the day her grandfather died.
They were a small family – just Marina, her mother and her mother's father. Everyone else in her mother's family had been killed at Babi Yar, a ravine outside Kiev, where Nazis gunned down nearly 34,000 Jews in two days in September 1941. Marina's father had died of a stroke when she was only 7.
Now it was 1979, and Marina was 19. She had applied for exit visas for the three of them and been refused. With her grandfather gone, she would fight for herself and her mother. She began organizing protests against the government.
She was a small woman, only 5-foot-1, but the Soviet regime considered her activism a threat. She was warned to stop, arrested three times and beaten twice. In 1980, police forced her into a cell, sent in 30 drunken men and told them to rape her.
One of the men recognized her as the daughter of his own girl's beloved kindergarten teacher. He protected Marina from being raped but couldn't stop the beatings, which left her hospitalized for several months. When she got out, she and her mother left town and headed to Tbilisi, the capital of Georgia, another Soviet republic at the time and now an independent country.
The people there, she said, were kinder and the KGB and police less fierce. Through other refuseniks, she eventually met Lev Furman, an Orthodox Jew 13 years her senior. He was religious in ways she knew nothing about. He taught Hebrew underground when Zionism and teaching the language were forbidden. His first wife had left him when the KGB threats became too much.
"He said, 'Look, I need a wife. I need someone who can help me if I'm arrested,' " Marina remembered. Only immediate relatives could visit someone in prison or make appeals on their behalf. She told him, "Fine, we'll get married on paper. I'll help you." But Lev liked her and wanted a real marriage. She agreed. The two wed within a week, in July 1986, and she moved with him to Leningrad (which has returned to its historical name of St. Petersburg).
"We took big risks in life. Marrying someone you'd known for a week wasn't the biggest risk," she said. "We were both only children and never knew if we'd survive another day. And we'd both found someone crazy enough to marry us."
They continued their fight for freedom and were bolstered by visitors from around the world. Lev was committed to building a Jewish resistance where there was next to no Jewish life. He worked with young people and distributed textbooks and copies of Leon Uris' "Exodus" that had been smuggled in by others. Young women from Finland, which shared an open border at the time, brought Lev books sewn into the linings of their coats.
Almost immediately after they married, Marina became pregnant. The KGB found a new way to threaten her. They said they would kill Marina when she gave birth if the Furmans didn't stop their activism.
She was inclined to listen, but Lev wouldn't have it. The tide was shifting. Gorbachev was now in power, and his policies of glasnost and perestroika – openness and reform – were just beginning. Gorbachev had freed Anatoly Sharansky, the poster boy for the Soviet Jewry movement, in February 1986.
Sharansky – who later changed his name to Natan and became an Israeli politician, human rights activist and author – had been sentenced in 1977 to 13 years of forced labor in a Siberian prison camp, or gulag. But he was released four years early. Sharansky was now traveling the U.S., speaking on college campuses and drumming up support for a huge rally in Washington. All signs pointed to change. Now wasn't the time to give up.
Marina, who understood the importance of communicating with the outside world, had taught herself English by studying a dictionary and listening to the BBC and Voice of America. She wrote a letter to a contact in Great Britain about the latest threat against her. It was passed to the BBC, which broadcast the letter every day for a week.
This infuriated the KGB as much as it rallied the movement. After the threat became public, the Furmans had visitors from abroad nearly every day. Articles were written about them. Letters poured in by the hundreds, from not just activists but politicians, including U.S. Sen. Ted Kennedy. Letter-writing campaigns flooded the heads of the Soviet government, the KGB and immigration officials.
"If your name was known, it was like insurance," Marina said.
Courtesy Marina Furman
Even with all the attention, Marina nearly died when an IV line feeding an overdose of medication, supposedly for a weakened heart, was given to her during labor. A doctor who found her alone in a room, away from the other new mothers, saved her. She remained in the maternity hospital for a week, but Lev was barred from seeing her or knowing what was going on. On a wall outside the hospital, he painted her a message: "Marishka, you are my hero!"
Their newborn baby, Aliyah, seemed to arrive determined not to add to her parents' stress.
She slept through the night from the day they brought her home. The KGB ransacked the family's small apartment when Aliyah was 2 months old, and she didn't even wake up.
"God gives everyone what they can handle," Marina said.
Finding a cause – and a voice
People had tried for years to get Constance "Connie" Smukler and her husband, Joseph, involved. But the Philadelphia couple already had their causes, and these Soviet Jews were faceless, their issues foreign.
Starting in 1973, their perspective changed when the matter became personal. They were visiting Israel when they met and befriended a man who begged them to help free his brother.
Irma Chernyak had applied for an exit visa and been denied. The request to leave cost him his job. The aeronautical scientist was now operating elevators – and going on hunger strikes.
Connie tried to bring attention to his story by calling media and speaking about him in synagogue. But she wanted to know more about the man for whom she was fighting. "I can't keep working for him without meeting him," she told her husband. So in July 1974, with the kids off to summer camp, the Smuklers made their first trip to the Soviet Union.
They spent their days meeting with refuseniks in apartments they found by memorizing addresses or referencing information written in code. Believing the flats were bugged, they brought magic slates, the child's toy that lets a person write on a plastic sheet, then lift it to erase the words.
In one Moscow flat, they sat and waited as, one by one, refuseniks came to see them. Having studied their faces, names and bios over the past year, they had become "like movie stars" to the Smuklers. "There's Slepak, Lunts, Prestin, Abramovich," Connie said, remembering that day. "It was an embarrassment of riches. We were seeing all of them."
When they finally met with Irma Chernyak, they fell in love with him, Connie said.
"When we said goodbye, we didn't know what would happen to him, and I started to cry," she said. "He said, 'Connie, don't cry for me. For the first time in my life, I'm a man, not a mouse.'"
They saw Chernyak again in the summer of 1975 and told him they'd return to see him a year later. But in February 1976, at 4 a.m., their home phone rang. The Israeli Embassy in Vienna, Austria, was calling. "We just want you to know that Irma Chernyak has come out of the Soviet Union, and he wanted us to call you."
The embassy planned to send him to Israel, but the Smuklers had other ideas. The couple was flying to Brussels, Belgium, the next day to attend a world conference on Soviet Jewry, and they wanted Chernyak to join them. They also suspected he had been released ahead of the conference on purpose; letting people go made the Soviets look better.
At the gathering, the Smuklers realized how global this movement had become. There were delegations from countries where they knew activism was strong, such as Britain and France. But there were also delegations from countries that surprised them, including Argentina, Mexico and Zaire (now known as Democratic Republic of the Congo).
As the lights went down, the Israeli delegation walked on stage. Among them were Israeli leaders such as Menachem Begin and Golda Meir. Each one held a candle.
Courtesy Constance Smukler