Story highlights
Ruben Navarrette: Republicans have difficulty dealing with immigration issues
Navarrette: If conservatives can get immigration right, they can get the Hispanic vote
He says Republicans need to stop framing the immigration issue as a culture war
Navarrette: GOP can learn from Bush's positive attitude toward immigrants
Editor's Note: Ruben Navarrette is a CNN contributor and a nationally syndicated columnist with the Washington Post Writers Group. Follow him on Twitter: @rubennavarrette
After the 2000 presidential election, I read an illuminating article about the complicated relationship between Al Gore and Bill Clinton. The reporter had spoken to dozens of Gore and Clinton confidants to better understand their dynamic.
One observation was that Gore lacked Clinton's empathy and social skills, and this baffled the president. After all, for Clinton, connecting with people is second nature. The aides said they could see the frustration on Clinton's face at Gore's inability to make that connection, as if he were thinking, "C'mon, this just isn't that hard."
Today, one can imagine that George W. Bush is thinking the same thing about the difficulty Republicans are having with Hispanic voters, and specifically how it is that many Republicans can't seem to talk about the immigration issue without ticking off this important constituency.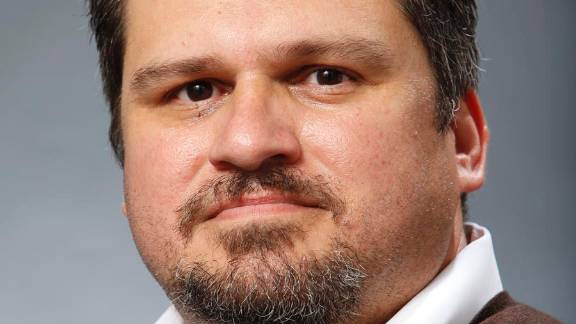 Courtesy San Diego Union Tribune
A few weeks ago, I met with an old friend of Bush's who has known the former president for almost 30 years. I asked him how he thought Bush reacted when he watched the debates in the GOP primary, where those vying for the Republican nomination appeared to compete with one another as to who could do the best job of sending Hispanics into the arms of Democrats. He said, "I think he just does one of these." He put his hands over his face and shook his head.
Get our free weekly newsletter
That is the reaction of a lot of Republicans these days. I hear all the time from people who consider themselves conservative on social issues or economic policies. And yet they don't understand why lawmakers can't fix the immigration system in a way that reaffirms the rule of law, secures the border, provides a work force for industries that are shorthanded and creates a pathway where those who have been living in this country illegally can become legal as long as they're willing to admit they did wrong and make it right.
The stakes couldn't be higher. If conservatives could learn to talk honestly about immigration, they might have a shot at winning the percentage of the Hispanic vote that they need to stay competitive in a presidential election: about 35%.
But if they don't, if they're stubborn and refuse to change their immigration message, in both substance and tone, it's possible that the next time a Republican is elected president, my grandkids' grandkids will be flying their spaceships to the polls.
I have my own prescription. Republicans need to stop framing the immigration issue as a culture war and start talking about it as a matter of economic necessity. They need to stop pandering to racists and nativists and start reaching out to those in the sensible center. And they need to stop depicting immigrants as defective or inferior and start recognizing their strengths and contributions.
Bush gets it. He has a message for his party, and if Republicans are smart, they'll listen. The man who got 35% of the Hispanic vote in 2000 and what is, for Republicans, a record 44% in 2004 knows a little something about winning over voters who might not be inclined to support a Republican.
First, you have to understand what it means for a Republican to put those kinds of numbers on the board. A majority of Latinos are always going to vote for the Democratic nominee, just as they have in 14 straight presidential elections dating to 1960. But when a Republican candidate can carve out 44% of a constituency that Democrats assume they have locked up, there's no way the Democratic candidate is going to win. He's going to spend the whole time playing catchup. Ask John Kerry, who lost to Bush in 2004, after running what had been the worst campaign ever in terms of reaching out to Hispanics.
That is, until Mitt Romney came along. His Hispanic outreach efforts were a taco short of a combination plate.
Bush's secret? Respect and resources. Hispanic advertising expert Lionel Sosa, who helped with Bush's re-election campaign in 2004, once told me that he'd make a pitch for an ad buy and ask for, say, $1 million. Bush would turn to Karl Rove and say, "Give him $2 million." More important, Bush respects Hispanics: their families, their culture, their lives, their work ethic and the effort they make to ensure that their children will have better lives filled with cushier jobs, shorter hours, higher wages and softer hands.
his respect came through loud and clear this week when Bush did something that a lot of his supporters have been wanting him to do since he left office: weigh in to the national dialogue on immigration reform.
In a speech at a conference hosted by the George W. Bush Institute in Dallas, the former president urged GOP lawmakers to approach the debate "with a benevolent spirit" that acknowledged that immigrants have always contributed mightily to this nation and been more a blessing than a burden. Bush described immigrants as essential to the nation's economy because they bring new blood, an unlimited optimism and a fresh outlook, all while alleviating labor shortages by doing jobs that Americans won't do.
"Not only do immigrants help build the economy," Bush said, "they invigorate our soul."
Credit his upbringing. As has been reported over the years, Bush grew up in Midland, Texas, around Hispanics who worked on the oil rigs. As he said in his speech, he had "the honor and privilege" of meeting many Hispanic immigrants. And he was impressed by what he saw.
"Those whom I've met love their families," Bush said. "They see education as a bright future for their children. Some willingly defend the flag."
Viva Bush. Those are welcomed words for those of us who wring our hands when we see Republicans implode with Hispanics. It's because we realize that our community will never prosper politically as long as we are written off by Republicans and neglected by Democrats.
Contrast Bush's positive opinion of immigrants to the current view of many Republicans who still portray newcomers as takers, spongers, moochers, etc. For those who think that a big chunk of the country – say, about "47%" – are constantly scheming ways to take other people's stuff, immigrants come here for a free lunch.
That's foolish talk. Haven't we at least learned this much: In many restaurant kitchens in America, it is immigrants who work up a sweat making lunch for the rest of us.
Follow us on Twitter @CNNOpinion
Join us on Facebook/CNNOpinion
The opinions expressed in this commentary are solely those of Ruben Navarrette.