Story highlights
William Bennett: Plunging off the fiscal cliff should be the GOP's last resort
Bennett: Republicans may have to compromise on tax rates for the wealthiest
He says compromises do not mean capitulation to the Democrats
Bennett: GOP should go on offense with a serious, comprehensive budget plan
Editor's Note: William J. Bennett, a CNN contributor, is the author of "The Book of Man: Readings on the Path to Manhood." He was U.S. secretary of education from 1985 to 1988 and director of the Office of National Drug Control Policy under President George H.W. Bush.
(CNN) —
After much introspection, the GOP faces its first true post-election test: the so-called fiscal cliff. Will House Republicans hold out against President Barack Obama's tax hike demands, or will they be willing to make a deal?
Plunging off the fiscal cliff should be the GOP's last possible resort, even if that means making a "grand bargain" first. If Republicans are seen (or portrayed in the media) as purposely trying to push the country toward the fiscal cliff for political reasons, then it will only further affirm the "47%" stereotype that has haunted the party.
According to the 2012 exit polls, Obama won voters who said a candidate who "cares about people" is their most important quality by a dumbfounding 81% to 18%.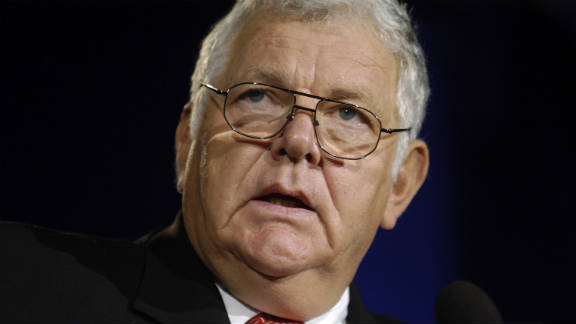 Republicans must change this narrative, and they can't if they rely solely on resistance to tax hikes. While tax hikes alone on the richest Americans will not solve the debt problem or avert the fiscal cliff – a point Republicans rightly make – neither will the status quo.
Instead, Republicans should go on offense with a serious, comprehensive budget plan that will educate the public to the larger conservative principles of fiscal responsibility and governance, even if it means compromising on tax rates for the wealthiest Americans.
Get our free weekly newsletter
Some conservatives will disagree about this for some legitimate reasons. Yet if Republicans spend the next two months on their heels defending the current tax rates for the wealthy, they will lose the issue. The 2012 election taught us that class warfare is a powerful tactic if not properly rebutted. Obama was able to paint Republicans as defenders of the rich who did not care about the poor and middle classes. The Republican response was inadequate.
This time around Republicans must educate the public as to how their plan to avoid a fiscal cliff – preventing tax hikes, cutting the deficit and saving eroding social safety nets for those who need it most – actually protects the poor and middle classes. And that the president's intransigence on tax hikes and inability to lead on budget or entitlement reforms will hurt the poor and middle classes the most in the long run.
The Republicans can take the lead and offer a framework structured around the Simpson-Bowles commission and Rep. Paul Ryan's plan on Medicare reform.
Compromise, however, does not mean capitulation. Republicans can distinguish, as British politician Duff Cooper said, between the willingness in principle to compromise and the willingness to compromise on principle.
First, and most importantly, Republicans must insist on real, tangible spending cuts (not cuts in the rate of growth) that commence immediately. They cannot make the same mistake that Ronald Reagan and the GOP made in the early 1980s. Reagan agreed to a "balanced" approach in the Tax Equity and Fiscal Responsibility Act of 1982 that should have amounted to $3 in spending cuts for every $1 in tax increases. As we know, the tax hikes came, but the spending cuts never followed.
If Republicans do compromise on tax rates, it should only be to return those making more than $500,000 a year to just below Clinton-era rates (39.6% for the highest-earning married household). The tax hike should be temporary and tied directly to the spending cuts. Without the cuts, the tax hike would be void. Other revenue options could be on the table as well, such as closing loopholes or capping deductions for highest earners. These measures could be partly offset by cutting the corporate tax rate, which many Republicans and Democrats already agree on.
Next comes entitlement reform. Ryan and Democrat Sen. Ron Wyden had partnered together in the past to propose a bipartisan premium support alternative to Medicare (while keeping the option of traditional Medicare). House Republicans can also push a Social Security overhaul through raising the retirement age and offer revenues in the form of means testing for Medicare and Social Security.
There is optimism for such a deal. Ryan returns to the House with more gravitas and credibility than he had during last year's debt-ceiling standoff. In the 2012 presidential election exit polls, Mitt Romney and Ryan won a majority of voters over the age of 45. One could argue that Ryan's Medicare reform was in fact a winning issue and not the death knell its critics claimed it would be.
Additionally, 20 Democrat Senate seats are up for grabs in 2014, compared with 13 Republican seats. Among the Democrats up for re-election are senators in traditionally red states, such as Mark Pryor in Arkansas and Mary Landrieu in Louisiana. Others up for re-election such as Mark Warner in Virginia and Kay Hagan in North Carolina are under pressure to avoid the massive defense sequestration cuts that would accompany a fiscal plunge. Republicans can exercise leverage here.
Certainly, such a compromise or grand bargain may fail regardless of Republican efforts. Democrats may resist serious spending cuts and entitlement reforms. But regardless, Republicans must demonstrate to the American people that they did everything they could to avert the fiscal cliff for the sake of all Americans – schools, churches, communities, individuals and families included – not just businesses and corporations.
To paraphrase British philosopher Jeremy Bentham, the way to appear to love people is to love them in reality. Republican fiscal policy can be both principled and caring at the same time.
Follow us on Twitter @CNNOpinion.
Join us on Facebook/CNNOpinion.
The opinions in this commentary are solely those of William J. Bennett.