Story highlights
A diverse coalition joined forces to bring historic change on same-sex marriage
Minnesota parents of a fallen soldier who was gay worried his death would be in vain
Republican in Maine feared backlash but broke with party line anyway
A preacher in Maryland spoke up to counter media dominance of right-wing pastors
After their son was killed in battle in Afghanistan, Lori and Jeff Wilfahrt crisscrossed their home state of Minnesota. They spoke at churches, schools, book clubs. They spoke of Cpl. Andrew Wilfahrt's love of country and the Constitution.
They spoke, too, of grief. They are a mother and father who utterly miss their son, a soldier who was openly gay.
On Tuesday, November 6, the Wilfahrts entered their polling station in Rosemount to vote against a state constitutional amendment defining marriage as solely between a man and woman. Both parents wondered: Had their boy died protecting homophobes who would deny him rights back home?
In Frederick, Maryland, the Rev. Barbara Kershner Daniel had lived with guilt for nearly 25 years. A fellow preacher who was gay had asked her to officiate his wedding with his partner. She told him no.
"Why did I do that?" she has asked herself ever since.
Mark Ellis, the former GOP state chairman in Maine, knew where he stood on the issue of same-sex marriage. Yet he struggled with whether it would hurt him professionally to break from his party.
In the northern suburbs of Seattle, middle school band and orchestra teacher Michael Clark had always spoken of dignity and respect for all. He and his partner of 18 years sat together at their dining table to vote early this year.
Their ballots weren't just votes. They were an affirmation of their love.
iReporters share stories, images from same-sex weddings
From Minnesota to Maryland, from Maine to Washington, this mixed coalition of voters – grieving parents, a preacher, a lifelong Republican and a gay couple – joined forces to push for historic change on same-sex marriage.
Never before had a state rejected a constitutional amendment to prevent gays from marrying. Minnesota did just that, in part spurred by the Wilfahrts' activism.
Never before had voters approved laws allowing same-sex marriage. Maryland, Maine and Washington did just that. Those states may not have garnered enough votes if ordinary citizens like Daniel, Ellis and Clark had remained quiet.
Each took up the cause for personal reasons shaped by life experiences. Together, they surprised America; their voices emerged as a sign of a more progressive electorate that's grown tired of arguments that say marriage between two men or two women undermines the institution and the very fabric of society.
This shift in beliefs was captured in a recent Pew Center poll that found 48% of Americans now favor same-sex marriage. Just four years ago, only 39% felt that way.
Before the election, gay marriage had been approved in six states – Connecticut, Iowa, Massachusetts, New Hampshire, New York and Vermont – through the courts or legislatures. What made November 6 a watershed moment was that the people decided.
The issue, though, is far from settled. Despite the recent victories, 32 states have altered their constitutions to ban same-sex marriage, and it seems inevitable that the Supreme Court will weigh in this term.
The Supreme Court justices this month will begin considering several cases involving same-sex marriage, including one testing the constitutionality of California's Proposition 8, which says "only marriage between a man and a woman is valid or recognized in California." Other cases challenge the 1996 Defense of Marriage Act, which, among other things, deprives same-sex couples of federal benefits.
The Wilfahrts would have preferred not to have been thrust into the debate. They'd give anything to celebrate Thanksgiving with Andrew at their oak table once more. But their fate changed on February 27, 2011, the day Cpl. Wilfahrt, 31, was blown up while on foot patrol.
On Election Day, the Wilfahrts received something so powerful, so poignant, so unexpected – a feeling they had not experienced since that awful knock at their door.
Purging guilt
Rev. Barbara Kershner Daniel was a brand new preacher living in Pennsylvania 24 years ago. She had given birth to her first son. While she was on maternity leave, a pastor filled in for her at the pulpit. "A very nice man and incredible preacher," she remembers.
He was gay, and he asked her to officiate a ceremony for him.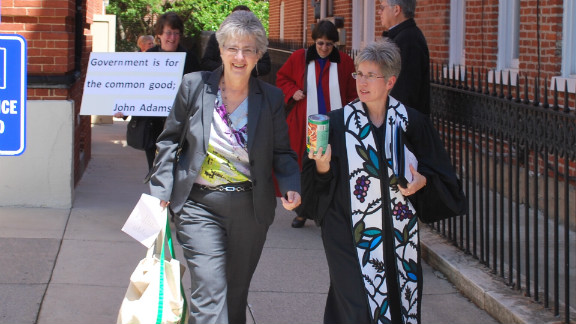 Courtesy Barbara Kershner Daniel
"I declined," she says. "I was in my first parish. I wasn't sure what the reaction would be, and I've regretted that ever since."
Like so many, she struggled with the concept of civil unions versus marriage, too. It's not that she didn't like gay people. She was welcoming to friends and congregation members who were gay. "I was always really aware of this group of folks in the church who were disenfranchised."
As she thought about the issue more and met more gay people over the years, Daniel's view evolved. "When you say civil union, it doesn't have the same meaning."
Same-sex couples find their stride
Daniel is now pastor of the Evangelical Reformed United Church of Christ in Frederick, Maryland. The United Church of Christ passed a resolution in 2005 affirming marriage equality. Daniel's church voted two years later to be an affirming congregation, allowing gays and lesbians to be active in all aspects of the church.
"We're a church where people are welcome, where families are nurtured, where families are families."
She believes right-wing preachers get too much air time, that for far too long, conservative pastors have drowned out the voices of progressive people of faith.
The Maryland legislature passed marriage equality, and the governor signed it into law earlier this year. But opponents gathered enough petition signatures to force a vote this year.
Daniel watched from the sidelines last year as conservative clergy led the charge to try to block the legislation and ban gays from marrying. "Not doing anything this year was not an option," she said.
She and other leaders helped form an interfaith group called AMEN – Advocating for Marriage Equality Now. They received social media training on how to spread posts rapidly across Facebook. They knocked on doors, placed hundreds of phone calls and wrote letters to the editor to area newspapers, anything to reach out to the state's more progressive electorate.
"The evolution on my journey is: Ever since that time I said 'no,' I've said, 'Why did I do that? They love each other. Why is that any different than the other couples I'm marrying?'"
As she cast her ballot, she thought of all the families that could be made whole. "I must admit that it was a bit emotional," she wrote on her Facebook page.
The Sunday after the vote, she stood before her congregation and declared, "We are generous, we are passionate about justice and we support love for all families. Let's give it up for Maryland!"
The more than 200 members cheered wildly.
In the church bulletin, a gay couple who have been together for more than 25 years invited everyone in the church to their wedding on January 5.
Daniel will marry them.
Fighting bigotry
When Mark Ellis was about 3 months old, a white couple from Maine adopted him in the Philippines. His father was in the Air Force and stationed there. For years, they lived the rolling stone life of a military family, moving from base to base. Ellis played with kids from all walks of life, of all different races.
But when he was 10, his father retired, and the family moved back to Maine. Ellis was suddenly dropped into an all-white environment, the only kid of a different race.
"I had never experienced racial bigotry until we got back to my father's home state," he says.
Courtesy Mark Ellis
He heard sneers. Kids mocked him in their pretend Asian voices. They called him "gook."
Being bullied would shape him and his views. "My perspective was built up on being different on this journey through life."
Now 51, Ellis was drawn to the Republican Party during the Reagan era. He found Then-President Ronald Reagan's calls for personal responsibility and growing the economy through private enterprise inspiring. He's been a Republican ever since, eventually becoming the chairman of the GOP in Maine. He is currently the communications director for Maine Senate Republicans.
As this election neared, Ellis thought long and hard about how vocal h