Story highlights
Michael Takiff: For desperate candidates, it's clear their message is not prevailing
Takiff: John McCain resorted to gallows humor when he was about to lose
He says that with Libya gambit, Mitt Romney is making a mistake in his attack
Takiff: In Monday's debate, the stakes are high for President Obama and Romney
(CNN) —
Three days before Election Day in 2008, John McCain, behind in the polls, guest-starred on "Saturday Night Live." Playing on his campaign's shortage of cash to compete with the flush Obama juggernaut, the opening sketch imagined the Arizonan appearing on QVC alongside Sarah Palin (played by Tina Fey) to raise money by selling a "line of collectible products" that included "John McCain's complete set of pork knives" ("They cut the pork out!").
Desperate candidates may say and do desperate things as the day of balloting draws near and it's clear their message is not prevailing.
Opinion: Rogue electors threaten elections' integrity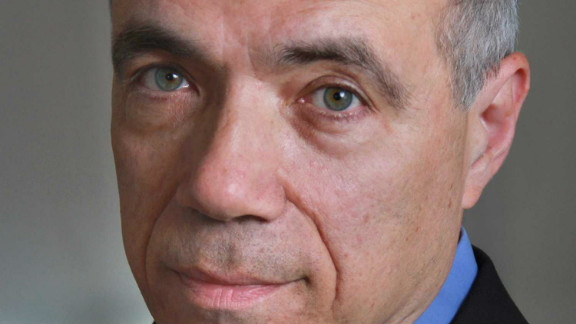 McCain lacked the money to buy air time on his own terms; he bought it on the terms of a comedy show, paying with his willingness to poke fun at himself. McCain is famous for his sense of humor: The opening minutes of his speeches to small audiences early in the campaign made him more a Borscht Belt entertainer than a potential president. By this final weekend he must have figured that, with his long pursuit of the presidency about to end in failure, he might as well enjoy himself.
Gallows humor like McCain's has not been the norm among presidential candidates about to lose. The more common reaction has been disbelief: How could the public be buying my opponent's patent nonsense? How could the American people be seriously considering choosing that obviously unqualified poseur over the obviously superior statesman, i.e. me?
Get our free weekly newsletter
In 1992, as the reality was sinking in that he was about to lose to a small-state governor 22 years his junior – a man who had never been ambassador to the United Nations, ambassador to China, director of the CIA, vice president or commander in chief, who had never put together a multinational coalition to prosecute a war and then led that war to a successful conclusion – George H. W. Bush was driven to distraction. "My dog Millie knows more about foreign policy than these two bozos," he said of his opponent, Bill Clinton, and Clinton's running mate, Al Gore.
The flailing comment showed that Bush either was the owner of one truly talented canine or had lost the dignity most Americans deem appropriate in their president. And it had the added drawback of being obviously mistaken.
Watch CNN's coverage of Monday's final presidential debate starting at 7 p.m. ET on CNN TV, CNN.com and via CNN's mobile apps. Clip-and-share your favorite debate moments on Facebook and Twitter, join the discussion on our live blog and get comprehensive coverage on our debates page. Need other reasons to watch the debate on CNN's platforms? Click here for our list.
"The more he said stuff like that, the more he looked out of touch," said Paul Begala, who with James Carville managed Clinton's '92 campaign. "I mean, Clinton's a lot of things, but he ain't a bozo. He ain't stupid."
In 1988, Michael Dukakis, astonished that a majority of the electorate seemed to swallow the Bush campaign's depiction of him as a liberal oddball, released a series of commercials purporting to show a group of Bush political consultants. In each spot, the operatives sought to deflect attention from their own candidate's shortcomings by unleashing yet another scurrilous attack on Dukakis. The ads made perfect sense to Democrats but were so indirect in making their point as to have little impact.
With the current contest neck-and-neck just two weeks before Election Day, neither candidate is sure he's about to lose – but neither is sure he isn't. And so both candidates are showing signs of desperation, both incredulous that the American people might actually award the presidency to a man clearly undeserving of the job, both fearing they're about to snatch defeat from the jaws of victory.
President Obama, only a couple of weeks ago appearing to be on the verge of a near-landslide, has taken to suggesting that his opponent suffers from "Romnesia." Mitt Romney, still a slight underdog in a race he and his party had long assumed would be theirs thanks to the nation's sluggish economy, sought at last week's debate to trap the president in a misstatement regarding the recent attack on Americans in Libya.
Opinion: Obama's foreign policy on trial
Will Obama's new jokey stump speech succeed in reminding female voters that Romney's current modulated positions on reproductive choice bear no resemblance to those he expressed during his campaign for the GOP's nomination? Or will the president's engaging in ridicule boomerang to make himself, not his opponent, seem small?
Romney's Libya gambit blew up in his face when Candy Crowley corrected his error. Will he try to resuscitate the argument at Monday's foreign-policy debate in Boca Raton, Florida? If so, will he succeed in convincing the public that the president is a man out of his depth? Or will such persistence merely confirm the Obama campaign's argument that the former governor is a man unashamed to capitalize on a tragic loss of life in order to make a political point?
I'm sure Romney is not waiting with bated breath for my advice, but here it is: He should back off on Libya.
In times not dominated by threats from abroad, a presidential candidate need not prove foreign-policy wizardry but must only pass a threshold of credibility – call it the 3 a.m. test, after Hillary Clinton's famous commercial in 2008 imagining her taking a call at that hour informing her of a sudden international crisis.
The governor should recall 1992. As it is today, in that year, national security was seen as the incumbent's strong suit; indeed, George H. W. Bush's leadership of Desert Storm in early 1991 had earned him stratospheric approval ratings that they caused some of the Democratic Party's biggest names to pass up challenging him, believing any such attempt to be futile.
Clinton knew better. He sensed that with the end of the Cold War world, he could wage and win a campaign centered on the economy, as long as he convinced the public that he would be knowledgeable and sensible in matters of foreign policy. In a number of areas – notably Haiti, China, and the Balkans – he staked out positions advocating more active intervention than the Bush administration was pursuing.
Clinton's aim was not to best Bush on foreign policy – he did not deride Bush as a foreign-policy lightweight, a characterization he knew would convince no one – but rather to fight the incumbent to a draw. And he did. Indeed, by conceding Bush's prowess at foreign affairs, Clinton turned it against him, contrasting the president's activism abroad with his apparent passivity at home.
Opinion: Dems' national security advantage at risk
With his Libya gambit, Romney is making the mistake Clinton didn't. Obama got bin Laden; Romney can't do anything about that, and his repeated talk of the president's supposed apology tours may play well to the Republican base conditioned to seeing Obama as an anti-American con man but not to independent voters who have seen this president correct the foreign policy mistakes made by his predecessor. Romney's ventures into foreign policy to date have embarrassed him – not only his goof in the town-hall debate but also his bumbling recent trip abroad.
If he wants to turn Monday's foreign policy debate to his advantage, he will simply try to hold his own, to present himself as a credible commander in chief and a plausible face of America to the world. He should play it safe, attempting no more than to (barely) pass the foreign-policy threshold and thus put the issue aside. If he can do so – meeting a standard made low, ironically, by the president's success in keeping threats to the nation at bay – he will be able to focus his campaign endgame on what has always been, and remains, the sole issue that could win him the race: popular dissatisfaction with the state of the economy.
Conversely, Obama needs to assert not only his own skill and sobriety at foreign policy but also Romney's ineptitude and bellicosity, his "blunder" and "bluster," as the Obama campaign is now putting it. If the president can stoke existing doubt over the governor's suitability to the international stage, he can add the issue to those he raised in the town hall and has been hammering since: tax fairness, women's health, the "sketchy deal" and the shifting, at some point, of nearly all of Romney's positions.
Referendum or choice – as they have all along, the two sides are still seeking to define just what voters will be going to the polls to do. The candidates – and the rest of us – are desperate to find out the answer.
The opinions expressed in this commentary are solely those of Michael Takiff.