Editor's note: Change the List aims to bring attention to places that need it most. Follow the project on Tumblr.
Story highlights
Hawaii had the lowest voter turnout rate in the country in 2008
This despite the fact that President Obama is from the Aloha State
Change the List is trying to increase voter participation there
The project aims to bring attention to places that need it most
Elle Cochran grew up far too enchanted by Maui's rocky coastline and beach-bum lifestyle to care a thing about politics and voting.
"You get up, work, go to the beach, sleep – and do it again," she said of life on this Hawaiian island, which, of course, is known for its surf. "It's just this routine."
But after a real estate project was proposed on Honolua Bay – a cliff-lined cove near her home that's known for its ruler-straight waves – she decided to do something that's bizarre for a non-voter. She ran for county council.
"I never voted until I ran for office," she said.
In other words: The first ballot she cast was for herself.
In what state but Hawaii would that even be possible?
I came to the Aloha State not for the beaches, volcanoes and helicopter tours but because Hawaii has the lowest voter turnout rate in the nation. In the 2008 presidential race, when Barack Obama – Hawaii's body-surfing, shaka-throwing native son – was at the top of the ticket, fewer than half of eligible Hawaii residents voted. Compare that with the No. 1 civic-minded state, Minnesota, where 78% cast ballots.
We can all agree that's a problem, right?
Tumblr: See how your state ranks
No matter how little you care for politics, it seems unhealthy – criminal, some people in Hawaii told me – that such a small slice of the electorate makes decisions that affect the quality of life for everyone in the state, including the majority that doesn't vote. This is all the more shocking when you consider that more than 90% of registered voters in Hawaii participated in elections for several years after statehood in 1959. People cared about what their newborn state would turn into. Somewhere along the way, enthusiasm died.
Before I came to Hawaii, it was tempting to blame the state's low turnout on apathetic surfers – and on stereotypes of people who bum their way through life. But eight days, seven flights, three islands (one luau) and dozens of interviews later, I realized there are much-less-obvious forces at play on this island state, too.
I met people like Nani Teruya, a fiery 51-year-old who throws her head back like Kermit the Frog when she laughs. She says the U.S. is illegally occupying Hawaii, and she doesn't vote on principle. Then there's Sam Slom, Hawaii's one and only Republican state senator, who says voters don't care because it seems like the Democratic Party controls everything in the state. Or Nanci Munroe, 55, who was driving to her polling place during one presidential election when she learned that it didn't matter how she voted: The winner was announced on her car radio. (Because Hawaii is six hours behind the East Coast, national elections often are called by the news media, and Twitter, before Hawaii finishes voting.)
All of these factors lead people here to feel disconnected from the other 49 states and from politics in general. This place of smoldering volcanoes, house-sized ferns and melt-the-horizon sunsets is just very different from the rest.
"We have nothing in common: language, culture," said Tama Kaleleiki, whom I met after a church service on Maui where the hymns are sung in Hawaiian and accompanied by a ukulele. The U.S. and Hawaii, he said, are like "apples and bananas."
This little election-minded romp through paradise was part of a new CNN effort called Change the List. Our tagline: "Bringing change to places that need it most." We start with a list and then tackle the place at the bottom of the ranks, with the hope not of shaming that place but of starting a conversation that could boost it into higher standings.
That's a lot of pressure, right? On the trip, I definitely felt it. Throughout the journey – and, let's be honest, pretty much life – I was plagued with doubt: Is our money-hungry, attack-heavy, non-responsive democracy too far gone? Is apathy too entrenched? What if the choice of candidates isn't good enough? Does one vote out of millions actually matter? And isn't surfing more fun than voting, anyway?
I wasn't sure change was even possible.
'Stop doing nothing?!'
It didn't help that the first person I met laughed in my face
Against all logic and modern airplane etiquette, I decided to strike up a conversation with the woman seated next to me on the 9-hour, 40-minute flight from Atlanta to Honolulu.
There are (at least) two reasons I should have known better:
1. She had stuffed three bags, one of them a cooler full of food, under the seat in front of her.
2. When I was returning from the bathroom, I saw all 10 of her toes floating in the air above her headrest. She was doing some sort of meditative yoga. Knees in face. Shoes off, wearing pink-and-white-striped socks, the kind that separate toes into creepy foot-fingers.
When she finished the routine, I asked whether she was from Hawaii. She said yes and asked me why I was headed to the Aloha State. For work, I said, being intentionally generic.
"F*** you, maaaaan!" she said.
Me: "What?"
(Internal: "What!!")
Toe lady: "You're taking some local's job!"
No, no. I tried to explain this project to her: Change the List. Encourage voting. Atlanta resident. Non-surfer. Get it?
Her response was no more comforting.
"You think people are going to stop doing nothing to vote!?"
That's when she laughed in my face. It was one of those cackles so loud and belly-felt that you can see the person's gums. Time froze briefly in that moment: me staring at the tartar on her gumline, thinking the whole project was doomed before it began.
'You could eat a sea urchin'
The Maui where Elle Cochran grew up is exactly like the one you picture in your mind, especially if, like me before this trip, you've seen "Lilo & Stitch" but never been to Hawaii.
"As a Hawaiian, we are always connected to our environment: to our streams, to the aquatic life, to the mountains," Cochran said. "Growing up, we could live off the land. You could pick a fruit off the tree. You could go in the ocean and get a fish. You could pick limu, or seaweed, off of rocks. You could eat a sea urchin."
(Sea urchin!)
Cochran, the non-voter who decided to run for the County Council, learned to swim by age 2 or 3. The beach on the west side of Maui, near Lahaina, was her life. She swam and snorkeled, canoed competitively. Drive up and down the coast today, and you see packs of surfers, looking like seals as they bob up and down on the waves.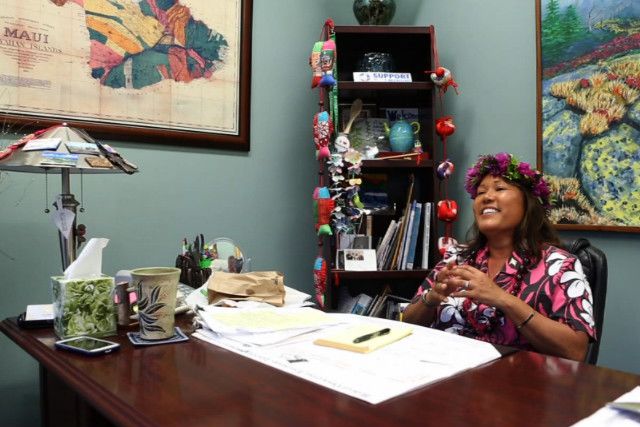 With so much else to do, Cochran never enjoyed school. It certainly didn't prepare her to run for the County Council – or to vote. "It wasn't part of my upbringing," she said of elections and politics.
Eventually, she left for boarding school in a less-idyllic location: "up-country," as she says, near a cattle farm. Partly because of the distance, she quit school at 16. The call of the water was too strong, and she didn't want to be "cooped up in a classroom."
She went to work as a bartender in a touristy hotel – the one that's now the Westin Maui – and, over the course of about a decade, got tangled up with drug abuse and the law.
She came out of that experience stronger, she said, and more confident. When she left rehab, she took up a new aquatic hobby: surfing.
The ocean again became her refuge.
'We're stuck in a vicious cycle'
On my first night in Honolulu, a surprisingly tall, dense city of computer-server-looking buildings backed by misty mountains, I met with a group called Kanu Hawaii.
Kanu, which means "to plant" in Hawaiian, was founded about five years ago by a group of about 40 young people. They'd read a 1970s book called "Hawaii 2000." That year had come and gone, and modern Hawaii – with its traffic, poverty and low civic engagement – looked nothing like the island paradise outlined there.
They started Kanu Hawaii to try to plant seeds of nonpartisan change.
If anyone knows how to get Hawaii to vote, I thought, it's surely them.
And if nothing else, they had to be more enthusiastic than the woman on the plane.
A group of mostly young, T-shirt-wearing Kanu volunteers gathered in a community center to discuss strategy. Several pecked at laptops as Kanu's executive director, James Koshiba, gave a slideshow presentation about the dismal state of voting in Hawaii.
"We're stuck in a vicious cycle of people who are disappointed in government and politics, and they don't vote," he said, pulling up a chart to illustrate this point.
The only way to break this cycle, for politics to be responsive again, he said, is to get people back into politics – and to take money and special interest groups out.
"When people's voices aren't there to shape democracy, other forces fill the void."
To that point, Kanu is trying to increase voter turnout in the state in two ways: by registering people to vote and by going door to door, telling people why voting matters. The group's goal was to register 900 new voters by November; as of this meeting in late September, they had hit 800. Clipboard-toting volunteers had knocked on 312 doors.
Listening to the presentation, I couldn't help but be inspired. The numbers do get in the way, though. How can knocking on 312 doors matter in a state of 1.4 million people?
As if reading my mind, Koshiba addressed this point.
When volunteers go door to door, asking people what issues matter to them as well as asking them to vote, they're "re-knitting" the fabric of communities in Hawaii, he said, some of which has long been fraying. They're giving anonymous residents a voice.
It seems to be working. Kanu didn't start working on voter turnout until this year. During the primary, the group targeted House District 48 on Oahu. While voter turnout dropped 1% for the state as a whole, it increased more than 4% in that district, where volunteers canvassed 980 homes, sent 1,000 e-mails and registered 621 new voters.
Still, I wanted to see them in action before I would believe that going up to a random person's door and asking them to vote would work. Can you imagine if someone knocked on your door, unannounced, and told you it was important to them that you voted?
I wasn't sure how I would react.
'I thought they were crazy'
It was 2006 when Cochran first heard about the development project.
The pitchmen took her and other surfers out to lunch; they wanted that community's buy-in. They showed her blueprints for new showers and picnic tables that would benefit the surfers.
"They just dangle the cherry in front of you so you buy what they're trying to sell."
At first, the proposed development at Honolua Bay – the pristine, world-renowned surf spot near Cochran's home on Maui – seemed benign enough. But after doing some research, Cochran and other surfers discovered further plans, not just for showers and tables, she said, but for a golf course and gated community.
She was outraged.
For Cochran, the seeds of civic engagement had been planted when a friend asked her to volunteer with a group that conducts surveys of marine life in protected bays. During those surveys, she felt like she was making a difference, protecting something she loved.
There was little she loved more than Honolua Bay.
She and her husband, surf shop owner Wayno Cochran, who moved to Maui as a teenager because of the surf at Honolua Bay, started the Save Honolua Coalition.
When their efforts to protect the bay seemed to stall out, a friend suggested that Elle run for office. "I thought they were crazy," she said. She was 45 and had never cast a ballot. From 1984 (Reagan-Mondale) all the way through Obama's election in 2008, the opportunity passed her by. She wasn't the kind of person who was into politics – or who had a cause.
But she felt strongly that the bay needed to be protected. So she ran.
Maybe this would be the new her? The surfer turned politician.
Into the voting desert
The Saturday after I met with Kanu's keyboard-tapping volunteers, I decided to go canvassing with them. We met in the parking lot of a Safeway in downtown Honolulu, near the windward side of the island, which catches most of the rain and, therefore, looks like something out of "Lost" or "Jurassic Park." Edythe McNamee, the videographer who traveled with me on this trip, kept looking up into the craggy, jungle-covered peaks near the capital and joking that a pterodactyl might swoop out at any moment.
As we crossed a ridge on a two-lane highway, we saw a part of Oahu that most tourists don't: the leeward side. It's so dry that it looks like Tucson or suburban L.A.
Joe Heaukulani, 36, one of Kanu's volunteers, would later explain to me that this desert image also applies to voter turnout rates in the area, known as the Waianae Coast. Kanu tried to make maps of this area showing voters and non-voters by house. But data sets identified only voting households. All of the maps of Waianae, Heaukulani said, were "pretty much blank." All non-voters.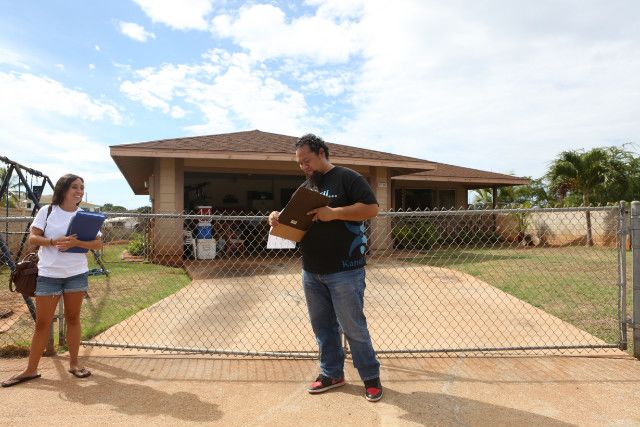 Our crew regrouped at a picnic table in the neighborhood we were going to canvass, a place of bland, khaki-colored homes with plastic siding. Kanu's executive director passed out clipboards and colorful folders containing voter registration forms. He also doled out instructions: "A lot of times, it helps to call out away from the door or from the sidewalk – like, 'Aloha!' – and people will come meet you halfway."
You don't want to startle anyone, he said. And you don't want to attract angry dogs.
I headed out into the neighborhood with Heaukulani, who looks like a Hawaiian Santa, and Kelsey Amos, 23, who doesn't. Heaukulani was wearing jeans and shoes because of the dogs. Last time he was in this neighborhood, he said, one chased down his teammate.
I, of course, was wearing shorts and sandals.
The first person we met wasn't very excited to talk with us.
"I don't vote. I never did," said John Mole, a 59-year-old man in a black tank top and flip-flops. He doesn't register because he doesn't want to get jury duty.
"I know some of the representatives," he said. "They don't want to listen to me, because I don't vote."
It was a sobering moment, made sadder by the fact that Mole made the connection.
'Get out the vote'
Before I left for Hawaii, I read three books:
• "Get Out the Vote" by Donald Green and Alan Gerber
• "Mobilizing Inclusion" by Lisa Garcia Bedolla and Melissa Michelson
• "The Victory Lab" by Sasha Issenberg
All speak to the power of this idea: Asking someone to vote works.
"In thirty-six of forty-five experiments, canvassing was found to increase turnout," write Green and Gerber, political science professors at Columbia and Yale, respectively. "Putting all of the evidence together suggests that, as a rule of thumb, one additional vote is produced for every fourteen people who are successfully contacted by canvassers."
Michelson, from Menlo College in California, told me that some groups – racial minorities, recent immigrants and residents of low-income neighborhoods – don't feel like people who are supposed to vote in U.S. elections. But if you ask them to participate, she said, that can all change.
"It doesn't really matter what you say. It doesn't really matter who asks you," she said. "The important thing is the personal invitation to participate."
'Oh, you're one of us!'
Cochran knew that she would need to court people who never had voted before to win the election for County Council in Maui. She was new. She had to find new voters.
"It was the surfers" who carried me, she said. "I got a few of the surfers to want to vote just because they knew me and I surf with them. That's definitely a demographic that doesn't care about that kind of stuff. That was rewarding in itself, just to get someone who didn't even think to want to vote or care to want to vote. But because they knew me, and they said 'Oh, you're one of us! You're a surfer like us! And you're going to vote – you're going to run for office!? I'm going to vote for you. At least I can relate to you.'
"And I'm like, 'Right on!' "
Cochran lives in the district of Hawaii with the lowest turnout rate in the state. In the primary election this year, fewer than 15% of registered voters cast ballots in House District 10, which encompasses Lahaina and a moon-shaped slice of West Maui. That's only 1,961 of 13,254 people, according to numbers compiled for CNN by local data hound Jared Kuroiwa. Elections in a place like that can easily be swayed if a candidate turns out voters who never have participated.