Story highlights
A young woman was punched by a bus driver after behaving badly toward him
LZ: The bus driver was wrong and should be punished, but that doesn't excuse her behavior
He says we spend too much time coddling questionable behavior in society
LZ: We need to stop pointing fingers and start holding ourselves accountable
Editor's Note: LZ Granderson, who writes a weekly column for CNN.com, was named journalist of the year by the National Lesbian and Gay Journalists Association and is a 2011 Online Journalism Award finalist for commentary. He is a senior writer and columnist for ESPN the Magazine and ESPN.com. Follow him on Twitter: @locs_n_laughs
(CNN) —
I am conflicted about the YouTube video clip of 25-year-old Shidea Lane getting punched in the face by a male bus driver in Cleveland. So many words come to mind, but I have to admit that "victim" isn't one of them.
To paraphrase a politically incorrect joke by comedian Chris Rock: I'm not saying the 59-year-old Artis Hughes should have clocked her with an uppercut … but I understand.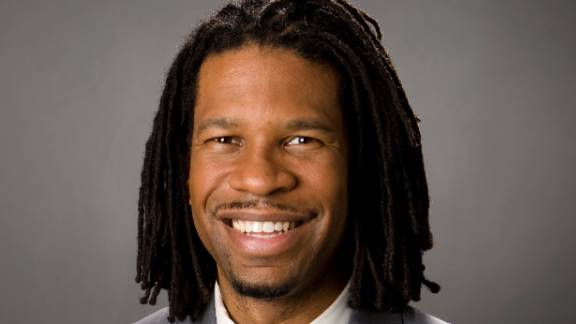 And apparently a whole lot of other folks understand as well.
More than 3,800 signatures have been collected in an online petition asking Cleveland's Regional Transit Authority to reinstate Hughes, who has been suspended indefinitely without pay. There's also a Facebook page called "In defense of Cleveland RTA Driver not being fired" with nearly 16,000 fans. And leaders in the city's transit union have come out in support of Hughes.
The video has gone viral … and we're not sure who the bad guy is.
Get our free weekly newsletter
I mean, in what universe does a person who appears to berate, threaten, shove and – according to witnesses and the police report – grab the throat and spit in the face of another human being expect nothing to happen to them?
In an RTA statement, Hughes said he was protecting himself, and so far neither party has pressed charges. In an interview with a local television station, Lane appears meek and reserved. She says she couldn't believe the driver hit her. But when a reporter asked if she hit Hughes first, Lane said she needed to talk to her lawyer.
Uh huh.
Now, Artis should be punished for his actions. But I can't overlook the fact that if Lane hadn't treated him in the inhumane manner she did, my 66-year-old mother would not have started laughing when she saw the video of the punch.
"Why on Earth would anyone get on a bus and start acting like a damn fool?" she asked. "I tell you … what is this world coming to?"
If you wonder where I get my straightforward attitude, well, there's your answer.
My mother can certainly be rough around the edges at times, but she also taught me to have compassion for people who have been wronged. She taught me to empathize with those who have made mistakes. But most importantly, she taught me that if you act ghetto, you should expect some ghetto stuff to happen to you.
That's karma, east side of Detroit style. Everywhere else it's called common sense.
Because Lane has indicated that she has a lawyer, it's safe to assume she intends to sue.
If she sues and goes to court, I just hope the judge takes a look at the YouTube clip and dismisses the case. As far as I'm concerned, the valuable life lesson she learned from that uppercut is all the retribution she needs.
Sometimes stupid is as stupid does and we spend way too much time coddling questionable behavior already.
Consider this. A man recently died immediately after winning a roach- and worm-eating contest. That's sad, but is it a tragedy? Just as it was hard for me to see Lane as a victim, it's hard for me to use the "t" word for a man who died after eating dozens of live roaches in order to win a snake.
I'm all for holding each other accountable, but it feels as if we're hurling toward a society of finger pointers, because we don't hold ourselves accountable for anything.
Like the woman who threatened to sue a mall because she was texting, wasn't looking where she was going, and fell into a water fountain.
Or the man who tried to sue the couple he kidnapped because they promised to hide him from the police if he let them go and they didn't keep their word.
I was on a large college campus recently when several administrators told me they have had nearly 10 students hit by cars this semester. The biggest reason? The students walked onto the street without checking for traffic first. I even witnessed this myself as this guy who was walking in front of me on the sidewalk out of the blue just ran across the street.
There are states with no-texting-and-driving laws for fear of distracted drivers. But here was this college kid – presumably under the guise of pedestrians having the right of way – just walking off the sidewalk and into traffic.
That made zero sense to me.
Yet it had become part of the administrators' jobs to figure out how to prevent this kind of behavior, because apparently the risk of getting run over by a car wasn't good enough.
Remember the malice at the Palace? Ron Artest, who at the time played for the Indiana Pacers, ran into the stands and started beating up a Detroit Pistons fan after someone hit Artest with a large beverage as he was lying on the scorer's table. An NBA player running into the stands to punch a fan is stupid. A fan thinking it's OK to throw a large beverage at an NBA player is just as stupid. And we've seen fans do so much worse – like spitting at players and fighting one another.
What happened to civility? Where is the common sense?
Why are we shocked that Hughes behaved like an animal when we can clearly see Lane treating him like one?
I've never hit a woman in my life, and I think violence against women is unacceptable. But as I watch the YouTube clip, I don't see one brutal attack – I see two.
The opinions expressed in this commentary are solely those of LZ Granderson.