Story highlights
Van Jones: Social Security is fully funded for the next two decades
Jones: President Obama should present the facts about Social Security and Medicare
He says the mindset that America is broke is sadly pervasive in Washington
Jones: Election Day presents two stark choices for our future
Editor's Note: Van Jones is president and founder of RebuildTheDream.com, an online platform for political innovation focused on policy, economics and media. He was President Obama's green jobs adviser in 2009.
(CNN) —
On the heels of the rollicking debate between Vice President Joe Biden and Rep. Paul Ryan last week, Americans are rightly expecting President Obama to play the role of fact checker in chief Tuesday night.
Even Biden – who didn't miss many opportunities to put fact-checkers out of work – failed to push back on this doozy of a question from moderator Martha Raddatz on Social Security and Medicare:
"Let's talk about Medicare and entitlements. Both Medicare and Social Security are going broke and taking a larger share of the budget in the process. Will benefits for Americans under these programs have to change for the programs to survive?"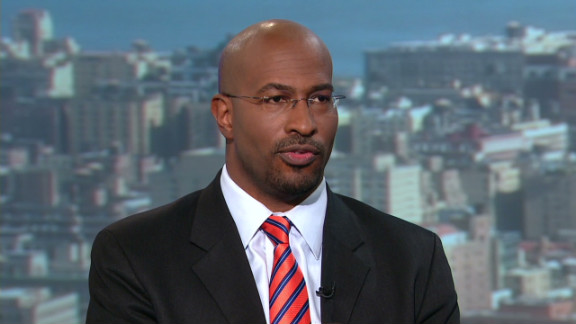 Obama's answer on Social Security two weeks ago left something to be desired. If he gets a similar question Tuesday night, I hope he one-ups his vice president and pushes back on this dangerous mindset.
The fact is: Social Security is not going broke.
The program is fully funded for the next two decades, and could pay out 75% of benefits after that. Medicare's death has also been greatly exaggerated – the program will still be able to meet 88% of its obligations until 2085.
Get our free weekly newsletter
Now, I don't want to pick on Raddatz. She was firm but fair and kept the heat on the candidates without assuming center stage. It's not just her. This mindset – that America is broke, that we can't afford to take care of our own – is sadly pervasive throughout Washington and could have grave consequences, no matter who wins in November.
Let's take a closer look.
First, we need to stop talking about "entitlements." The folks getting health care and cashing Social Security checks contributed to those programs their entire lives. They aren't "entitled"; they earned it. Medicare and Social Security are a sacred trust, a partnership between generations to sustain an America where one can retire with dignity, not into poverty.
Secondly, after running up two wars on a credit card and giving trillions in tax handouts to billionaires while struggling through a global economic downturn, can our political elites please stop pretending we have a deficit because we've spent too much on sick kids, teachers and medicine for seniors?
Most importantly, we need to realize that we aren't stuck with "more debt" or "more cuts" as our only options. America is not broke. We're still one of the richest nations on the planet – we're just being robbed by a handful of elites that have rigged the system against middle-class families, have hoarded gilded-age levels of wealth, and are demanding that we shred the social contract.
It doesn't seem to matter that even the International Monetary Fund says major cuts will tank the economy. Our leaders are stuck on cutting home-front investments and trashing Medicare like a bad habit.
In the first presidential debate, GOP nominee Mitt Romney said he'd ask whether investing in our future is worth borrowing from China. The real question is: Is our future worth asking millionaires like him to chip in more than 14% in taxes?
If we simply eliminated the cap on Social Security taxes – so that the wealthy paid those taxes on all of their income, the same way poor and middle-income folks do – Social Security would be fully funded for 75 years. That's a tweak I fully support!
As for Medicare, the answer isn't replacing the program with coupons for seniors to buy coverage; it's to make the program more efficient while bringing down health care costs throughout the system. Guess what? That's exactly what Obamacare is supposed to do. Now let's end the giveaway to drug companies and let Medicare negotiate bulk discounts.
We face a stark choice. What happens on November 6 will determine if our nation continues moving forward or falls behind. And the months that follow will determine whether we stay true to the principles that made our economy the envy of the world, or slash and cut until we're another forgotten superpower.
The opinions expressed in this commentary are solely those of Van Jones.