Story highlights
Thursday night's debate was the Joe Biden show, says debate coach Todd Graham
For the first half, the vice president was at his best, Graham says
Biden's strength was his approach to middle class and senior citizens, he says
Graham: For much of the second half though, Biden seemed out of control
Editor's Note: Todd Graham is the director of debate at Southern Illinois University, Carbondale. He has coached his teams to national championships and has been honored with the Ross K. Smith national debate coach of the year award. Graham has analyzed presidential debates for five elections.
(CNN) —
Thursday night's debate was the Joe Biden show. And like many shows, the beginning was excellent, the middle was painful to watch, and the finish was what we expected.
The beginning: I'm calling it the first 45 minutes. The vice president was at his best. Yes, he had some smiles, but he had those four years ago. This time it was more obvious because the camera was always on him, and his teeth seemed so white as to make a dentist blush. Seriously, put the bleach tray down, Joe, or there won't be enough left over for washing the dirty clothes.
However, Biden followed those smiles (and laughs – which I don't like and always recommend against) with indignation about what Paul Ryan was saying. He followed those smiles with arguments that Ryan was wrong on his facts, wrong on his history and wrong about President Barack Obama. Had it not been clear that Biden was smiling because he thought Ryan was saying something ridiculous, it would have bothered me more. But for me, the smiles didn't get in the way too much once I put my Ray-Bans on.
For the first 45 minutes, Biden dominated the discussion. The domination began with him telling Ryan, "With all due respect, that's a bunch of malarkey." Biden never let up. He hammered away on the topic of Iran, arguing that the Republicans wouldn't have been successful at getting support for sanctions from either Russia or China.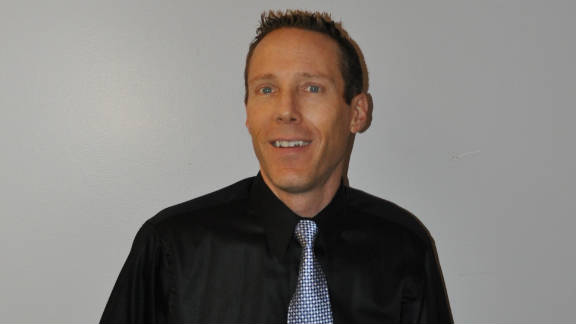 PHOTO: Courtesy Todd Graham
Opinion: Feisty Biden, wonky Ryan
Foreign policy is Biden's wheelhouse. So when the topic came to Israel and Ryan continued Mitt Romney's line that Obama doesn't consider Prime Minister Benjamin Netanyahu a close ally, Biden had one of his best moments. He said "Bibi" Netanyahu has "been my friend 39 years." So he both reminded us of his experience in foreign policy and made clear that he considers Netanyahu such a friend that he calls him by his nickname. It was an excellent moment for Biden.
Biden's strength in this debate was his approach to the middle class and senior citizens. He never failed to take an opportunity to remind the American public that Romney is "a guy who says 47% of the American people are unwilling to take responsibility for their own lives."
Biden tied Romney's "47%" comments (even saying, "If you heard that little soliloquy on 47% and you think he just made a mistake, then I got a bridge to sell you") into his best points of the evening. He looked right at the camera and said, "Folks, use your common sense. Who do you trust on this?" and "Folks, follow your instincts" on issues such as Medicare vouchers and Social Security privatization. At one point he spoke directly to seniors. It was a nice touch.
But then inertia took over. I'll call this the next 30 minutes. After running right over Ryan, with the Republican barely making headway for the first 45 minutes, Biden lost control of the car. The over-steering was perhaps due to excessive coaching after the president's lackluster debate. At any rate, once he had run over Ryan, it was a quick swerve in the other direction, and then Biden thumped the moderator, Martha Raddatz, with interrupting indignation. Then Biden accidentally hit the gas instead of the brake pedal. His runaway berating was now headed toward the townsfolk.
Biden kept pointing his finger menacingly. At first, only Ryan was the victim of the loose finger. But then Biden became trigger-happy with that finger-as-weapon. Raddatz couldn't duck fast enough and became the next target. Strafing the audience indiscriminately with his scolding, Biden was now pointing and shaking his index finger at anything that moved.
Opinion: Partisans are fired up on both sides
This was cringe-worthy. Biden was so wound up that he was like that family member you're warned about before the big Thanksgiving get-together. "Now, don't get Uncle Billy riled up, because once he gets going, nobody will enjoy their pumpkin pie." Yep. Biden turned into Uncle Billy. He simply didn't know, or didn't have the capability to turn his frustration and emotions off. He interrupted, pointed and scolded so often that I think he finished one point with the phrase, "You kids get out of my yard."
Yet he calmed down and was saved by a personal question about abortion. Yes, Biden's emotions were put back in check by talking about a woman's right to choose. You know it's a crazy debate when that happens. And for the rest of the debate, he was back to regular Joe. He still made emotional appeals, but they were more in check. He was very good again for the last 15 minutes.
By the way, who was that high school debater up on the stage with Biden? Ryan reminded me of so many debaters I've seen in the past. Youthful, with ideas – but in a critical debate they get lost. I'm not sure Ryan demonstrated that he's what we need in these tough times. He lacked passion, and he seemed a bit wet behind the ears.
Did he do badly? By no means. He never lost his cool and he wasn't rude. But with his youthful appearance, and his taking a back seat to Biden, Ryan was overshadowed. Ryan did nothing to win or lose the debate. He just disappeared. Ryan underperformed to Biden's over-performance. One way or the other, good and bad, it was Joe Biden's show.
Follow @CNNOpinion on Twitter.
Join us at Facebook/CNNOpinion.
The opinions expressed in this commentary are solely those of Todd Graham.