By David Lang, Special to CNN
With the presidential election coming up, it's hard to go anywhere without hearing an opinion on the candidates' plan for the economy, specifically manufacturing jobs.
Despite all the bad economic news the past few years, I couldn't be more excited about the potential for manufacturing in this country.
My optimism isn't based on macroeconomic reports or expert opinions. In fact, it's entirely personal. Our OpenROV, an open-source underwater robot, recently raised over $110,000 on Kickstarter, the crowdfunding platform for creative projects. This experience has jump-started our micro-manufacturing company as we move into a small facility in Berkeley, California.
For me, this project has become a surprising new career. After unexpectedly losing my job last year, I was forced to rethink my entire life direction. I came to the stark realization that all I was qualified to do was sit in front of a computer screen. Instead of scrambling back into the rat race and trying to find another job behind a desk, I decided to focus on a more fundamental skill set: actually making things.
In the months after being laid off, I immersed myself in the growing Maker Movement by spending two months taking every class I could at TechShop, a members-only workshop in San Francisco. I took woodworking, laser cutting, welding, computer-aided design and manufacturing, and everything in between.
Rather unexpectedly, the side project I had begun with my friend Eric Stackpole began to gain momentum, and now the project is a full-time job.
The better news is that my "Zero to Maker" story is becoming more common than people realize. New tools and machines – 3-D printers, laser cutters, open-source micro-controllers – along with online communities and maker spaces are democratizing the means of production.
Now, anyone with an idea can quickly prototype an idea. And websites like Kickstarter make it easy for those ideas to develop a community of supporters (these ideas are beautifully articulated in Chris Anderson's new book, "Makers").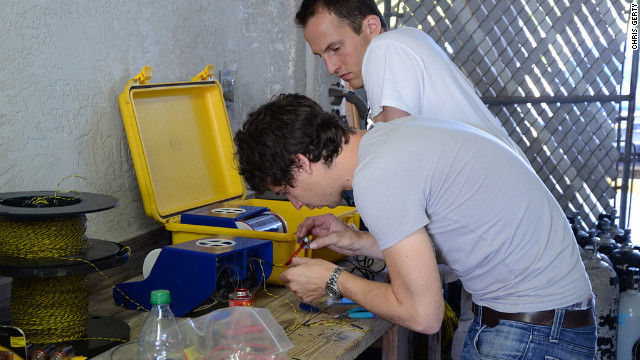 Our OpenROV project, for example, has professional and amateur ocean engineers contributing from all over the world.
It doesn't take an engineering background or industrial design degree to join the new maker economy. Everything I've learned, from how to use the machines to setting up a micro-manufacturing operation, has been on-the-spot and just-in-time. There's a community of makers ready to get you up to speed. It's an affordable and accessible way to re-skill yourself. We're all learning together.
When I started, I worried I was at a permanent disadvantage because I had never used a soldering iron. Now, I'm worrying about how we're going to fill all the orders for our robots. It's a much better problem to have.