Story highlights
"Stand Up to Cancer" fundraiser will be on TV Friday at 8 p.m. ET
Organization, backed by entertainment industry, funds research
Eric Stonestreet says his family has been touched by cancer, as have so many others
Stonestreet: Let's make cancer a thing of the past
Editor's Note: Eric Stonestreet plays Cameron Tucker on ABC's comedy series "Modern Family," a role in which he earned a 2010 Emmy Award in the Supporting Actor in a Comedy Series category.
(CNN) —
I know what you're thinking: What do Justin Timberlake and I have in common? First, we're both responsible for bringing sexy back. Second, we're both standing up to cancer on Friday.
Why? Well, I don't know Justin's connection to cancer, but I do know mine. I lost both of my grandfathers, an uncle and numerous friends to cancer. Additionally, my mother is a cancer survivor. (First, uterine cancer, and then kidney cancer.) And I know that all the stars who are coming out Friday night and all the viewers at home have been personally touched by cancer in some way.
They've seen the havoc the disease can wreak on a person's life, family, friends and immune system. No matter who you are, how wealthy you are, how famous you are, cancer will find a way into your life, affecting you or someone you love.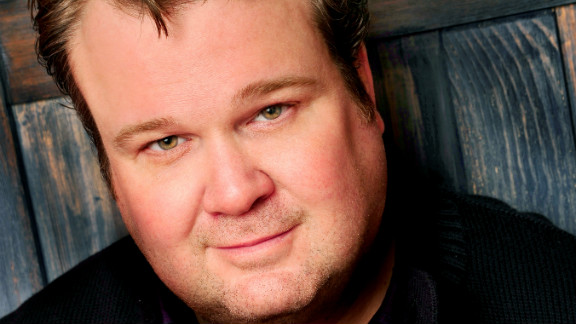 Every day, 1,600 Americans die from cancer. Eight million people worldwide will die this year from the disease. In the U.S., one in every two men and one out of every three women will be diagnosed with some form of cancer in their lifetimes.
Stand Up to Cancer is a movement designed to get top researchers from the best medical centers focused on highly specialized projects aimed at bringing new treatments to people faster and making everyone diagnosed with cancer a survivor.
We're gearing up for a national election, yet it's rare to hear leaders from either major political party say anything about cancer. We, the people, must. It's why for years now, I've "spontaneously" showed up at baseball games and other events to support cancer research and on the Friday after Labor Day, I put on one of those fancy T-shirts and stand up to cancer with my friends from film, TV, music and sports.
Say what you want about the entertainment industry (and, really, what hasn't been said?) but on this one, we're getting it right. For all the issues and problems facing us all right now, this is one of the most pressing. It's also one of the most promising.
Scientists and doctors are genuinely excited about the progress in the fight against the disease. Certain cancers have higher survival rates than others. By having dedicated dream teams of scientists collaborating in an unprecedented manner and studying the connections between certain types of cancers, those kinds of cancer with lower survival rates have been put on notice. (That's right, pancreatic cancer, your days are numbered.)
During Friday's broadcast, you will hear first-hand from patients bravely participating in clinical trials and scientists on the front lines of the war against the disease, and your favorite movie stars will share stories of real people, just like my mom, who went through hell and back because of cancer. But after all, we are the entertainment industry, and therefore you will be entertained by the likes of Coldplay, Alicia Keys, Tim McGraw and Taylor Swift. (I personally picked the music. You're welcome.)
But even with an incredible lineup of stars that includes Tom Hanks, Julia Roberts, Samuel L. Jackson, one of our executive producers Gwyneth Paltrow and America's newest sweethearts, Olympic gold medalists Gabrielle Douglas and Missy Franklin, there will still be cynics out there.
From the hopeless: "Cancer will never be cured. Why bother?" To the apathetic: "The war on cancer is decades old. Why bother?" To those whose sole purpose in life is to point fingers: "Cancer is all a matter of lifestyle. Why bother?" To the conspiracy theorists: "The drug companies don't really want a cure for cancer. Why bother?"
To these people, I say, "Stand Up. And stand up now." We have been finding cures for diseases since the beginning of time. Polio was decades old before the March of Dimes movement, initially broadcast on radio, galvanized a country to find a cure. To those who think cancer is solely a byproduct of unhealthy living, I say healthy people get cancer, too. And to those conspiracy theorists out there, I am reminded of something Stand Up to Cancer's co-founder Laura Ziskin used to say: "The people who work at drug companies get cancer, too. So do their mothers, wives, husbands, sons and daughters. They want it to end, like the rest of us."
So now is our time. This is our movement. Pull up a chair (I recommend bringing a box of Kleenex or two with you), turn on just about any channel on TV Friday night and at some point go to su2c.org and give what you can. Stand Up. So that one day your grandkids or your great-grandkids will ask you, "What is cancer?" And you'll proudly say, "Something of the past. And boy, 'Modern Family' was a helluva show."
Follow @CNNOpinion on Twitter
Join us at Facebook/CNNOpinion
The opinions expressed in this commentary are solely those of Eric Stonestreet. "Stand Up to Cancer" will be shown on several cable networks owned by CNN's parent company, Time Warner.