Story highlights
Paul Begala: Democrats put on a nearly flawless convention
He says the speeches were powerful in support of President Obama and derisive about GOP
Begala: Only gaffe was temporary deletion of God and Jerusalem from platform
Will it move the needle? Begala is skeptical Obama will get a significant bounce
Editor's Note: Paul Begala, a Democratic strategist and CNN political contributor, is senior adviser to Priorities USA Action, the biggest super PAC favoring President Barack Obama's re-election. Begala was a political consultant for Bill Clinton's presidential campaign in 1992 and was counselor to Clinton in the White House.
(CNN) —
When they needed it most, the Democrats put on a nearly flawless convention. They seem to have fixed their enthusiasm gap by three days of relentless, entertaining, invigorating messaging.
Unlike the GOP, whose 2012 convention seemed like an audition for 2016, Democrats were all singing from the same hymnal – powerfully, positively proud of President Barack Obama, and humorously, derisively dismissive of the Republicans.
Obama capped it off with a speech that added explanation to eloquence. He derided the Republican fetish for tax cuts for high-income Americans, saying the GOP's cure for the common cold is "take two tax cuts, roll back some regulations and call us in the morning." And, yes, he hit the GOP for calling climate change a hoax and for the savage Ayn Randian Romney-Ryan budget priorities. But Obama clearly understands the prime objective for an incumbent president is to set the agenda for a second term, not ask for a gold star for his first.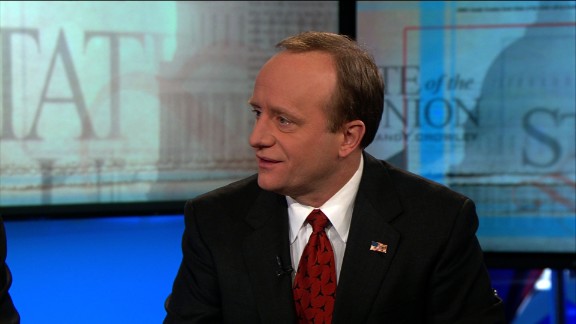 The president outlined five goals – creating manufacturing jobs, moving to a clean energy economy, education, the deficit and national security. His speech had punch and pop and power. It was exactly what he needed: a clear agenda for a second term.
Action, Shakespeare said, is eloquence. And while the president's 2012 convention address may not be chiseled in stone, it certainly helped earn him a second term. As Harry Truman said, you have to be a politician if you want to be a statesman.
America in 2012 needs a builder, not a messiah, and Obama's energetic, policy-rich speech filled the void left by Mitt Romney's vapid, content-free convention address in Tampa, Florida.
Obama – along with Vice President Joe Biden – had a surprising amount of muscular machismo, mocking Romney's inexperience and timidity on national security. Obama and his party also were absolutely fearless on social issues, proudly proclaiming their support for same-sex marriage, abortion rights, contraception and the DREAM Act. I love seeing Democrats showing some spine.
Opinion: We're in for a heck of a ride
Perhaps some of the most effective lines came when the president showed some humility, quoting Lincoln, who said, "I have been driven many times to my knees, by the overwhelming conviction that I had nowhere else to go."
Yet this was not a speech by a man on an apology tour. He spoke with confidence and strength and certainty. The Democrats assembled in Charlotte were ecstatic, but they were not the most important audience. The swing voters – those few, hardy souls who will decide the election – were the real target. They say they want a specific plan for the next four years. Romney punted, but Obama toned down the rhetoric and laid out a framework for a middle-class led economic recovery.
He was able to do that because former President Bill Clinton expertly defended the past four years and dissected the Romney agenda. I cannot count how many Clinton speeches I have worked on over the last 20 years, but it must be in the thousands. This speech was noteworthy for its relentless faith in its listeners; Clinton avoided the cheap shots that can bring a convention to its feet but move a swing voter to reach for the remote. Heck, he didn't even have a Clint Eastwood joke.
Instead he treated folks like grown-ups, and smart ones at that. He enthusiastically embraced the difficult task of explaining why America truly is better off than we were four years ago, and in so doing added one more bit of luster to his long legacy. He is still the master.
The rest of the convention went as well as any Democratic strategist could have hoped – with the singular, platform foul-up, wherein the Democrats briefly excised God from their platform and failed to restate their longtime commitment to Jerusalem as the capital of Israel. The error was bizarre, inexplicable and indefensible, but Team Obama saved the day, enduring a few moments of embarrassment on the convention floor, but fixing the holes in their platform.
This is, it should be noted, a far cry from how Romney dealt with his disagreements with the platform – or to be more accurate, failed to deal with.
Romney claims to support a woman's right to choose if she has been the victim of rape or incest; his platform does not include those exceptions. Yet Romney did not have the stones to stand up to his party and make the platform match his alleged principles. Democrats will gleefully note that if you can't stand up to your own party …
Michelle Obama's wonderful speech filled in another missing piece about her husband – that under that Mr. Spock exterior is a heart that beats for the middle class. San Antonio Mayor Julian Castro wrapped the progressive Democratic message in a moving mantra of middle-class values.
Chicago Mayor and former White House Chief of Staff Rahm Emanuel played against type. Instead of a tirade, he gave a strong firsthand account of how Obama's values inform his decisions. Deval Patrick, Jennifer Granholm, Ted Strickland and Biden had the red meat riffs the crowd loved. And from Nancy Pelosi to Lilly Ledbetter to Sandra Fluke to Cecile Richards, strong women gave powerful testimony to their sisters – and brothers – that they will not allow the GOP to enact their Stone Age agenda.
John Kerry was funny and fearless. "Osama bin Laden is not better off than he was four years ago" was a perfect line. Every Democrat should repeat it in every speech.
Friday's jobs report is a metaphor for the last four years: better than things used to be, not as good as they one day will be. Republicans will note we need something like 150,000 jobs a month just to stay even. Democrats will counter that gaining 96,000 jobs a month is a lot better than losing 750,000 a month, which is the GOP's legacy.
Will there be a bounce from the convention? I am skeptical. Like Romney, the president has a high floor and a low ceiling. This race has been pretty much a dead heat for weeks, and I suspect it will still be a tie when the political class gathers again for the first presidential debate. So stay tuned.
Follow @CNNOpinion on Twitter.
Join us at Facebook/CNNOpinion.
The opinions expressed in this commentary are solely those of Paul Begala.