Story highlights
Ruben Navarrette: Democrats paint Paul Ryan as down on immigration, but he's complicated
He says nativist group gave Ryan "C" on record; he's voted for laws giving some legal status
He says Ryan seems to see use of letting temporary workers stay for agricultural work, etc.
Navarrette: He may edge toward stricter views for campaign, but his votes so far show nuance
Editor's Note: Ruben Navarrette Jr. is a CNN contributor and a nationally syndicated columnist with the Washington Post Writers Group. Follow him on Twitter: @rubennavarrette.
Immigration groups, Obama surrogates, the media and the Democratic Party have a message for Latino voters, who some say could swing the election because they are heavily represented in four battleground states – Colorado, Nevada, Florida and New Mexico.
Here's the message: Vice presidential hopeful Paul Ryan is anti-Latino, and his immigration views are simplistic, intolerant and punitive.
Really? Someone should tell that to the anti-immigrant group NumbersUSA, which advocates not only an end to illegal immigration (and there is nothing wrong with that) but also a dramatic reduction in legal immigration to pre-1965 levels (there is a lot wrong with that). It is the views of groups such as this – which sadly have a lot of influence on the Republican Party – that can genuinely be called simplistic, intolerant and punitive.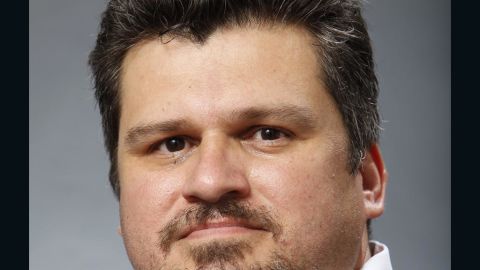 So why does NumbersUSA list Ryan's "career grade" in Congress as a "C"? Ryan's grade puts him in the bottom 10% of all current Republican members of Congress, according to Roy Beck, the group's founder and CEO.
The nicest thing that Beck could find to say about Ryan after the congressman from Wisconsin joined the GOP ticket was that Ryan "doesn't seem to have put a lot of thought into immigration policy and doesn't seem to have deep ideological reasons for his poor immigration record."
Wow. That's a ringing endorsement, isn't it? If someone like Beck thinks you have a "poor" record on immigration, it means you have both a heart and a brain.
Specifically, Beck is miffed at the Wisconsin Republican for not signing onto enough immigration enforcement bills and for co-sponsoring – over the last 10 years – various "amnesties to give illegal aliens a path to citizenship."
Sure enough. Ryan's record bears out he has over the years co-sponsored or voted for a number of bills that would have given legal status to illegal immigrants.
Beck tries to look on what he considers the bright side by suggesting that Ryan might be going nativist because lately he hasn't sponsored "any bills that would reward illegal aliens or increase legal foreign workers" and because Ryan's website "takes a fairly strong stand against amnesties." He also likes it that Ryan opposes the DREAM Act, which would have given legal status to illegal immigrants who attend college or join the military, but he wishes that Ryan hadn't expressed "sympathy" for the young people who stand to benefit from such a proposal.
As Beck sees it, much of the problem with Ryan on immigration is that he hangs out with a bad crowd.
In the early 1990s, Ryan worked for Empower America, a Washington-based think tank run by William Bennett, a former U.S. education secretary and current CNN contributor, and Jack Kemp, the former congressman and U.S. housing secretary. Both Bennett and Kemp had pro-immigration views and warned fellow Republicans not to get on the wrong side of demographics by alienating Hispanic voters.
That's the message that Bennett and Kemp took to California in 1994 where – along with their friend, conservative columnist Linda Chavez – they angered fellow Republicans by taking a public stand against Proposition 187, a dreadful ballot initiative that threatened to cut off education, welfare and nonemergency health care to illegal immigrants.
The picture that emerges is that Ryan's views on immigration are complicated and hard to pin down. He wants to secure the borders, but he has in the past voted for proposals that would have given select groups of illegal immigrants who are already here – such as agricultural workers – a pathway to earned legal status.
He also supports using temporary guest workers to offset labor shortages in some industries. In short, in a party where the loudest voices on immigration seem to belong to those with the most infantile views (See: Rep. Steve King, R-Iowa, who in 2006 suggested fortifying the U.S.-Mexico border with electrical wire because "we do this all the time with livestock"), Ryan seems to be a grown-up and a pragmatist.
For instance, his support for guest workers suggests he understands there are jobs that Americans won't do and must be done by foreign workers. Also, while he is against illegal immigration, there isn't much evidence of him demeaning or demonizing the immigrants themselves.
This is not good news for Democrats who would dearly love to paint Ryan as anti-immigrant and anti-Latino.
Say, are they sure they're not talking about President Barack Obama? His record on immigration is atrocious, capped off by a staggering 1.5 million deportations, the dividing of hundreds of thousands of families, the placement of thousands of U.S.-born children in foster care once their parents have been deported, and one falsehood after another intended to obscure all this.
With such a record, it's hard to trust the administration and believe it is suddenly trying to do the right thing with the election-year giveaway of deferred action for so-called "DREAM-ers" – young illegal immigrants who would have benefited from the DREAM Act.
In contrast, Ryan hasn't done anything wrong or been in a position to make bad policy. All he seems to be guilty of is being affiliated with a party that has a poor record on immigration. Now that could change in the days to come as he moves closer to Mitt Romney on immigration. We'll see. But, at the moment, he's not trying to deport anyone. All he wants to do is help evict someone – the current occupant of 1600 Pennsylvania Ave.
Ryan needs to clarify his immigration views. And if it turns out they're complicated and unpredictable and nuanced and don't look as if they came out of a cookie cutter, then all the better. Most Americans feel the same way.
Follow us on Twitter @CNNOpinion.
Join us on Facebook/CNNOpinion.
The opinions expressed in this commentary are solely those of Ruben Navarrette Jr.