Story highlights
Mark Katz writes jokes for politicians, corporate leaders
Katz thinks of himself as "problem solver," using comedy to address issues
Politicians who use comedy can generally help themselves with image
There are risks involved, but with great risk comes great reward, Katz says
In the spring of 1993, the Clinton administration was in a jam.
The first 100 days hadn't gone well. The president had been shaken by troubles large and small: the Branch Davidian raid, gays in the military, even an ill-advised haircut. The press office was saying everything was fine, but the administration knew better: at an upcoming White House Correspondents' Association dinner, Clinton was going to meet with a chilly reception, and he needed to face his antagonists head on.
The administration called Mark Katz. He gave them jokes.
And it worked. Clinton disarmed his audience with a riff on a previous president's unlucky start – "At this point in his administration, William Henry Harrison had already been dead 68 days" – and got a new lease of life with the Beltway insiders.
OK, so Mark Katz isn't Superman. He isn't even Letterman, though he once appeared on Dave's old "Late Night" show to do a Stupid Pet Trick. No, he's simply the head and sole staffer of his Manhattan "creative think tank," the Soundbite Institute.
Evelio Contreras/CNN
For almost two decades, when politicians and corporate chieftains – including Clinton, Michael Bloomberg, former Viacom head Tom Freston and Time Warner's Jeff Bewkes – have needed a hand with a presentation, they call Katz to construct their presentations and pepper their speeches with jokes and witticisms. (Time Warner is CNN's parent company.)
Don't call him a joke writer, though. Mark Katz is a problem solver.
"The phone call I get most often is, 'I need help with a joke,'" he says. "And when someone calls me up and tells me they need a joke, I immediately know they do not know what they need."
Katz, 48, will occasionally crack wise himself, but in general he takes humor seriously. He stands maybe 5-foot-8 but seems taller; on this weekday morning he's dressed in a natty sport coat and jeans. The New York Times described him as someone who "actually looks like a cross between a comic and a consultant," and that's about right. There are hints of the impish class clown he once was in his easy smile and heavy-lidded blue eyes, but make no mistake: This is a guy who knows his stuff.
From Adams to Obama: 10 funny political lines
Katz usually plies his trade from a Flatiron District office building in a small, well-hidden rented cubicle at the offices of a consulting firm. There are few signs of his career here: a framed photograph of a laughing Clinton, Katz and aide Bill Curry; two flatscreen monitors perched atop copies of his book "Clinton and Me;" a bust of Homer found at a garage sale; a Soundbite Institute sign affixed to a wall; a pair of dice reminding him to be "purposefully humorous."
Other than that, the cube is as anonymous and claustrophobic as they come, like the forgotten rear table at a busy restaurant. A huge support column protrudes from the floor nearby, and the restrooms are literally around the corner.
Moreover, on this weekday morning, the area is even more hemmed in than usual. The TV show "The Good Wife" has commandeered half the floor to film an episode, so we retreat to a conference room for an interview.
But if Katz's "office" is bland, the man is anything but. He comes to his topic with a youthful enthusiasm, still easily revved up by new challenges and quick to rhapsodize about favorite comedians and lines.
He's no slouch himself, says his friend and former Clinton speechwriter Jeff Shesol. "He is a master of the one-liner," says Shesol, who now works for a Washington-based consulting shop of former Clinton scribes, West Wing Writers.
Katz, who worked for the Clinton administration on a free-lance basis while building his New York firm, cares deeply about the sound of laughter – not just because it's a sign of success, but because it's a bond between the speaker and the audience. After all, he observes, humor can humanize, especially when self-directed. Humor relieves tension. Humor is a way of addressing the elephant in the room, of speaking text and subtext.
"Once you start opening up the conversation to humor, a lot more things seem possible. It's a great way into the topic: How do we solve this problem?" he says. "And that gets you to a more creative solution that you otherwise wouldn't have reached."
Evelio Contreras/CNN
It's always an opportunity, whether for collaboration, connection or creativity. During the Clinton years, he says, it always seemed that the occasions for humorous speeches – primarily large dinners with a roomful of journalists and Washington big shots – happened during the most crisis-strewn times of the presidency. But such pressures made his job all the more interesting.
"It was my job, and our job, to say, 'How do you solve this problem using humor?' So it was a great laboratory of problem-solving," he says. "And we encountered almost every kind of problem there was."
Mixing Mel Brooks and Michael Dukakis
Katz's career choice would appear to have been preordained.
Growing up in Rockland County, just north of New York City, the second of four children of an orthodontist, Katz was infatuated with two subjects: politics and comedy. His parents were devoted Democrats, and Katz recalls watching the Watergate hearings as a 9-year-old boy, enthralled with the case against Richard Nixon.
But there was another side of Katz, the side that reveled in his Uncle Al's record collection, which included LPs by George Carlin, Bill Cosby and the National Lampoon, as well as Mel Brooks' "2,000-Year-Old Man."
He and his friends studied the records like yeshiva students poring over Talmud. "There's so much to learn. Each joke is like a poem – they're there to be deconstructed and analyzed and interpreted and enjoyed and retold," he says. (He still gives out box sets of the "2,000-Year-Old Man" as gifts.)
In high school he published humor columns in the school newspaper. He did the same in college, at Cornell, while majoring in government. The two interests first came together professionally when he volunteered for Michael Dukakis'$2 1988 presidential run. (Insert your own joke here.) By the latter days of the campaign he was working for its Rapid Response Team, coming up with soundbites for the sometimes all-too-earnest candidate. One, at the annual October Al Smith Dinner, went, "It's a great pleasure to be here … on an evening when all thought of politics is banished and I can concentrate on what I do best – humor."
Combining politics and comedy was a natural fit for Katz – just as politics and comedy have been a natural combination for ages.
Comedy, after all, is a way to speak truth to power and to puncture the balloons of hot-air-filled politicos. Aristophanes and Shakespeare did it; so did Mark Twain and H.L. Mencken. "The Daily Show" and "The Colbert Report" carry on the tradition.
Watch: Brian Williams snarks on Stewart's show
Even at the worst of times, comedy has a way of revealing the truth – even if people don't want to face it, says Geoffrey Baym, a media studies professor at the University of North Carolina-Greensboro and the author of "From Cronkite to Colbert: The Evolution of Broadcast News."
Getty Images
During the shock of 9/11, Baym says – when press secretary Ari Fleischer was warning Americans "they need to watch what they say, watch what they do" – there were comedians willing to make jokes. The most famous was Bill Maher, who lost his ABC show "Politically Incorrect" after making a semi-serious crack about the al Qaeda terrorists. Gilbert Gottfried was also criticized for a 9/11 joke.
"It's in those moments that comedians have more ability to say things that other people, who have perhaps more at stake or more responsibility, can't," says Baym – though, of course, they risk losing public favor, if not their jobs.
It's rarer to find politicians with a knack for telling a joke on themselves, which is key to maintaining the common touch we desire of our legislators – and, especially, our presidents. Abraham Lincoln is still prized as much for his wit as his fortitude, which is one of many reasons he stands out among the dour parade of 19th-century executives.
In our time, among the best-loved presidents have been those who have been able to demonstrate a sense of humor. As Shesol points out, "We want our leaders, particularly our presidents, to be at ease with themselves – not to seem like they're tightly wound, not to seem like they're thin-skinned. When presidents are ill at ease, we're ill at ease."
The 'Rosetta Stone of humor'
That effortlessness can speak volumes.
Katz is particularly enamored of a famous line John F. Kennedy used at the 1958 Gridiron Dinner. At the time, Kennedy was gearing up to run for president and was "the Dan Quayle of his day," Katz says, dismissed as a lightweight and the pawn of his wealthy father, Joseph P. Kennedy.
At the dinner, Kennedy pulled out a telegram. "I just received the following wire from my generous Daddy," he began. " 'Dear Jack, Don't buy a single vote more than is necessary. I'll be damned if I'm going to pay for a landslide.'" Kennedy's joke was written by longtime aide and ace scribe Ted Sorensen, who described the keys to speechwriting as "brevity, levity, charity and clarity."
"Just imagine if anyone else in that room, or any political comedian of that day, had done that same joke. It would have been repeated a million times over, each time at Kennedy's expense. That's how potent the idea behind that joke was – it went right to his greatest liability," says Katz, calling the joke the "Rosetta Stone of humor."
"Except he found a way to say that joke himself. And that's the challenge: How do you find a way to say this yourself before someone else can say it about you?"
Ronald Reagan had a similar gift. In 1984, after looking befuddled in his first debate with Democratic challenger Walter Mondale, the president was on the ropes. Pundits whispered that the 73-year-old incumbent was over the hill; Mondale got a boost in the polls. In the pair's second debate, however, the obviously prepared Reagan pounced on a question about age affecting his abilities.
Getty Images
"I want you to know that also I will not make age an issue of this campaign. I am not going to exploit for political purposes my opponent's youth and inexperience," Reagan said, and even Mondale laughed. For all intents and purposes, the issue was defused, and Reagan won a 49-state landslide.
Clinton's charisma frequently served him well, says Katz.
"You could lock him in a room for a year and a half and he couldn't write five jokes for a White House Correspondents' Dinner speech. Of his abundant, God-given gifts, that's not on the list," he says.
"But he could see a speech, make it his own, be involved in the speech from Day One, and use his great God-given gifts to make the people in the [audience] either mutter to themselves because they hate him, or say, 'God, that guy's good.' "
Humor can also work for less, ah, comfortable politicians. Katz had great fun writing lines for the wooden Al Gore: "Al Gore is so stiff, racks by their suits off of him."
And when Richard Nixon went on TV's No. 1 show, "Rowan and Martin's Laugh-In," to say "Sock it to me?" in the heat of the 1968 campaign, he helped cement his refreshed "New Nixon" image, a far cry from the prickly, awkward persona he was known for. In a close election – which 1968 was – every little bit helped.
Still, there is risk involved, says Danna Young, a professor of communication at the University of Delaware.
"There's always this tricky balance for politicians at the national level to try to be authentic and human, but without undermining their credibility and authority," she says. If a politician goes too far, humor can backfire – especially these days, when every joke is put under a microscope.
But for Katz, the risk is part of the deal: "The bigger the risk, the bigger the reward."
(Shesol says Katz used to talk about "walking right up the line and saying, 'Hi.' ")
Katz's use of humor to solve problems makes sense, because experts say that to the brain, humor is a problem to be solved – and the result is laughter.
There are many schools of thought on this, says Young, from Freudian theories to cognitive ones. One approach is the assumption that humor comes from an incongruity between two things. The theory is based on the work of German philosopher Immanuel Kant – not known among philosophy majors as a barrel of laughs – who wrote that "laughter is an affection arising from the sudden transformation of a strained expectation into nothing." In other words, we hear a line, anticipate a concept developing, it vanishes – and we find that funny.
This basic idea was later explored by author Arthur Koestler – yes, the guy who wrote the hilarious story of totalitarian purges, "Darkness at Noon." Koestler believed that laughter was provoked by incongruity "when two incompatible frames of reference intersect and it's the job of the listener to make sense of them," Young says. The dissonance – and subsequent reconciliation – provokes a laugh. The most basic example may be a pun or play on words, such as this one from Young's 7-year-old son: What's a Kleenex's favorite dance? A boogie.
Humor is also a classic way of conveying and retaining information, says Ron Culberson, a Virginia-based speaker and humorist. A presentation that balances the serious and the comical will do better than one that's done grimly straight, he says; the information sticks better, perhaps because listeners are forced to change their perspectives on the original premise. Studies have shown that elementary and high school students can recall a humor-filled presentation more easily.
'Everybody is an expert'
Katz's work is testament to the power of such presentations. In 2006, he put together an idea for media executive Tom Freston, who had just agreed to appear at a comedy roast when he was fired from his job as Viacom CEO for, among other things, not buying MySpace.
Getty Images
Freston was trying to back out of the speech, but Katz – who had never met him – pitched him an idea that imagined him as an Internet simpleton who'd just discovered the computer. Freston, in golly-gee mode, stood up in front of his colleagues and talked about how he'd finally purchased a machine and was pleased to finally see what all the MySpace fuss was about.
"It was as brave as anything you'd ever seen," says Katz. "Here was a guy who'd just gotten kicked to the curb in a very public way, and three weeks later he's giving the funniest speech anyone can remember seeing." Katz thinks of such episodes as "self-administered tests of character." (Freston was vindicated: MySpace struggled mightily, and was finally sold by its purchaser, News Corp., for a fraction of its original price.)
The White House could be even more challenging.
"Everybody is an expert," says Katz. "Everybody is their own focus group. … You've got a half-dozen people who can write a good joke, and 50 people who can kill it." He remembers walking miles of Washington hallways, pacing and pondering.
The continual crises didn't make the job any easier. "We used to talk about it in terms of 'lancing the boil,'" says Shesol, who joined the administration in 1998 just as the Monica Lewinsky scandal broke.
Laughter was in desperate need by that time. The White House was like "a bunker guarded by lawyers," Katz says. Still, if anything, the urgent atmosphere of the White House gave Katz and other members of the "comedy war room" opportunities to be creative. "We could do jokes about the smoke but not the fire."
During the impeachment process, "there was nothing to guide us," he adds. "The last president to be impeached was Andrew Johnson, and his joke writer kept very poor notes."
Clinton survived, of course, and by the time of the 1999 Radio-Television Correspondents Dinner – which took place just after Clinton was acquitted – Katz, Shesol and the other speech contributors were feeling "fearless," Katz recalls. The president had not just ticked off his enemies by escaping conviction; he had infuriated his supporters, and many in the White House itself, by violating their faith. "The feeling was, a joke can't hurt us."
It wasn't easy. Katz remembers spending two days in a room with Shesol, bouncing ideas off each other. But it led to a decidedly contrite Clinton still getting the last laugh:
"The events of the last year have been quite serious. If the Senate vote had gone the other way, I wouldn't be here," he began, facing a crowd of 2,000 journalists, many of whom had covered the process with particularly sharp writing instruments. There was a pause, then: "I demand a recount."
Once again, sweet laughter.
"There's an answer to just about every problem," Katz says now. "These speeches are always kind of the struggle to find the right comic retort to that moment in time, and some are tougher than others."
Humor is your friend – usually
Clinton was, in many ways, an ideal speaker. He presented his material confidently, rarely revealing his anger or hurt. His timing was impeccable. Katz, Shesol and Katz's friend Phil Rosenthal – best known as the creator of "Everybody Loves Raymond" – decided to give the president a royal send-off, creating a film called "The Final Days" that showed the lonely president, abandoned by his Senate-pursuing wife and presidency-pursuing vice-president, roping staffers into a variety of activities.
It's the kind of tactic that won over even Clinton's opponents – and it's a strategy any president should keep in mind, says Delaware's Young.
Take Barack Obama. He's appeared on both "The Daily Show," which plays to a younger, more left-leaning crowd, as well as Jay Leno's older-skewing "Tonight Show."
He doesn't always have to cater to the party faithful, Young says.
"He can use humor to try to get through that initial resistance that someone on the right … might have," she says.
Can humor fail? Of course.
Sometimes a client is just too sensitive. Katz remembers pitching a joke to former president Gerald Ford for a humor video about 10 years ago. He wanted Ford to hold up an old "WIN" button, a relic of his failed "Whip Inflation Now" campaign during the economic crisis of the mid-1970s.
Ford's hail-fellow-well-met smile immediately vanished.
"He looked at me and said, 'You can put that away now, please,' " Katz recalls, still stunned.
Or there's the question of tone.
George W. Bush was harshly criticized for a slide show that included a scene in which he looked under his desk for the missing weapons of mass destruction his administration claimed Iraq was hiding.
And in "Clinton and Me," Katz tells the story of how Clinton, just after the 1994 Republican landslide, ignored his recommendation to poke fun at his recent overlong State of the Union address. The president then made the situation worse with several mean-spirited jokes aimed at Republicans, political rivals and the press during yet another Beltway dinner.
'I feel like some kind of humor priest'
The current presidential campaign has been sadly devoid of humor – perhaps reflecting the bitter divisions of the country, not to mention a 24/7 news cycle that will quickly jump on any so-called gaffes.
Katz understands the predicament. Both Obama and Mitt Romney are limited by their own realities. The president has gotten good reviews for his performances at correspondents' dinners, but no amount of wit will let him tell jokes about the economy. The cautious Romney, on the other hand, apparently "thinks there are so many topics he can't joke about," Katz says.
He believes Romney is wrong about that, but "it's just not who he is." When the GOP candidate talks how much he enjoys comedy – like when he told Wolf Blitzer "I love humor" – Katz says it sounds like "a thing a humanoid is programmed to say by his mad genius inventor, so his robot would sound more human."
Still, Katz says nothing is impossible. He doesn't put much stock in timing or delivery, just rehearsal and – not least – a belief in what you're saying: that self-administered test of character.
Nowadays, of course, public figures are more likely to mix it up with the public. Videos such as Clinton's "Final Days" have become more common; presidents appear on talk shows. Even the queen participated in a gag during the Olympics. Once faraway figures working in high places, now they're as close as the next tweet, observes Baym, the North Carolina-Greensboro professor.
"How we judge a politician is closely related to the kind of media that gives us access to the politician," he says. Newspapers lent themselves to policy, radio had Franklin Roosevelt's paternal voice, TV emphasizes charm and looks. And social media? We expect personal updates and "what they had for dinner," he says.
Whatever role comedy may play in this election, Katz probably won't be involved. As he did during the Clinton years, he remains firmly based in New York, where he now lives with his wife and 3-year-old son. And though he's been employed by a variety of Democratic candidates over the last decade, he spends more time devoted to corporate clients and their issues. Like politicians, they may be surrounded by protective phalanxes of concerned yes-men, and like politicians, if they're ever going move forward, they're going to have to let down their defenses and meet their problems head-on.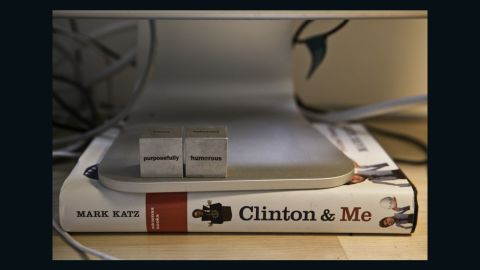 Evelio Contreras/CNN
Inevitably, when Katz meets with a client, the conversation gets very personal, he says. "We're talking about the thing that's hardest to talk about. I feel like some kind of a humor priest."
Whatever the persona, Katz will be there. Wherever jokes have to be told, wherever problems have to be solved, wherever leaders of the free world need to free themselves from pomp and pageantry, there will be Mark Katz, at his spartan desk, scribbling away.
It is something he was born to do.
"My advice," says Katz, "when people say, 'You can't joke about that!' is usually "We must joke about that!'"