Story highlights
Scott Maxwell, 41, is gearing up to drive Curiosity, the $2.5 billion rover now on Mars
Maxwell dreamed of exploring space and loves his job, but would rather live on Mars
Rover drivers send commands during the Martian night, programming rover for its day
Pasadena, California
CNN
—
On Earth, Scott Maxwell drives his red Prius without paying much attention to the San Gabriel Mountains in the distance. He's lived in the same neighborhood of Pasadena for 18 years, after all.
When he's driving on Mars, though, every rock he encounters is a new discovery, a step toward humanity's knowledge of the planet he hopes to visit some day.
Maxwell has the dream job of driving rovers on Mars, and he's gearing up to take control of the biggest and most sophisticated one yet: Curiosity. He's one of about a dozen people at NASA tasked with steering the $2.5 billion vehicle from more than 100 million miles away.
"It's a priceless national asset that happens to be sitting on the surface of another planet," Maxwell says of the rover, which landed Monday morning. "You better take that damn seriously."
Maxwell loves to talk about how much he loves his job, and his effervescence is infectious, say colleagues at NASA's Jet Propulsion Laboratory, home to Curiosity's mission control.
"The thing that always impressed me about Scott was just the passion that he has for what we're doing. He just loves being a rover driver," says Steve Squyers, a Mars expert who's worked closely with Maxwell. "He thinks he's got the coolest job on the planet, and he's right, I think."
The names of the rovers Maxwell has driven so far – Spirit and Opportunity – speak to his upbeat attitude and thirst for immersing himself in what he enjoys doing.
Through his blog and Twitter account @marsroverdriver, Maxwell interacts with all sorts of self-professed "rover-huggers" – people who really love rovers.
Last week Maxwell tweeted, "VIP seats for opening night of @IndyShakes's Comedy of Errors! Last chance to see a play before the baby comes Sunday."
The baby, of course, is the SUV-sized Curiosity, which came to Mars after years of planning and preparation. It's been more than eight months since it left Earth, and no one can be sure exactly how it will behave, says Maxwell.
Over dinner in Old Pasadena last week, Maxwell and his girlfriend, Kim Lichtenberg – a planetary scientist also working on the rover mission – playfully compared it to having a child, though neither has had children.
"We're all going to be kind of like new parents," Lichtenberg says.
"Watch it take its first steps," Maxwell adds.
Landing Curiosity was such an amazing feat of engineering that NASA billed the process "seven minutes of terror."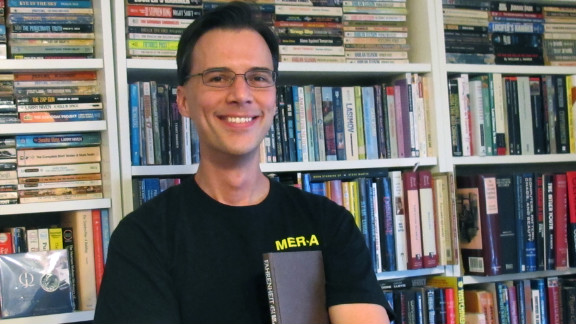 Elizabeth Landau/CNN
NASA's rover Curiosity lands on Mars
Like anxious parents, scientists at the Jet Propulsion Laboratory in Pasadena were eager to see the rover arrive safely, and so were the reporters who flooded the NASA campus.
Mars landing: It could be crazier
Maxwell said before the landing that he had confidence in the JPL team responsible for the entry, descent and landing of the spacecraft. But if the amazing maneuver went wrong, the whole effort would have been "all for nothing" for the many people who've sacrificing family time and vacations to pour their hearts into it.
"That seven minutes tells you whether the last seven years of your life had a point," Maxwell says.
Shortly after the rover's arrival, Maxwell tweeted to NASA engineer Adam Steltzner and colleagues, "Well done, @steltzner and company! Thanks for delivering our baby safely!"
Later, Maxwell added, "Hey, I still have a job Monday. :-D."
A voyage to break down the wall
Maxwell's eyes widen with joy when he talks about the parts of life he thinks are "awesome": His girlfriend. His other NASA team members. The Independent Shakespeare Company (@IndyShakes). His first lemon drop cocktail. The Cotswolds.
Something about Maxwell's thin frame, boyish features and the way he gets giddy over esoteric things resembles Jim Parsons' character on "The Big Bang Theory," although Maxwell is more jovial and socially gracious than Sheldon Cooper. His arms seem almost impossibly long as they move about while he explains the rover driving process.
With a youthful complexion and hair that finishes in a short tail on the back of his neck, it's impossible to guess Maxwell is 41. The first time he ever had lunch with Lichtenberg, she thought, "Aw man, he's way too young for me. Way too young for me." Later she found out she's about six years his junior.
Lichtenberg, fair and blond, grew up with the space program close at hand: Her father is astronaut Byron Lichtenberg, a NASA payload specialist who's flown on two shuttle missions. She has a Ph.D. in planetary spectroscopy, which deals with the interaction of matter and radiation in planetary environments.
More science news from CNN Light Years
Maxwell, on the other hand, had long assumed that a career in space was out of reach.
He was raised in an economically depressed rural area of eastern North Carolina, although his accent could just as well place him from the Midwest. His parents divorced when he was 7; after his mother moved to Florida, he spent time bouncing between the two states until college.
His father was a railroad engineer for most of his career, although he previously worked as a dean at various colleges.
Carl Sagan was Maxwell's childhood hero. He adored watching the 13-part TV series Sagan hosted called "Cosmos: A Personal Voyage," first broadcast in 1980 on PBS.
In one episode, the scientist talked about what it would be like to go to Mars. Only last year, Maxwell watched the episode again and remembered it mentioned a prototype Mars rover, which at that time seemed a futuristic idea.
"I realized in that moment that that's where I get this sense that I've grown up and stepped into this fantasy world that I had when I was a kid, because I have," he says with excited emphasis.
As a child, Maxwell loved imagining what it would be like to go to other planets. But as an older teen, he assumed he would study hard and end up in a career that seemed more common and attainable than space exploration, such as banking.
"This kind of thing always seemed to me like the kind of thing other people do," he said. "There's me. And there's this big invisible glass wall. And there are people who are doing stuff like that."
Maxwell believed he could never cross over to the other side of glass wall.
Elizabeth Landau/CNN
It wasn't until he got hired by NASA, after completing his master's degree in computer science, that he realized the wall never existed.
Maxwell is living his fantasy now, but he hasn't always had such luck. At age 20, while double-majoring in English and computer science at East Carolina University, he learned that his swollen lymph nodes were a symptom of stage 2 Hodgkin's lymphoma. The cancer had spread in his neck and chest. He went through nine weeks of radiation treatments and has been cancer-free ever since.
Just days after the treatments ended, he left for graduate school at the University of Illinois at Urbana-Champaign. Going from a state school to a prestigious engineering institution, he was floored on the first day when a professor expected everyone to have already learned the material in the first six chapters of an algorithms textbook. Maxwell had to quickly catch up on his own but says he loved learning so much at once.
And though he feared he couldn't afford his master's degree, he found work with the research and development arm of the U.S. Army and left school debt-free.
He had intended to go to Illinois to work toward a Ph.D., but ultimately the cancer changed his priorities.
"I was interested in going out and making tools for people to use," he says.
JPL came to recruit at his school in fall 1993, and he remembers telling the recruiter how he was fascinated by NASA's Voyager mission – twin spacecraft that had photographed Jupiter in unprecedented detail. His excitement apparently made an impression: He landed an interview at JPL in January 1994, and started his job that June.
Today, he lives on a quiet Pasadena street, in a cozy house that boasts some of his nerdy treasures, including an extensive collection of science fiction books. "But then my life became science fiction," he said, explaining why he's reading more Shakespeare and Dickens these days. As he shows off his collection, his cat Molly purrs, demanding his attention. The brown and black marbling on her otherwise white fur looks somewhat like the Martian landscape, although that's not why he adopted her.
A glass-paneled cabinet hosts metallic "Star Wars" and Mars rover lunch boxes. There's a vial of a substance he calls KimSim, a material his girlfriend helped create to figure out how to rescue the Spirit rover after it got stuck in a "sand trap" of alien soil on Mars in 2009.
And there are stones from the Cotswolds, an area in England he bubbles with excitement over. He says, "Wait, wait," like a child about to demonstrate a new toy, and runs to get a book filled with images of the region. He likes the views from the ground better than the aerial shots – ground-level is more like what a rover would see, he explains.
The wider, well-manicured street perpendicular to his own, with larger houses and roses growing on front lawns, is the sort of place where he'd always wanted to live, but he says the houses are "wicked, ridiculous, crazy expensive." Still, he loves the house he bought, with the added bonus of a lemon tree growing at its