Story highlights
The number of U.S. gun owners has declined as more guns are concentrated in fewer hands
CNN analysis shows gun owners in the U.S. own one-third of guns on the planet
Many gun owners live in swing states, key to the fall election
A decreasing number of American gun owners own two-thirds of the nation's guns and as many as one-third of the guns on the planet – even though they account for less than 1% of the world's population, according to a CNN analysis of gun ownership data.
The data, collected by the Injury Prevention Journal, the United Nations Office on Drugs and Crime, the General Social Survey and population figures from the U.S. Census Bureau, found that the number of U.S. households with guns has declined, but current gun owners are gathering more guns.
The United States tends to have better data on gun numbers than other countries, for instance Somalia or the Democratic Republic of the Congo, which may account for the high percentage, according to Alan Lizotte, dean and professor at the School of Criminal Justice at The University at Albany.
Gun owners debate in wake of Aurora tragedy
However, within its own borders, the U.S. gun owning population is on the decline and those gun owners are stockpiling more firearms.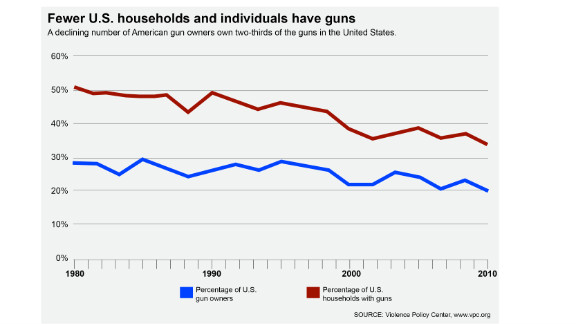 "Those who own guns, own more guns," said Josh Sugarmann, the executive director and founder of the Violence Policy Center, a Washington-based gun control advocacy group. Last year the organization released an analysis of figures from the General Social Survey, which found that both the number of households owning guns and the number of people owning guns were decreasing.
Politicians from both parties have tip-toed around gun control after the Aurora, Colorado, movie theater massacre to avoid political implications in the upcoming election. However, studies suggest they are bowing to a smaller number of American gun owners.
Those gun owners tend to live in swing states, explained Lizotte.
"You can see where [the gun debate plays out] in the presidential election," said Lizotte. "Where rural states are swing states and urban states are not."
Candidates show little appetite for new gun control laws
A study published in the Injury Prevention Journal, based on a 2004 National Firearms Survey, found that 20% of the gun owners with the most firearms possessed about 65% of the nation's guns.
A 2007 survey by the U.N's Office on Drugs and Crime found that the United States, which has 5% of the world's population, owns 50% of the world's guns.