Story highlights
Donna Brazile: Mitt Romney doesn't want to talk about the facts of his business record
Brazile: So which part of Romney's biography can we evaluate?
She says Romney's ties with Bain Capital are inconsistent with what he's telling the public
Brazile: Facts and the Romney campaign have a difficult relationship these days
Editor's Note: Donna Brazile, a CNN contributor and a Democratic strategist, is vice chairwoman for voter registration and participation at the Democratic National Committee. She is a nationally syndicated columnist, an adjunct professor at Georgetown University and author of "Cooking with Grease." She was manager for the Gore-Lieberman presidential campaign in 2000.
John Adams once said, "facts are stubborn things." These days, another Massachusetts politician has found that saying to ring especially true.
While it's still unclear how Mitt Romney can be the CEO, chairman, president and sole shareholder of Bain Capital, a company that he claims no responsibility for, it's become increasingly evident that candidate Romney simply doesn't want to talk about the facts of his business record.
In an interview with CNN's Piers Morgan, Romney suggested that to question his experiences is to "attack success." If this is the case, and if we're also not supposed to talk above a whisper about Mitt's record as governor, including his signature accomplishment in health care reform, then which parts of his biography remain on the table?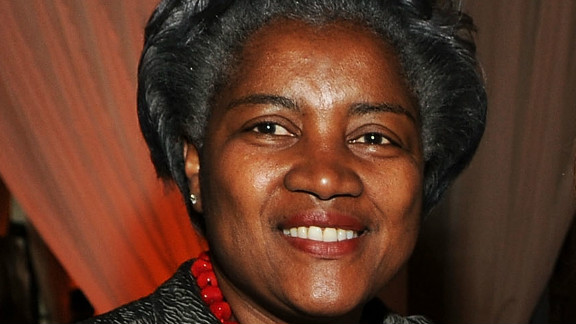 Getty Images
Romney clearly prefers his largely undisclosed experiences in the private sector over his publicly poor record in Boston. At every turn, Romney and his campaign have attempted to steer the discussion toward business matters for just this reason.
John King: Why is 1999 so important in 2012?
But when the Washington Post took him up on it last month and published an article headlined "Romney's Bain Capital invested in companies that moved jobs overseas," the Romney campaign was caught flatfooted. The Post found that Bain Capital, the firm Romney spent much of his professional life building up, had invested in companies that had not only shipped jobs overseas – a practice of some concern to working- and middle-class Americans – but had pioneered the practice.
Romney's campaign pushed back hard, claiming that the Post had its facts wrong. The campaign met with the Post's editors and demanded a retraction, claiming that Romney had left Bain in 1999, supposedly before the outsourcing investment began. The Washington Post listened to the Romney side of the story but stood its ground.
Now we know why. The Boston Globe reported two weeks ago that Romney had signed official documents claiming to be the president and CEO of Bain Capital as late as 2002, when the company was actively building up firms that outsourced American jobs. He didn't just say this casually at some dinner party; he swore it was the truth on Securities and Exchange Commission filings.
What did the Romney campaign do this time? It hit the "repeat" button and demanded a retraction from the Globe. Who are you going to believe, the campaign asked its hometown paper, me or your lying eyes? Once again, the investigative journalists stood by their reporting.
Since the Globe story, the hits have kept coming. The AP reported this week that Romney stayed in "regular contact" with Bain during his so-called absence, "personally signing or approving a series of corporate and legal documents through the spring of 2001." Several sources are now saying that Romney made repeated trips to Boston to meet with Bain executives during this period, even though he recently told CBS's Jan Crawford that he doesn't "recall even coming back once to go to a Bain or a management meeting" during the period in question.
So despite what the Romney campaign claims, media interest in this story has nothing to do with attacking personal success in the private sector. It has nothing to do with avoiding the real issues of the campaign.
It has everything to do with attempting to get to the bottom of a situation in which what a candidate is saying seems to have come unglued from the stubborn facts.
Opinion: Why won't Romney release more tax returns?
Americans know that a level playing field empowers a successful economy. You want to talk about soaking the rich? Mitt Romney's father, George Romney, paid an effective tax rate of nearly 37% in 1967. The elder Romney didn't complain and released his tax returns to prove his compliance with the law of the land he wanted to lead. In 2010, Mitt Romney's tax rate bobbed and weaved its way below 15% – and we know that only because the public had to pry his return (he has released only a full one) out of his clenched hands.
Even more fascinating than the fact that Romney's father released 12 years' worth when he ran for president in 1968 is the reason why. "One year could be a fluke," the elder Romney said, "perhaps done for show."
This country has a noble habit of withholding elected office from people who have trouble with the facts. Romney could end these discussions overnight by releasing his tax returns, as he has been called on to do by Republicans like Alabama Gov. Robert Bentley, former Mississippi Gov. Haley Barbour and Iowa Sen. Chuck Grassley.
Until he makes peace with the facts, Romney will be stuck at the intersection of what is both a character issue and a policy issue. If Romney won't stand by his record at Bain, just like he won't stand by his record as governor of Massachusetts, how exactly is the American public supposed to evaluate the candidate? And if he won't disclose his own relationship with tax loopholes and offshore tax havens, leaving voters more questions than answers, how can the American people trust him to reform our tax code in a way that closes loopholes, eliminates free-riding and ensures that everyone is playing by the same rules?
Facts and the Romney campaign have a difficult relationship these days. But they do share one thing in common: They're both stubborn.
Follow us on Twitter @CNNOpinion
Join us on Facebook/CNNOpinion
The opinions expressed in this commentary are solely those of Donna Brazile.