Story highlights
Mayor Michael Bloomberg said police officers should go on strike for better gun control
Ruben Navarrette Jr.: Mayor was wrong about strike, but right about dangers police face
Police face gun lobby, cowardly politicians, pop culture that glorifies violence, he says
Elected officials and police unions should act to keep police safe, Navarrette says
Editor's Note: Ruben Navarrette Jr. is a CNN.com contributor and a nationally syndicated columnist with the Washington Post Writers Group.
When an elected official whose heart seems to be in the right place offers a courageous perspective on an important subject, I'm inclined to try to find some good in it.
But in the case of Michael Bloomberg's off-the-cuff statement that police officers across the country should threaten to go on strike until citizens pressure lawmakers to pass more gun control laws, the search was arduous.
After a shooting rampage at a movie theater in Aurora, Colorado, that killed 12 people and wounded 58 others, Bloomberg said this on CNN's "Piers Morgan Tonight": "I don't understand why the police officers across this country don't stand up collectively and say we're going to go on strike. We're not going to protect you unless you, the public, through your legislature, do what's required to keep us safe."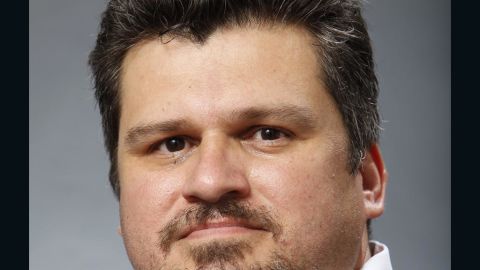 Courtesy San Diego Union Tribune
Oh brother. Apparently, Bloomberg forgot a couple of things. Like the fact that, in New York, a law specifically prohibits police officers from putting public safety at risk by going on strike. Or that pulling police officers off the streets would likely lead to more gun violence, not less. Or that while a private citizen can say something like that, the mayor of America's largest city needs to choose his words more responsibly.
The comments were out of line, but they were not out of character for the New York mayor. Bloomberg is a co-founder of Mayors Against Illegal Guns, a national organization of 600 mayors who support stronger gun laws, and a frequent critic of the National Rifle Association.
Still, the day after his remarks, Bloomberg tried to head off a public relations headache by clarifying his statement. He insisted he "didn't literally mean" that police ought to go on strike and, in any case, he knew that it was against the law.
That's all well and good. Yet there is one aspect of his statement from which Bloomberg should not back away. He needs to stand behind the link he made between the safety of police officers and the ready availability of firearms. When you're a police officer answering a domestic violence call, the last thing you want to find out is that someone in the house has a stockpile of weapons. And when you're in a shootout, you shouldn't have to worry about being outgunned by the bad guys.
Welcome to the new front on the gun control debate. We should hear more from elected officials and the media about how dangerous police officers' jobs have become thanks to loophole-ridden gun laws, a pop culture that glorifies gun violence and a powerful gun lobby that terrifies gutless politicians in both parties. We should also hear more from police officers themselves, whose associations usually talk more about protecting pensions than keeping their members safe from gun violence.
I don't believe that firearms are singularly responsible for mass shootings such as the one in Aurora. Still, I'd like to think that if someone purchases a semiautomatic AR-15 rifle; a 12-gauge pump shotgun and a semiautomatic pistol; 3,000 rounds of ammunition for the handgun and another 3,000 rounds for the semiautomatic rifle, law enforcement authorities might be aware of it before reading about it in the newspaper after a slaughter.
But if we're going to blame guns, we could just as easily blame dark movies and violent video games. Years of exposure to that sort of thing undoubtedly desensitize young people – and particularly young men – to killing and violence by blurring the line between what is real and what isn't.
It's probably significant that the shooter chose as his venue the midnight showing of "The Dark Knight Rises," the latest installment in the Batman series. Police say suspect James Holmes, who had been a Ph.D. student at the University of Colorado Anschutz Medical Campus, had a Batman mask and poster in his apartment. He also colored his hair and, in conversations with police, referred to himself as "The Joker."
Don't buy that about movies? Now you know how gun enthusiasts feel. One of the frustrating things about this debate is that there is no consistency. People who object to generalizations and snap judgments about guns will accept them when they're about pop culture, and vice versa.
But this much we should be able to agree on. Police officers shouldn't go on strike. But they shouldn't have to. They swear an oath to keep the public safe. The least we can do is return the favor.
Follow us on Twitter @CNNOpinion.
Join us on Facebook/CNNOpinion.
The opinions expressed in this commentary are solely those of Ruben Navarrette Jr.