Editor's Note: This article is part of an occasional series looking at the violence tied to Mexican drug cartels, their expanding global connections and how they affect people's daily lives. Earlier, we examined how U.S. demand for drugs is bringing cartel operations into rural America.
Story highlights
Border town in New Mexico fights off financial collapse after corruption scandal
Town officials and police chief admit guilt in trafficking guns to Mexican cartels
Federal raid confirms Mexico's narco-corruption has infected U.S. side, too
New mayor works nights as town EMT and volunteer dog catcher by day
Columbus, New Mexico
CNN
—
Mayor Nicole Lawson is only 37, but her hair is already turning white as she tries to keep this border town corrupted more than a year ago by Mexican cartels from falling deeper into financial ruin.
Lawson runs the village by day and works as a town emergency medical technician by night. She says she often sleeps just two hours, averaging $1.47 an hour as the new mayor.
The former mayor, police chief and a village trustee all pleaded guilty last year to federal charges of trafficking highly sought AK-47-style pistols to Mexican cartels. Some of the weapons were later seized at murder scenes across the border.
Lawson is now fighting off a budgetary collapse of this high desert town of 2,100, where the paved and gravel roads have no traffic signals, only stop signs – and even those are so faded from the sun that the village would like to replace them if it had the money.
An isolated, eccentric community near New Mexico's boot heel, Columbus sits just three dusty miles from the international border. Populated by mainstream Americans and Mexican immigrants, by the working class and the retired, this hamlet is a poor outpost with Old West roots where people don't miss society and have often dropped out of it. A 1970s commune of adobe homes still thrives, founded by people who believed extraterrestrials would land their spacecraft here. They never came.
Photos: Violence in Juarez not going away
History knows this town best for a raid by Mexican marauder Pancho Villa's forces on March 9, 1916. Then, 95 years and one day later, another raid occurred: A federal predawn sweep with helicopters resulted in the arrests of three local officials and eight other people, including relatives, for charges ranging from laundering money to trafficking guns to a cartel. A 12th person remains a fugitive.
The federal bust here parallels a bigger U.S.-arms-to-Mexican-cartels crisis – "Operation Fast and Furious," a federal sting that went awry when about 2,000 weapons reached Mexican cartels and two of the weapons were found at a site where U.S. Border Patrol agent Brian Terry was killed in 2010.
Until "Fast and Furious," Americans knew "very little" about the flow of U.S. firearms to cartels, said Josiah Heyman, an anthropology professor at the University of Texas at El Paso and an expert on violence in Mexico and its relationship to U.S. policy.
In a more direct manner than the botched federal operation, the Columbus scandal confirmed that narco-corruption – so endemic to the Mexican side of the border, where cartels are believed to have even murdered mayors and police officials – has infected the U.S. side.
"The part about this [Columbus] story that is very horrifying is not just the corruption of this whole town in a terrible way, but it's so closely related to an increasingly high level of violence and death next door," Heyman said.
Across from Columbus is Mexico's Chihuahua state, "one of the epicenters of drug organizations fighting with one another," Heyman said.
Columbus' sister city across the border, Puerto Palomas, became known for narco-violence in 2009 when the mayor, Estanislao Garcia, was kidnapped and executed. His slaying was believed to have been carried out by a cartel, though the exact reasons are unknown, his successor said.
Heyman describes Puerto Palomas as "a lovely town that had lived off some farm and ranch exports and tourism." But he said, "The violence in Palomas has been so extreme that people have stopped going there.
"The people in Columbus have to know what happens when guns are sold to Mexico," Heyman said. "They live right next to it."
In small-town USA, business as usual for Mexican cartels
The flow of U.S. guns south, as Mexican drugs come north, has emerged as rival cartels increasingly wage a brutal war for control of smuggling routes, analysts said.
More than 68,000 firearms from the United States ended up in Mexico from 2007 and 2011, according to U.S. Bureau of Alcohol, Tobacco, Firearms and Explosives statistics released in April.
The gun owners are usually a mystery: ATF authorities have been unable to determine the purchasers of half or more of the U.S. guns found in Mexico in each of those five years, ATF statistics show.
Mexican authorities report that drug trafficking organizations are more frequently using rifles such as the AK and AR variants with detachable magazines – generally, assault rifles, the ATF said.
American firearms are in high demand because Mexico's firearm laws are highly restrictive and high-powered weapons such as the AK-47-style pistol are deemed for the exclusive use of the Mexican military, U.S. prosecutors said in court documents.
The AK-47-style pistols resemble the AK-47 assault rifle, but with shorter barrels and without a rear stock. Cartels prefer their small size, high ammo capacity and suitability for close-quarters combat, prosecutors say.
The U.S. weapons arm the cartels' military wings and enforcers, such as the Juarez Cartel's enforcement arm, La Linea, or The Line, court documents say. The Juarez Cartel, also known as the Vicente Carrillo Fuentes Organization, controls drug trafficking in the Mexican state of Chihuahua, including Puerto Palomas, according to the documents.
But since about 2008, the rival Sinaloa Cartel has been challenging the Juarez Cartel, including for control of Puerto Palomas, the records said.
The Columbus trafficking ring smuggled or tried to send more than 200 high-powered firearms, mostly AK-47-style and 9 mm pistols to Mexico, court papers said. Mexican authorities seized at least 12 of the smuggled firearms, including from the murder scenes of five people in Puerto Palomas, U.S. court documents said.
The accidental mayor
At the center of Columbus' struggle for redemption is Lawson, whose bearing evokes more an affable librarian than a reformer of hard-core corruption. As a child, she traveled the world with her father, a Navy enlistee, and she says she's finally found a place to call home. In 2002, a year after getting divorced, she quit her job as a fire and sheriff dispatcher in Virginia and followed her father to Columbus, who had moved here five years earlier.
Though she finished dead last among three candidates in the 2010 mayoral election, the dulcet-voiced leader with a forgiving spirit is guiding Columbus through one of its darkest hours. The village board appointed her mayor last year.
What this accidental mayor found in the wake of the federal raid was a village hall whose books are in such a disarray that Columbus may lose its incorporation status, utterly collapsing, not unlike Mexico's faltering border governments besieged by cartel carnage.
The village, whose annual budget is just under $1 million, is facing another $1 million in debts and liabilities, which Lawson says could result in closing down the 15-employee village hall one day a week to save money.
The mayor wonders whether the local government will perish for its sins.
Under the prior mayor and police chief, spending went unchecked, and state auditors weren't aware of it, Lawson said. The police chief, for example, was paid $24.70 an hour – a huge sum by this impoverished town's standards. A village employee typically makes $8 to $13 an hour, Lawson said.
After the police chief's arrest, the village decided to disband its five-member Police Department because it found it couldn't afford the payroll, Lawson said. For now, the Luna County Sheriff's Office has taken over policing Columbus and has stationed a deputy in the village.
Columbus' inability to operate its own police department is threatening its incorporation status under state law, which requires a village to provide a minimum level of services such as law enforcement, Lawson said.
In another indicator of the town's poverty, the well water here naturally contained so much fluoride that many residents' teeth molted and turned brown, officials said. About five years ago, the federal Environmental Protection Agency ordered the village to clean up the tap water with reverse osmosis, and now the town has some of the cleanest water in the state, officials said.
"At this point, people will either wash their hands of us or extend their hands to us," Lawson said one recent morning as she signed payroll and vendor checks in her office.
Lawson is hoping federal, state and county governments will absolve and write off most of Columbus' liabilities, but New Mexico state Sen. John Smith said that notion will be "challenging" in the state's own lean finances.
Columbus was so strapped for cash it spent state and federal grants earmarked for ambulances and health services on general services instead, just to keep the town running. The village even failed to pay state and federal withholding taxes as well as state gross receipt taxes on businesses and utilities, Lawson said.
While he thinks the new mayor "walks the straight and narrow," Smith said he first wants to see the village's latest annual audit, which is due in this month.
"Historically, Columbus has been in arrears on getting their audits in, and invariably each administration will say they are current, but when I talk to the state, they are one or two behind," said Smith, a Democrat who lives in the county seat of Deming, 30 miles away, and has spent 65 of his 70 years in the borderlands here. His district includes Columbus.
For her part, the mayor says that just about everyone in Columbus is "shellshocked."
"Every time we find a solution to one problem, we find another problem. It's almost like they're breeding. I just hope there's an end to problems before there's an end to money," she said.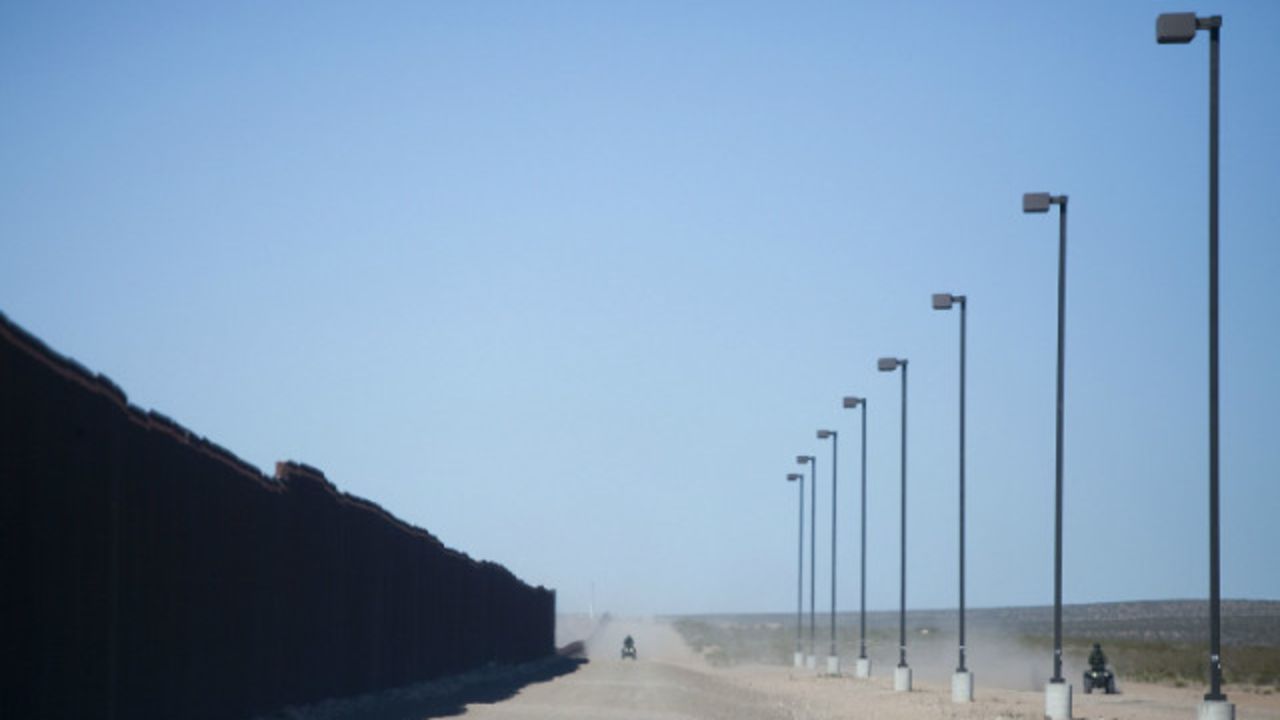 Lack of faith
The town is literally going to the dogs: The village cut the position of dog catcher, and packs of canines from Mexico and the village have been trying to attack residents, including the mayor's 14-year-old autistic son and his blue heeler, neither of whom was injured.
One older gentleman in town, the mayor says, goes for walks with a stick wrapped with barbed wire on one end to fend off the pack animals. For now, a village trustee and the mayor take turns as animal control volunteers; the mayor sets traps with leftover beef as bait, but the dogs always seem to get away and take the meat with them.
Officials fear that no one will help their disgraced government.
"It's been rough, with the way everybody perceives the village," said Public Works Director Robert Gomez, a town employee for 15 years, the last six of them as a department director.
"Even with the state Department of Finance, they don't have faith in us. They don't think they can trust us. That's pretty sad," Gomez said, referring to how Columbus' latest woes have raised eyebrows in Santa Fe, where the state's Department of Finance and Administration oversees local governments' use of public funds. Gomez added that many residents have lost trust.
"Other than that, we're trying to survive the best we can. As long as I'm here, I'll do my best. Just day by day, that's the only thing we can do. People will just have to learn to trust again," he said.
Luna County Sheriff Raymond Cobos isn't surprised by Columbus' fall. He can count how the village has gone through at least nine police chiefs in the past five years, making it "dysfunctional at best," he told Congress last year while testifying about border security.
Village administrators "have a reputation of … failing to establish a culture of ethical and professional government," Cobos told the U.S. Senate Committee on Homeland Security and Governmental Affairs.
Cobos, 64, has been patrolling the border since 1971, when he started as a deputy. In an interview at his office, he said he's certain that cartel members are working out of Columbus.
"If I was a cartel member, that would be my choice," he said. "Go to some small little town with a barely functioning government and then corrupt them."
Cartel violence has often landed at Columbus' doorstep: Residents recall how daylight assassinations in Puerto Palomas in 2005 brought vehicles with wounded, dying or dead occupants to the border's port of entry, said Assistant Fire Chief Bill Pollock.
That year, the governor declared a state of emergency and awarded $1.75 million to border counties.
Pollock deemed the crimes that wracked his town's government as "severe corruption."
"We were aware the cartels were there, and we were aware of the problems, but to think that our leading citizens for the village may be involved in the sale and transfer of guns and weapons to Palomas was not expected at all," Pollock said.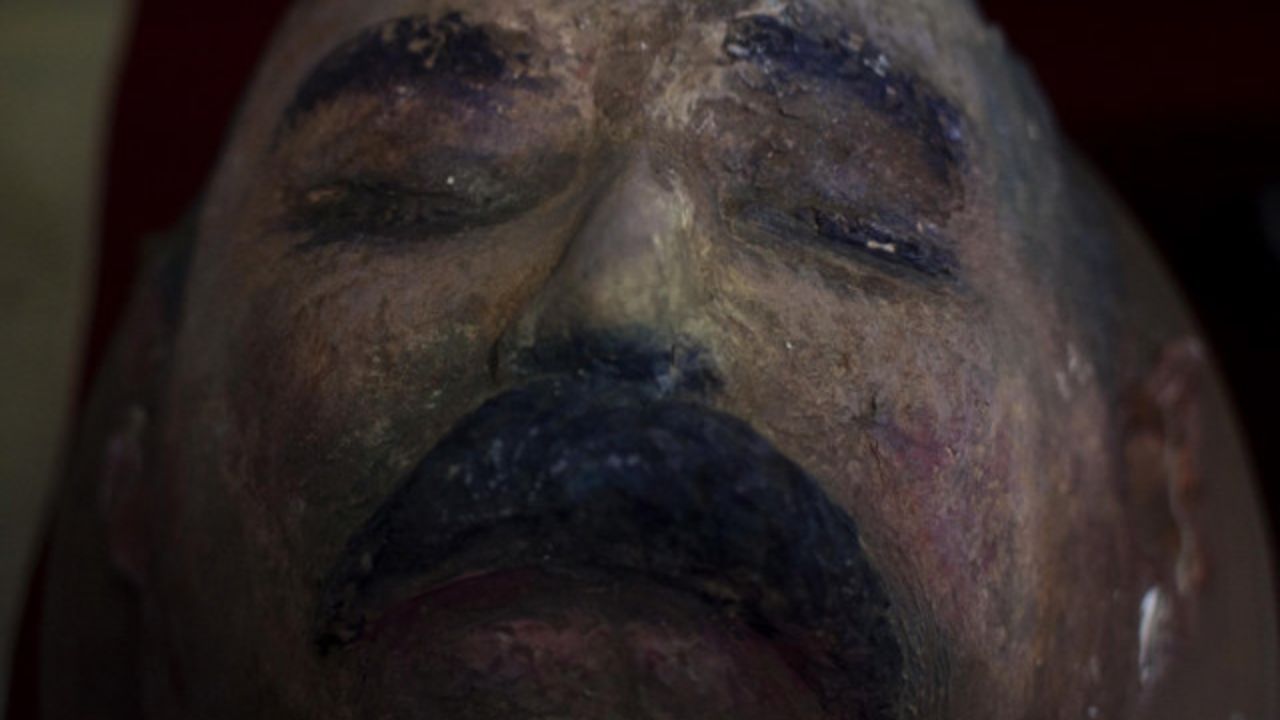 Family ties
Exacerbating the public opprobrium toward Columbus is the familial relationships between five of the defendants in the federal case.
Former village trustee Blas Gutierrez, 31, has pleaded guilty to 37 federal charges and is waiting to be sentenced.
His wife, Gabriela Gutierrez, is facing a five-count indictment in the case.
Two other relatives have pleaded guilty: Blas Gutierrez's sister, Eva Gutierrez, 22, and their cousin, Ricardo Gutierrez, 26.
The former mayor, Eddie Espinoza, 52, pleaded guilty to firearms smuggling, conspiracy and making false statement in acquiring guns. He's married to Blas Gutierrez's paternal aunt, authorities said.
Blas Gutierrez's father, Roberto, was a village trustee and mayor pro tem until he lost re-election in March. Neither he nor the aunt – his sister – have been implicated in the case.
Other defendants include a woman from neighboring Deming, who pleaded guilty to making a false statement to a federally licensed firearms dealer and is awaiting sentencing, authorities said. Her husband was also charged and pleaded guilty, but he died late last year before he could be sentenced.
In May, a federal judge sentenced firearms dealer Ian Garland, 52, of Chaparral, New Mexico, to five years in prison for aiding and abetting the firearms trafficking ring involving Blas Gutierrez, Espinoza and other conspirators by selling them 193 firearms, mostly the AK-47-type and 9 mm pistols, authorities said. Third-party purchasers, so-called "straw" buyers, were used to hide the conspirators' identities in 2010 and 2011, authorities said.
The owner of a grocery and the village's only bar, Roberto Gutierrez nominated Lawson to become mayor in June, which was supported by the village's two remaining trustees, Lawson said.
On a recent morning, Roberto Gutierrez, 56, was visiting Lawson in the village hall. When asked about the charges against his family members, Gutierrez only replied: "I think everything has been said. It's been stressing on everyone."
If Columbus is to overcome its hardship, it lies in the town's resilience, the mayor said.
"The people of this area are primarily of poverty. The majority of this community understands what it takes to survive in adverse or horrific circumstances," Lawson said.
For income, some residents work at the local elementary school, where of 280 of its more than 600 students are from Puerto Palomas, principal Hector Madrid said. Born in the United States but raised across the border, the children walk each day through the official port of entry and are then bused to the school.
Other residents pick chilies, work in mining or serve in the government sector, officials said.
Beyond these routines, the town has an oddball side.
Columbus is home to the City of the Sun, one of New Mexico's oldest communes. It was established in the early 1970s because its founder believed flying saucers were going to land here, according to David Pennington, 75, a retired social worker who lives in an adobe house in the commune.
The village has literally grown around the commune because its alternative housing stock – made of adobe, straw bale and papercrete, with a communal shower – doesn't meet village building codes, Lawson said. The helter-skelter landscape of the commune features outlandish sculptures, such as a collection of spires and a mound with a woman holding her breasts, the latter apparently symbolizing Mother Earth.
"This area, including the City of the Sun, is a crazy, dysfunctional family," Pennington said as he ate a fish lunch at the town's senior center. "It's very much like the Wild West."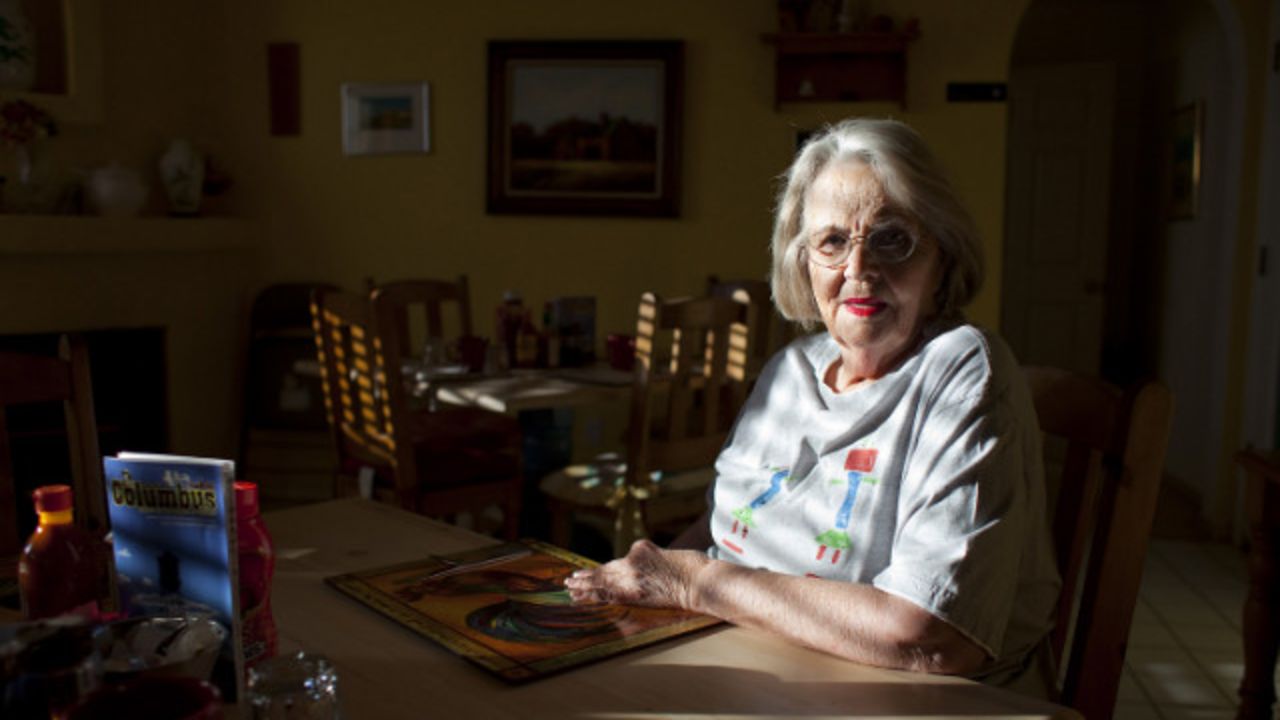 A different kind of raid
Indeed, it's not uncommon in these borderlands to find residents with a personal connection to Pancho Villa and his guerrillas.
Sheriff Cobos said his grandfather, Bernardo, served in Villa's revolutionary army at age 13 or 14, but he left by 1915 to come to the United States, where he and other so-called Villistas were put in a detention camp in Fort Bliss at El Paso, Texas.
On the opposite side is Richard Dean, 79, whose great-grandfather was killed in the notorious raid of March 9, 1916, by Villa's forces. The raid prompted U.S. Gen. Jack J. "Black Jack" Pershing to lead 10,000 troops on a punitive expedition to find Villa in Mexico. After a 500-mile pursuit lasting 11 months, the expedition failed.
A road on the outskirts of town near Dean's home bears the name of his great-grandfather, James T. Dean.
The raid and expedition are memorialized by Pancho Villa State Park – a name Dean calls "a travesty" and "a slap in the face" because 18 Americans were killed in the raid.
With buildings listed on the National Register of Historic Places, the park has been a tourist draw.
But last year's federal raid, combined with the recession a few years ago, have changed that, said Dean, president of the Columbus Historical Society Museum.
"The fact that we were on the border was a tourist attraction," he said. "Now it's a detriment."
The corruption of Columbus made for an energetic election on March 6: An extraordinary field of 14 candidates competed for three seats on the village board, including the one held by Roberto Gutierrez, who lost.
One of the winners was Martha Skinner, 75, who owns the town's bed and breakfast. Her son, Addison Bachman, 51, lost his bid for one of the other seats.
A 21-year resident, Skinner is a former mayor and board member; she placed second in the 2010 mayoral election and blames Lawson for splitting the vote that year and letting Espinoza win – and later become a central figure in the gun trafficking case.
Skinner and Bachman's campaign flyers attacked the "corruption, greed, criminals, and self-serving family interests" in village government and condemned how "a gun running and drug smuggling cartel" was operating out of Village Hall.
Whether Columbus survives as an official village or not, Mayor Lawson, the one-time wanderer, loves the place.
"This is the first time I've had a home," Lawson said, surrounded by a handful of volunteers and employees in the Village Hall.
She's going to need that strength, for there's a belief about such love that one person defending his or her home is stronger than 10 men trying to take it.
And the agents of cartels often come in such groups.