Story highlights
Mom Gina Lincicum starts blogging about savings after family income is cut in half
She advises shoppers to make a grocery list and stick to it
Know one store and its couponing policies well, she says
Couponing is like "putting a puzzle together," she says
(CNN) —
Six years ago, Gina Lincicum and her husband made a cross-country move. They left behind sunny Los Angeles for a quiet Virginia suburb outside of Washington.
At the time they had a 3-year-old son and 3-month-old twin daughters. Rather than look for a new job, the family decided that Gina would stay home with the kids. Their income shrank from $150,000 to just half of that.
"We had one income and all of these expenses, and I needed to figure out how to make the money stretch," Lincicum said.
Lincicum's prior job was working as a university grant administrator. She dealt with million-dollar budgets, prioritizing where the money should be spent. She took that expertise and applied it to the family budget.
Out of that grew a successful blog, Moneywisemoms.com.
According to the U.S. Department of Agriculture, a typical family of four could spend as much as $1,200 a month on groceries. Lincicum says her grocery bill usually runs about $450 a month for five. She says she rarely pays the "shelf price" on groceries.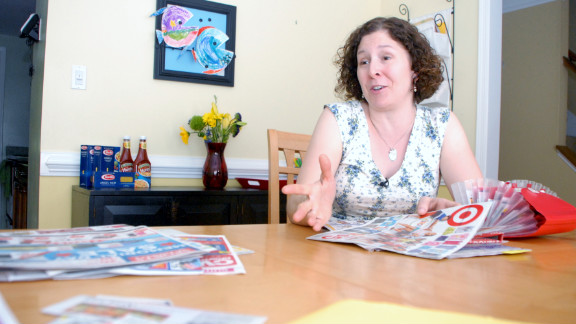 "I typically get at least 40% off even without couponing, but when you do one of those great coupon runs, you can get as much as 60% off the original bill."
So what's her secret? Lincicum says it starts before you even step foot in a grocery store.
– Spend more time at home than you do the grocery store. Most families eat the same things. We're creatures of habit. So shop from a list. If it's not on the list, don't buy it. Plan your meals for the week so you're not impulsively spending more money than you need to, Lincicum says.
– Buy things at their lowest price. You definitely want to check out the sales ads that come in the mail or newspaper. "If your kids are eating a lot of pastas, ketchup and kid-friendly foods, buy them at the lowest sales price rather than wait until you run out and end up spending a lot more," she says. Stores heavily discount items at certain times of the year. The beginning of summer you'll see lots of sales for salad dressings, ketchup and marinades. Right before the year-end holidays is a great time to stock up on baking goods, she says.
– Know one store well. Lincicum advises shoppers to generally shop at the same store or chain. This way you will know their policies. Do they double coupons? What are the sales cycles when they're most likely to have meats or produce discounted? Get to know your store managers. If there is an issue with a coupon or a rain check item, you're more likely to get it successfully resolved if you have rapport with the clerks and managers.
– Combine coupons with items already on sale. If Lincicum has a coupon for an item, she may not use it right away. She'll wait until the store is running a promotion or sale. For example, if she has a 50 cents coupon for her children's favorite grape juice, she may wait until the store is doing a two-for-one offer to get even deeper savings.
You may wonder whether the extra effort is worth it. Lincicum thinks so. Aside from saving money, she also finds it fun. "Once I was doing my list with my coupons and my son asked, 'Why do you like it so much?' I said it feels like a puzzle. I'm putting a puzzle together."
Lisa Sylvester is a CNN correspondent and blogger at ParentsDesk.com. She's on Twitter @LSylvesterCNN. Bethany Swain is a CNN Photojournalist and an adjunct University of Maryland professor. She's on Twitter @BethanySwainCNN.