When's the last time someone told you about something they heard on the radio?
In an age of constant connectivity, social media and instant-access video, radio seems to literally be old news - a relic of past generations.
But the innovative, wildly popular WNYC-produced show Radiolab is looking like the exception.
"Being on the Internet has only increased our reach and the number of people who consume public radio," says Ira Glass, who hosts NPR's "This American Life," arguably the most popular radio show currently produced.
The Internet has transformed radio into live streams and podcasts. The inherent nature of radio has transitioned from ephemeral to enduring.
Think about it. A podcast by its very nature is permanent. It has an address - a url. It can be searched and, more importantly, downloaded. Listeners can 'own it,' play it repeatedly and share it with friends.
Traditionally radio has also been a social binder - families gathered around the radio to listen to the lastest news, fisted-clinched sports fans  listening with eager ear to last inning of the ballgame. But today its digitalization is making radio a more personal experience.
"When you're on a podcast you're deep into someone's ear canal. Maybe they're on the subway, maybe they're jogging, or maybe they're just sitting there," says Jad Abumrad, co-creator and host of Radiolab.
"Somehow you own them in a way you don't on the radio," says Jad Abumrad about how his work can engage his audience more deeply. "So subconsciously that gives us permission to do all kinds of things."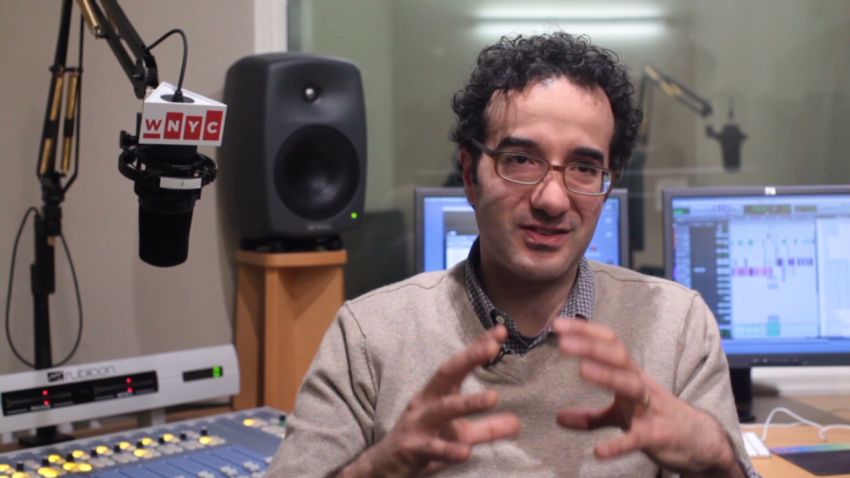 Jad Abumrad: Lover of sound
AUTEURIST RADIO
In this new world of radio, Abumrad has taken the liberty to turn radio on its head. What immediately sets Abumrad apart from other radio show hosts is that he approaches his job like a filmmaker.
"Radio had existed in a kind of bubble. It moved at a pace that was about 30 years behind the rest of the universe," say Abumrad. "I came into it as a guy who loves music, and who's a complete student of movies."
With his film-conscious approach to radio Abumrad spends an extraordinary amount of attention creating the substructure of his stories. He says it's the invisible elements a listener can't necessarily put their finger on or articulate but can certainly feel.
Abumrad calls his stories "a jewel that sits on a pillow.' The pillow is his meticulous the editing and pacing, the timely beats and rhythm in the words and music. The music is often scored by Abumrad himself, made specifically for a particular moment for a particular story. It's an intricate and time-consuming process.
"[When] you go to a movie, and it's crazy, radical things are happening underneath the story in terms of how it's cut, where the music is happening, the way the points of view are constantly shifting. One scene bleeds into another in ways you don't even notice. I try and do that stuff on the radio," he says.
"All I'm trying to do is create a sound and a music that makes sense to me and how I grew up," says Abumrad about how his childhood was consumed with playing the piano, watching movies, and becoming entranced by the sounds that surrounded him.
Abumrad is a Lebanese-American who grew up in Tennessee, the sons of two scientists. He took to music at an early age and dreamed of being a film composer.
So he headed off to Oberlin for college. There he felt isolated from the radical, experimental projects his fellow classmates were composing and performing. But one class something finally clicked:
"One of the teachers put on some Lutoslawski, an Eastern European post war composer, one of the gestural composers and the idea was the structure of the pieces. You could hear it.
The orchestra would act as an organic thing and they would rise up and fall. They would have all the individual instruments acting like molecules, and you add it all together and you get these undulating masses of sound that would shift and change and tork and tweak. And you could hear what the composer was doing because the structures where simple. But the underlying logic was very complicated. It was like film music. The same sort of music that I loved. That was the first time I was like 'oh, you could do that?' Maybe I could figure this stuff out."
After college Abumrad entered a period that he describes as 'mid-flail.' He was a trained composer but had not yet found a true outlet to express himself.
Eventually he ended up in radio. And after producing a few stories and " figuring out the whole journalism thing" he found himself with a big responsibility at WNYC - fill a weekly three-hour time slot.
"I basically worked around the clock to fill these three hours, mostly borrowing and stealing other people's work," he says.
During this period Abumrad became friends and started working with veteran journalist Robert Krulwich. They began experimenting with creative short pieces until they "fell into an easy partnership," as Krulwich describes it.
"I'd put [the story] out in front of us, and then he and I would improvise around it. I'd later put some weirdo sound design to it. Then I'd have a five-minute thing I could shove in the middle of this giant bit of real estate I had to fill every week," Abumrad says.
"It [Radiolab] existed for a long time in this state of like benign neglect. And somewhere along the way this station [WNYC] thought it was worth paying attention to," he continued.
People are certainly paying attention now. Radiolab has moved past its national success and gone international. "People in Australia, England, and places like China, Central and Northern Europe and Israel are listening to this program," says Krulwich.
As a perennial member of iTunes "Top Podcasts," Radiolab is now averaging over 2 million downloads a month.
"I think it's no coincidence that something like Radiolab would be invented in radio. I think there are all these little corners now in the creative world where people will just leave you alone. And they're successful enough to reach enough of an audience and turn it into a business," says NPR's Glass.
Jad Abumrad and producer Cubie King (Fort Greene, Brooklyn)
STEPPING OUT OF THE DARK
"Well maybe we could come at it from this side?," asked one of producers huddled on the house-lit Capitol Theater stage in Salt Lake City. It was hours before the show.
Abumrad and Krulwich were part of the huddle brainstorming changes hours before Rabiolab's traveling live stage show In The Dark. The previous night's performance had gone well but they felt there was room for tightening.
The Radiolab team discusses minor tweaks to the 'In The Dark' show in Salt Lake City
Executive producer Ellen Horne felt Abumrad and Krulwich's introduction could be improved. Comedian Demetri Martin offered his ideas on how to better transition off-stage more effectively. And after much back-and-forth they came upon a clever idea: why not use a single flashlight illuminating Krulwich's face to introduce the theme of the show? Darkness. And after introductions they'd bring up all the lights and expose the entire audience. Abumrad would take pictures of the crowd with his cellphone. The minor tweaks seemed to raise the already high exuberance level.
This creative improvisation hits at the core of Radiolab, whether its the radio show or live performance.
"What you're doing is getting back to that initial moment of experiencing the story. As much as possible we try to improvise it because it comes alive somehow. Even when you don't know the next word that's gonna come out of your mouth it forces you backwards to re-embody the thing that you're describing. And you talk your way out of it. It's just more alive that way. For us I think that works."
Mintues before the show, ushers scanned purchased tickets with machines that sounded like a child's toy ray gun. The Capitol Theater's nearly 2,000 seats were sold out for the second day in a row. Ushers handed out tiny baggies containing 'something' audience members were told would be used later in the show. No one knew what to expect, but the enthusiasm was palpable.
The show had a diverse cast: Demetri Martin served as MC and kicked off the show with his usual wry, visually-based humor. The show also featured the dance group Pilobolus who acted out – or better yet 'danced out' – parts of the show like contortionist human statues. Live music and musical interludes were performed by the musician Thao Nguyen.
The show was divided up into three stories: the evolution of the eyeball; two blind men's dueling perspectives on their disability; and staggering tales from an astronaut who worked on space station. The show's structure mirrored the traditional Radiolab format in that each story mysteriously connected to the next, collectively forming a large thematic mosaic.
Radiolab's 'In The Dark' at The Capitol Theatre in SLC.
In The Dark's goal isn't necessarily to help audience members visualize what they're hearing. In fact, the imagery is fairly abstract. But fans weren't disappointed and most seemed to leave the theater stuck somewhere between wonder and awe.
"I'm really interested in that line between the limits of what we can and cannot know," say Abumrad. "I'm interested in charting that terrain right at the edge."