Story highlights
Women accuse military of using psychiatric diagnoses to oust sexual assault victims
"I couldn't trust my chain of command to ever back me up," says an alleged victim
3,191 military sexual assaults reported in '11: "Unacceptable," says defense secretary
Pentagon is assessing its training for sexual assault prevention and response
Stephanie Schroeder joined the U.S. Marine Corps not long after 9/11. She was a 21-year-old with an associate's degree when she reported for boot camp at Parris Island, South Carolina.
"I felt like it was the right thing to do," Schroeder recalls.
A year and a half later, the Marines diagnosed her with a personality disorder and deemed her psychologically unfit for the Corps.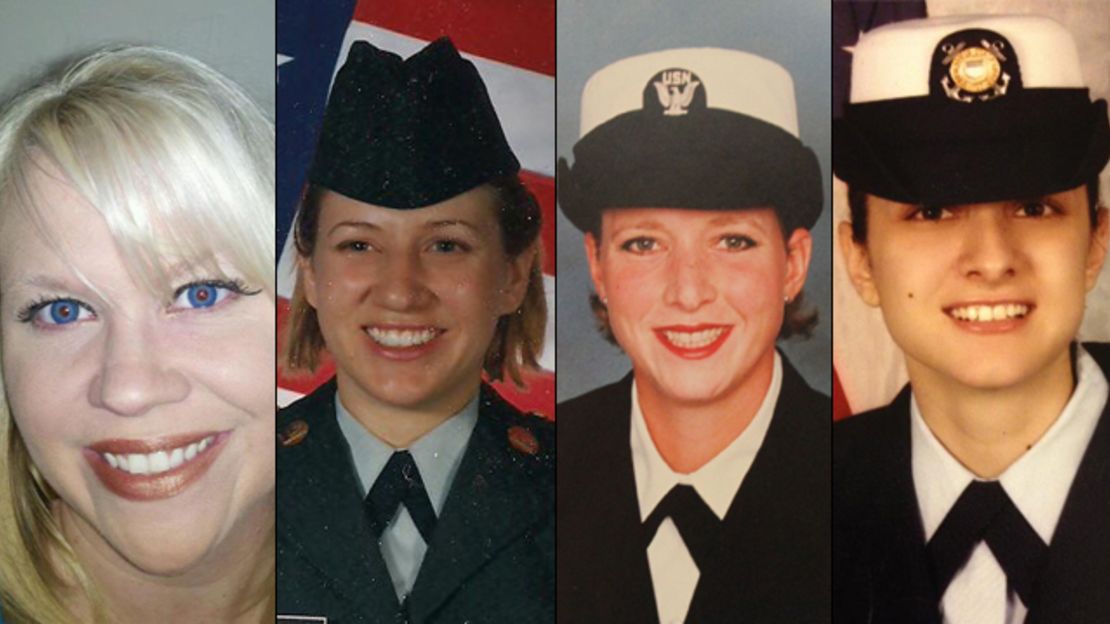 Anna Moore enlisted in the Army after 9/11 and planned to make a career of it. Moore was a Patriot missile battery operator in Germany when she was diagnosed with a personality disorder and dismissed from the Army.
Jenny McClendon was serving as a sonar operator on a Navy destroyer when she received her personality disorder diagnosis.
These women joined different branches of the military but they share a common experience:
Each received the psychiatric diagnosis and military discharge after reporting a sexual assault.
"I'm not crazy," says Schroeder, who is married now, with two daughters. "I am actually relatively normal."
McClendon says she had a similar reaction.
"I remember thinking this is absurd; this is ridiculous. How could I be emotionally unstable? I'm very clear of mind, especially considering what had happened." McClendon says. "It was a ludicrous diagnosis."
A similar pattern
CNN has interviewed women in all branches of the armed forces, including the Coast Guard, who tell stories that follow a similar pattern – a sexual assault, a command dismissive of the allegations and a psychiatric discharge.
Schroeder says a fellow Marine followed her to the bathroom in April 2002. She says he then punched her, ripped off her pants and raped her. When she reported what happened, a non-commissioned officer dismissed the allegation, saying, "'Don't come bitching to me because you had sex and changed your mind,'" Schroeder recalls.
Moore says she was alone in her barracks in October 2002 when a non-commissioned officer from another battery tried to rape her. When she filled out forms to report it, she says, her first sergeant, told her: "Forget about it. It never happened," and tore up the paperwork.
"It felt like a punch in the gut," Moore says. "I couldn't trust my chain of command to ever back me up."
McClendon says she was aboard a Navy destroyer at sea when a superior raped her on the midnight to 2 a.m. watch. After reporting the attack, she was diagnosed with a personality disorder and deemed unfit to serve.
"I was good enough to suit up and show up and serve, but I wasn't good enough after the fact," McClendon says.
Despite the Defense Department's "zero tolerance" policy, there were 3,191 military sexual assaults reported in 2011. Given that most sexual assaults are not reported, the Pentagon estimates the actual number was probably closer to 19,000.
"The number of sexual assaults in the military is unacceptable," Defense Secretary Leon Panetta said at a news conference in January. "Our men and women in uniform put their lives on the line every day to keep America safe. We have a moral duty to keep them safe from those who would attack their dignity and their honor."
Related: Military sex assault complaints have leveled off
Transcript: Panetta condemns military sexual assaults
But Anu Bhagwati, a former company commander in the Marines and executive director of Service Women's Action Network, a veterans advocacy group, says she sees a pattern of the military using psychiatric diagnoses to get rid of women who report sexual assaults.
"It's convenient to sweep this under the rug. It's also extremely convenient to slap a false diagnosis on a young woman … and then just get rid of them so you don't have to deal with that problem in your unit. And, unfortunately, a lot of sexual assault survivors are considered problems," Bhagwati says.
From 2001 to 2010, the military discharged more than 31,000 service members because of personality disorder, according to documents obtained under a Freedom of Information Act request by the Vietnam Veterans of America.
Asked by CNN how many of these cases involved sexual assault cases, the Defense Department says it does not keep such figures, nor would the Pentagon comment on individual cases.
The diagnoses
The latest edition of the Diagnostic and Statistical Manual of Mental Disorders, known as the DSM-IV, defines a personality disorder as a long-standing, inflexible pattern of maladaptive behavior and coping, beginning in adolescence or early adulthood.
That would mean women like Schroeder, Moore and McClendon had a pre-existing personality disorder when they joined the military. Someone with personality disorder tends to get fired from jobs, get in trouble with the law or at school or is unable to maintain relationships.
"It makes absolutely no sense medically for people to be diagnosed all of a sudden after being sexually assaulted as an adult in the military to say 'No, you've had this all along,'" says Bhagwati, of the Service Women's Action Network.
"These women have clearly been able to function. They've made it through basic training. They've made it through all the follow-on training. Many of them are deployed overseas in war, and they've done fine there. But, when they're sexually assaulted, and then report it, it seems very suspicious that the military would suddenly stamp them with a pre-existing condition that bars them from serving anymore."
Dr. Liza H. Gold, a clinical professor of psychiatry at Georgetown University School of Medicine, says it's a rule of thumb among psychiatrists not to diagnose someone with a personality disorder in the middle of a traumatic experience like a divorce, litigation or the aftermath of a sexual assault.
The DSM-IV says: "When personality changes emerge and persist after an individual has been exposed to extreme stress, a diagnosis of Post Traumatic Stress Disorder should be considered."
Also, by definition, a personality disorder diagnosis cannot be caused by another psychiatric condition, such as Post Traumatic Stress Disorder, Gold says.
In 2003, when she returned to Germany from a deployment in Israel, Moore says a new Army counselor changed her diagnosis from severe depression to borderline personality disorder after only a half-hour session.
Gold is not familiar with Moore's case, but she says a personality disorder was not a diagnosis that typically could be made quickly.
The numbers
Military records show the personality disorder diagnosis is being used disproportionately on women, according to military records obtained by Yale Law School's Veterans Legal Services Clinic under a Freedom of Information Act request.
–In the Army, 16% of all soldiers are women, but females constitute 24% of all personality disorder discharges.
–Air Force: women make up 21% of the ranks and 35% of personality disorder discharges.
–Navy: 17% of sailors are women and 26% of personality disorder discharges
–Marines: 7% of the Corps and 14% of personality disorder discharges
The records don't reflect how many of those women had reported sexual assault.
The cost
A personality diagnosis discharge can carry a heavy financial burden.
In the military's eyes, a personality disorder diagnosis is a pre-existing condition and does not constitute a service-related disability. That means s