CNN's Soledad O'Brien leads a special town hall event about the killing of 17-year-old Trayvon Martin, which has sparked a national dialogue on race and what it says about America. Tune in for "Beyond Trayvon: Race and Justice in America" at 8 p.m. Friday ET on CNN. And join the conversation in a live blog of the broadcast, also starting at 8 Friday, on CNN's In America blog.
Story highlights
Sanford residents agree Trayvon Martin's death is a tragedy
National attention on the Martin case has put Sanford in the spotlight
The town remains divided when it comes to racism
Many believe it will take years for Sanford to heal
Nearly everyone in Sanford agrees on one thing: The death of 17-year-old Trayvon Martin is a tragedy.
But his death has taken on a whole new meaning here, where media outlets from around the world have descended, to figure out just what happened more than a month ago when neighborhood watch volunteer George Zimmerman shot and killed Martin.
This once-quiet and quaint town is now the center of a controversy that has put residents in the position of examining just what the racial undertones of the case say about their hometown. And it makes them wonder whether they will forever be known as the place where an unarmed black kid heading home from the store with Skittles and tea was killed by a Hispanic man claiming self-defense.
For some, the case has become a rallying cry, a chance to air what they believe are years of grievances and cases of injustice between the police, the courts and the black community. For others, it has forced them to defend their town as a place that is not inherently racist, a place where a young black man cannot be killed without consequence.
Photos: Scenes from town at the center of Trayvon Martin shooting
Myranette Boynton, 58, has lived in Sanford since 1999. On the grass along the walk that overlooks Lake Monroe, she grew increasingly frustrated as she recounted several events in which she has felt that police had targeted black people, including herself, for no reason.
Boynton says she's not sure she can feel safe in Sanford if there is no arrest in Martin's case.
"This occasion has happened too many times, and enough is enough," she said. "Trayvon is not the only one, but Trayvon should be the last one."
What witnesses say in the Trayvon Martin case
She, like many other African-Americans in this community, references the fact that Sanford Police Chief Bill Lee, who temporarily stepped down in the wake of the Martin controversy, was hired in May to try to change a perceived racial bias.
The hiring was sparked in part by outrage after the white son of a Sanford lieutenant was caught on tape beating a homeless black man in December 2010 but was not arrested until a month later, when news stations began airing the video.
For Boynton and others, it is a trend, one the new acting police chief, Darren Scott, partially acknowledged during a news conference.
Scott said he planned to make new avenues for residents to air grievances about the police.
"The police department has faced some challenges in the past few years," he acknowledged, but he didn't elaborate.
But for others like Michelle Simoneaux, a 45-year-old who has worked in Sanford for 22 years, those incidents have been few and far between.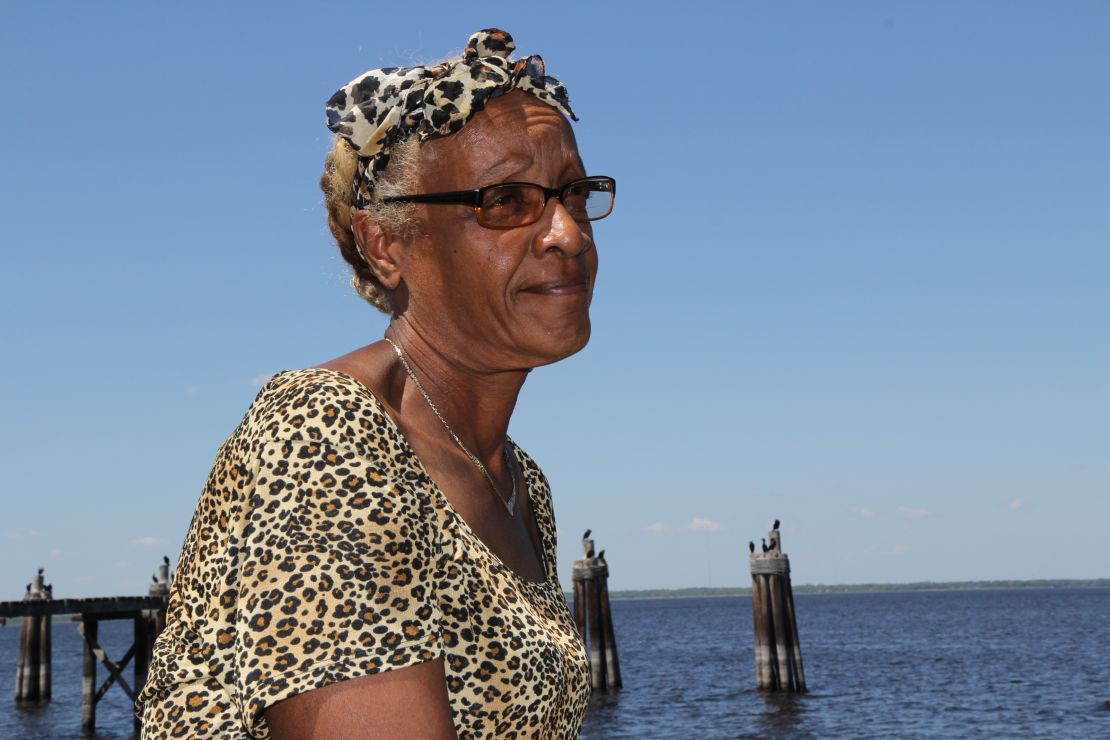 "I don't see Sanford as being a prejudiced town by any means," she said in downtown's Colonial Room Restaurant, which she manages. "This could happen anywhere, but it doesn't happen every day. This is the first time in years that anything like this has happened. It makes me sad it's being turned into an issue of whether the town as a whole is prejudiced towards black people."
She says Martin's death is tragic, and she hopes it is fully investigated to ensure that justice prevails, but she believes the issue of race relations within the community has been blown out of proportion.
A death divides a town
Driving through Sanford, it's easy to become aware of the distinct neighborhoods.
In the population of about 55,000 people, nearly a third of them black, the chorus over injustice for Martin has grown louder and louder. But almost anyone will tell you that where you live and work will shape how you feel about what's happened.
As in many towns in central Florida, the main roads are dotted with mini strip malls in between what remains of the town's agricultural history. Some parts still have small farms. Other parts are quickly being developed and reshaped, while some have been boarded-up and entirely vacated.
Off one of the main roads, you can spot pristine subdivisions of condos and apartment homes with gates and manicured front entrances, just like the one where Martin was killed. In a nearby subdivision, two white men in their 60s said they worried that everyone might be jumping to conclusions before all of the evidence has come out.
Dave, one of the men, who did not want to give his full name for fear for his safety, said lots of people are quick to say that Sanford is a place where these types of killings happen regularly and nobody cares.
He was referring to the Rev. Al Sharpton's comments that Sanford could be known "as the Birmingham and Selma of the 21st century," referencing the police injustices that occurred during civil rights marches led by the Rev. Martin Luther King Jr. in Alabama.
"But that's not so," Dave said. "And if that's what people are saying and trying to shout that we are the Selma, I'd caution them, because you know, we could also be the Duke community of this year."
Dave talks candidly about how he saw the Duke lacrosse rape scandal unfold and his concerns that people jumped to conclusions before allowing all of the facts to come out with due process of the law.
He points at the memorial outside the Retreat at Twin Lakes, the gated condo community where Martin was killed, and said that while he understands the outrage, he wanted to urge caution.
The memorial outside the gates is full of teddy bears, Bibles and well wishes but also notes of anger about "Justice for Trayvon" and T-shirts that urge "Arrest Zimmerman."
He says he worries about vigilante justice directed at Zimmerman. He hopes that if an injustice did occur, it gets dealt with in a court of law, not on the streets of Sanford.
But the viewpoint varies drastically from street to street.
Opinion: Florida's problematic gated communities
It takes only a few blocks to go from white picket fences and decorative window shutters to chain-link fences and windows with iron bars. In one neighborhood, a minivan in a parking lot for a residential community bears the words "We WILL get justice" and "Arrest Zimmerman." The message is clear: We want answers and consequences.
In the Goldsboro neighborhood, which is predominantly black, a large group of retirees sits under a live oak tree with Spanish moss that shades them from the harsh sun. They sit not far from the now-boarded-up public housing projects. They too, want justice.
At first, none of them wants to talk about Martin, because they don't think it will matter. Besides, they say, they already encounter enough trouble with police. They worry that if they give their names, police would come looking for them and start trouble.
But as they sit at a wooden picnic table and play cards and dice, they begin slowly to speak up. The group as a whole rattles off names of about 20 boys whose cases they say have been swept under the rug. Martin isn't the only one, they say. They talk about the frequent police patrols in the area, and then they begin shouting questions as a growing chorus chimes in.
"Why are the only signs for loitering and trespassing in our neighborhoods?" "Do you think this is the first time?" "Ain't nothing going to change here. This is how it is."
They've said their piece, but they insist that it won't matter, that nothing, even the spotlight of Martin's death, will change how they are viewed in this town.
But Herminio Matos, 55, said he has never experienced any kind of problem in Sanford as a minority. And he certainly doesn't fear for his life.
"This is a great, great neighborhood," he said. "I raise my 9-year-old son here, and I've never had issues. I believe whatever happened that day has nothing to do with the stability of this city. This was something, an isolated incident with that little boy and the older man."
Matos, who has never had any issue with the police, was so proud to live in Sanford that he took out his driver's license, just renewed that day. He lives on one side of town and crosses to the other every time he works the night shift, and he has never felt scared. He begins his trek from the west side of town to the east about 9:45 p.m. and comes back at 6:30 a.m., all in the dark.
"I feel safe, I feel comfortable, and I am not afraid of anything," he said. "What happened that day can happen in any city. Tomorrow, it can be two black people somewhere else or two Hispanic people the next day, or any combination. Sometimes things happen."
Fight for Trayvon and for Sanford's reputation
Martin's death has sparked a wave of protests across the country for those who say he represents all the unjust killings of black youths.
Cynthia Franklin, who was born in Sanford, said she believes that while this is only one incident, Martin's death is a symbol of an issue the black community has struggled with for a long time. And she doesn't believe the issue will go away until black people in the community feel that justice has been served.
"Now is time for this Trayvon case to be dealt with," she said. "There are so many cases like this, and even if it puts Sanford in a bad light, if we have to start here, if it has to be us talking about racial profiling, why not at this point? We have to speak up. We have nothing more to lose."
It's for that exact reason that Boynton will continue to plead for justice.
"Everyone is tired. They are full. They've sat back, and they've been quiet. But enough is enough," she said as she peered out over Lake Monroe. "At least through the marches, I can have my voice heard. It is empowering. To think that my mom and my grandmother went through so much so I can walk free, now I have to do that for my kids and my grandchildren to walk free."
Simoneaux, the restaurant manager, said she knows that if it were her daughter, she would want to seek justice for such a tragic death, but she wishes things hadn't gotten to the point where they are now. She believes the police should be more transparent to prove that they have nothing to hide.
But most of all, she hopes people will see her town the way she does.
At a table in her restaurant, its walls lined with vintage cooking equipment echoing its inception in 1977, she expected that it would take years for the town to overcome the stigma that is now being attached to it. She had just one hope, one request, for those who read about this case and the town.
"I just hope people don't stop coming here and that they will give us a chance to show us what this town is," she said. "I hope they come and see that it's not a big city that's blacks against whites, and people can kill black people and get away with it. That's not who we are. We're a great group of people in a good town. I think this tragic incident has just gotten blown out of proportion."
CNN's John Couwels contributed to this report.