Story highlights
The Elgin platform leak is not underwater, energy firm Total says
Total evacuated the rig in the North Sea after the leak Sunday
Experts are deciding whether leak will stop on its own, or if action is needed
Initial fears of an explosion may be unfounded, an oceanographer says
Energy giant Total has found the source of a gas leak on an offshore oil platform in the North Sea, the company told CNN on Thursday. The leak is on the deck level of the well head platform, Total said.
The Elgin platform sprang a leak Sunday, forcing the evacuation of the rig.
Experts are working to decide whether they can wait for the gas to stop leaking on its own, or whether the company must drill a relief well or fill it with mud in a "kill operation," Total said.
Nearly 240 workers were taken off the rig as the problem developed Sunday, Total has said.
The leak seems to have started as workers were sealing the well in the North Sea, about 150 miles (240 kilometers) east of the Scottish city of Aberdeen.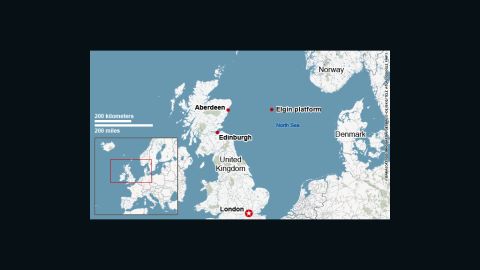 "Ironically, it sounds as if, just like with the Deepwater Horizon, they were closing off a well and somewhere along the line something went wrong," oceanographer Simon Boxall said, referring to the major BP oil spill in the Gulf of Mexico in 2010.
The Elgin leak has echoes of the BP spill, but there are differences. The Elgin is in shallower water, which could make problems easier to fix, but it is leaking gas, rather than oil. Gas ignites more easily.
"This is nothing on the scale of the Gulf spill two years ago," Boxall said. "This is a relatively light spill. The gas itself is dispersing quite rapidly."
"The hope is that there is so little gas pressure in there that it will just blow itself out," he said of the Elgin spill.
Total'